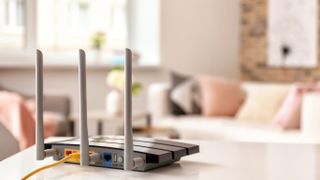 (Image credit: Shutterstock)
Are you currently on one of the cheapest and best broadband deals in the country? Well, from next year, you may have to pay significantly more for your internet connection.
This is because a major shakeup of the broadband industry will soon mean that people in more than 100 locations across the country will no longer be able to access broadband deals that rely on copper cables, such as those with ADSL deals. Instead, people in these areas will need to purchase faster, but more expensive, full fibre internet packages.
This news comes because Openreach, the company that installs and supplies internet across the country, has confirmed that it no longer wants to offer internet service providers such as BT, Sky and TalkTalk the option to serve homes with copper connectivity from next year.
Ultimately, this means that many of the cheapest deals available on the market today will be phased out over the coming year.
Why does Openreach want to phase out copper connections?
Openreach believes that copper connections can't keep pace with the digital needs of modern households. The company believes this is the case because millions of households now contain people who work from home and need the increased productivity provided by a faster internet connection.
For context, the maximum average download speed a household can receive when they have a copper cable connection is around 80Mbps. Speeds like these can be accessed by so-called 'Superfast' connections, where a fibre cable connects the exchange to the local cabinet, and then a copper cable connects a home to the cabinet.
However, very few households receive this speed, and many that take out an ADSL deal actually receive speeds of around 8Mbps to 12Mbps, depending on how far away they live from their local exchange. Openreach says that the maximum speed received by a household with an ADSL connection is 24Mbps.
In a world where most households have multiple connected devices and streaming accounts for services such as Netflix, the speeds provided by ADSL connections particularly are simply too slow. This means that although people who take out ADSL broadband deals do receive cheap contracts, they also experience a lot of problems with buffering and lag. Even something as simple as logging onto a Skype call for work purposes can be troublesome with a connection like this if other devices are also connected.
By contrast, newer 'Fibre-to-the-Premises' (FTTP) connections can provide speeds in excess of 900Mbps. This is because they utilise fibreoptic cables that run directly into the home.
As a result, these connections are more than quick enough for large households that contain multiple family members who work from home, love to download in UHD, stream games online and watch Netflix. In fact, most of these actions can be carried out simultaneously. Due to this, Openreach wants to switch homes over to full fibre as soon as it can.
What does the change mean?
According to The Mirror, Openreach has confirmed that, from 2024, more than 100 locations in the UK will no longer be able to buy plans that rely on copper cabling. From then, people in these homes will only be able to purchase full fibre deals.
This change will apply to anyone who's signing up for a new contract, whether they're switching, upgrading or re-grading their service.
For many, this will be a positive move. This is because any household that's affected by the change will be able to receive a more reliable and faster connection from next year.
However, if you're affected by this change, then there are some downsides that you should be aware of. First of all, full fibre packages are more expensive than ADSL or 'Superfast' deals. For example, while you can grab cheap ADSL deals for just under £20 and a good 'Superfast' deal for around £25, the top full fibre packages that provide download speeds in excess of 900Mbps can cost up to £55 per month. Although cheaper full fibre deals with lower average download speeds are available, they're still significantly more costly than the cheapest ADSL deals on the market.
On top of this, it's also worth mentioning that switching to a full fibre package can mean that an engineer may need to visit your home and drill through your walls to install new cables.

Will I be affected by this?
As this is such a major change, you'll understandably be concerned about whether it will affect you. Thankfully, as well as providing details about the switchover, Openreach has also listed all of the locations that will be hit by the changes.
From next year, all of the following places will no longer be able to access copper connections:
Swipe to scroll horizontally
| | | | |
| --- | --- | --- | --- |
| East Dean | Blundeston | Colwyn Bay | Cowfold |
| Kilsyth | Larbert | Denton | Chester Le Street |
| Milnthorpe | Feltham | Hitchin | Lancaster |
| Chertsey | Sevenoaks | Chapel St Leonards | Bayston Hill |
| Mountain Ash | Stretham | Driffield | Mold |
| Rugeley | Llanrwst | Fencehouses | Thorne |
| Irthlingborough | Penn | Rotherham | Pwllheli |
| St Marychurch | Rotherham North | Minehead | Aberkenfig |
| Tillicoultry | Stratford on Avon | Southerndown | Topsham |
| Risca | Llanelli | Mercury | Chepstow |
| Freckleton | Cross Hills | Gainsborough | Uttoxeter |
| Great Wakering | Malvern | Stonehouse | Hesketh Bank |
| Matlock | Holyhead | Senghenydd | Ynysddu |
| Billingshurst | Leek | Kennoway | Budleigh Salterton |
| Faversham | Crowborough | Goole | Hawkinge |
| Caerphilly | Mogador | Chessington | Widnes |
| Newton -Le -Willows | Victoria | Honley | Holmfirth |
| Holland on Sea | Friday Bridge | Ashton On Ribble | Stalybridge |
| Upholland | Droylsden | Swadlincote | Kendal |
| Shaw | Simonswood | Altrincham | Knottingley |
| Blackwood | Ebbw Vale | Maesteg | Newport Savoy |
| Newton Llantwit | Criccieth | Market Drayton | Whitchurch |
| Kidbrooke | Brownhills | Worcester Central | Bolton |
| Worcester Park | Winton | Finedon | Mottram |
| Sedgley | Wakefield | Aintree | North Weald |
| Mouswald | Marrburn | Eddleston | Alloa |
| Fiveways | Dalry (Ayr) | Old Colwyn | Penmaenmawr |
| Jesmond | Alnwick | Benwick | Calvine |
| Long Sutton | Warninglid | Saddleworth | Blaenau Ffestiniog |
| Stoneygate | Poynings | Privett | Macclesfield |
Can I switch to full fibre today?
Whether or not you're eligible to switch to a full fibre connection now will depend on your current contract status and whether full fibre is currently available at your address.
If you'd like to discover more about the speeds you're currently eligible to receive, then simply pop your postcode into the widget at the base of this page. We'll then show you all the best and cheapest deals available at your address.
If you're out of contract and a full fibre option is available, then you can switch today. However, if you're still under contract, you should wait until your current deal expires. This way, you won't be hit by any costly penalties for leaving early.
If you're out of contract and full fibre isn't yet available, then you can either wait until it does become available or you can take out a new contract now and then switch to full fibre when that contract expires.
Generally speaking, it's better to sign a new deal rather than wait, because you're likely paying more than you need to for your internet. However, running a comparison using the widget will show you exactly how much you can save by doing this.
I don't want to switch to full fibre - what are my options?
If you live in an affected area and you don't want to switch to a full fibre deal because you don't think they're right for you or they're too expensive, then you have a few options available.
First of all, take a look at the providers that don't use the Openreach network for their connections, such as Virgin Media. Although Virgin Media doesn't supply ADSL connections, they do offer affordable fibre broadband plans. For example, their M50 broadband option that provides average download speeds of 54Mbps only costs £24 per month.
If you can't access a Virgin connection, then it's also worth looking at the other types of broadband available in the UK and assessing your options.
For example, in your scenario, you may find that a 4G home broadband deal or a 5G home broadband deal is perfect. These solutions harness the power of mobile data rather than relying on fibreoptic cables, so there's no need for an engineer to visit your home. Plus, they're also significantly cheaper than full fibre deals if you're willing to sign a long-term contract.
Alternatively, if mobile broadband isn't right for you, then it's also worth taking a look at satellite broadband. As the name suggests, this type of broadband works via satellite transmission. This essentially beams your broadband connection down to you from orbiting vessels above. Although these connections were traditionally quite slow, you can now receive speeds of up to 500Mbps.
So, if the coming change impacts you, don't worry. You have plenty of options available even if you decide full fibre isn't right for you.
Loading...
Get daily insight, inspiration and deals in your inbox
Get the hottest deals available in your inbox plus news, reviews, opinion, analysis and more from the TechRadar team.
Tom is a freelance copywriter and content marketer with over seven years' experience. Originally from an agency background, he is proud to have worked on campaigns for a number of energy providers, comparison sites and consumer brands.