Always wanted a Retina MacBook Pro tablet? Now you can have one
Kickstarter campaign give iPad Air a run for its money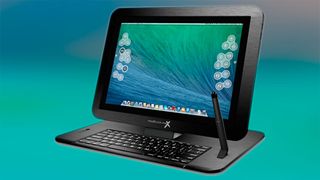 Apple's latest MacBook Pro models are things of beauty, but if you've ever wished one of them could be converted into a powerful tablet, there's now a Kickstarter campaign just for you.
Modbook announced the Kickstarter-exclusive launch of Modbook Pro X, the company's most ambitious hardware project to date. The Modbook Pro X converts a 15-inch MacBook Pro with Retina Display into a pixel-rich tablet computer.
Billed as a "content creation powerhouse," the contraption is meant for creative professionals and casual users alike. The Modbook Pro X can be built from an existing MacBook Pro for a starting price of $1,999 (about £1181, AU$2138), although early backers won't actually receive the modified hardware until early next year.
Paired with a pen input device capable of 2,048 pressure levels and powered by the forthcoming OS X Yosemite 10.10, Modbook Pro X can be configured with up to a quad-core 2.8GHz Intel Core i7 processor, 32GB RAM and maxed out with 2TB of flash storage - double what Apple currently offers.
Take that, iPad!
Those kind of specs would make even the iPad Air run for cover, especially when Modbook claims the resulting device "functions like a regular MacBook Pro in the Mac ecosystem," even after being converted into a tablet.
Modbook Pro X does include a few tantalizing customization options, including Keybars, an eyes-free method for entering shortcuts, and a Keyboard Stand that serves triple duty as an easel mount, keyboard and screen protector.
The folks at Modbook have been converting Mac computers into award-winning tablets for years, seamlessly integrating with existing Mac OS X technologies, including Boot Camp support for dual-booting into Windows 8.1 and beyond.
We've asked Apple for comment on how Modbook's Kickstarter campaign might ultimately affect the warranty status of a MacBook Pro (don't hold your breath), and whether Cupertino frowns on such modifications (we're guessing they do).
Sign up to receive daily breaking news, reviews, opinion, analysis, deals and more from the world of tech.