The best wireless gaming mouse 2022
Say bye-bye to cables with the best wireless gaming mouse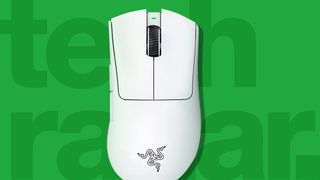 (Image credit: Future)
Not too long ago, the best wireless gaming mouse was an exercise in compromise. Going untethered meant worse performance. But, that's all changed. As wireless technology has progressed so have wireless mice with much-improved connectivity, performance, and battery life. These days, these wireless options can hold their own against wired mice.
Among the best gaming mice on the market, these provide speedy, robust performance that can handle fast-paced gaming without breaking a sweat. You'll get great range in case you like to sit back when gaming. And, you'll experience no interruptions and low latency as well.
Since battery life – or rather, a long one – is vital, they offer hours upon hours of playtime on a single charge – ideally, 100 hours or more if rechargeable, more than 200 hours if not. They come with a few extras as well, like customizable RGB lighting and key remapping so that they're worth every penny.
We gathered all the best wireless gaming mice we could find, some we've heard great things about, most we've put through their paces. Wired mice are great and all, but wouldn't you rather have the convenience of a wireless one? Here are our top picks.
The best gaming mouse overall
Specifications
Features:
90-hour battery, upgradable to 4,000Hz polling rate, optical switches
Reasons to buy
+
Impeccable performance
+
Excellent ergonomics
+
Long battery life
Reasons to avoid
-
Expensive, we guess
-
No RGB
The Razer DeathAdder V3 Pro is an incredibly lightweight gaming mouse that's just as impressive in performance, battery life, and top-notch ergonomics. This gaming mouse is light as a feather and just as supportive for palm grippers than it is for gamers with a claw grip, thanks to the painstaking attention to detail Razer put it when it comes to its form. We found that this form gives users the best and most comfortable experience, whether they're gaming or working.
Its performance is no slouch either; neither are its satisfying-to-press optical switches and battery life of 90 hours that got us through a week of 8+-hour days of consistent use without needing to charge. This is the best gaming mouse, hands down, and naturally the best wireless gaming mouse overall. It's more than worth its admittedly steep price.
Read our full Razer DeathAdder V3 Pro review
The best cheap wireless gaming mouse
Specifications
Connectivity:
Wireless, wired
Reasons to buy
+
Adorable design that comes in equally adorable colors
+
Lots of preset remapping on hand
Logitech's budget offering in its Lightspeed family is surprisingly full of features. The Logitech G305 Lightspeed might catch your attention because of its looks – it comes in different colorways like blue with lilac accents, lilac with purple accents, and mint with lilac. However, it keeps you interested with its great, no-latency performance, comfortable fit, and its nifty extras.
For a budget wireless gaming mouse, it delivers such a fantastic performance, moving accurately with our own movements and triggering immediately at every press, whether we are playing Psychonauts 2 or Cyberpunk 2077. The brilliant G-Shift function, for example, will give you a second set of functions to your buttons. It also has onboard memory so you can save up to five profiles, and a fairly light body. Our only gripe is that it's AA battery-powered, which means it isn't rechargeable. At least it'll last you up to 250 hours.
Read tour full Logitech G305 Lightspeed review
A premium wireless gaming mouse with wireless charging
Specifications
Features:
10+1 programmable buttons, wireless charging, long battery life
Reasons to buy
+
Great ergonomics
+
Fast performance, heavy on features
+
Long battery life
Reasons to avoid
-
A little on the heavy side
-
Wireless charging privilege costs extra
Sitting at the top spot of our best gaming mice list, the Razer Basilisk V3 Pro is an impressive wireless gaming mouse with an equally impressive feature set. Apologetic in its features, it comes with every single vital feature gamers can think of in a form factor that's both comfortable and reliable for gaming – even if it isn't the most lightweight.
Its RGB lighting and 10+1 programmable buttons are a boon to most gamers, but we're blown away by its next-gen wireless charging capability that uses a magnetic puck and magnetic charging dock for convenience. Though do bear in mind that you have to pay extra for it as it doesn't come included with the mouse.
It rounds all that out with its fast and smooth performance, long battery life, and ergonomics so great you won't even notice its heavier weight. For the whole wireless gaming mouse package, this is the one to get.
Read our full Razer Basilisk V3 Pro review
Excellent wireless gaming mouse with plenty of features
Specifications
Features:
8,000Hz polling rate, Quickstrike buttons, PTFE glide pads
Reasons to buy
+
Incredibly fast performance with 8,000Hz polling rate
+
Innovative drag-reducing paracord
Reasons to avoid
-
Possible performance hit at 8,000Hz with lower specs
Logitech revived its most beloved line in a massive way with the Logitech G502 X Plus, which is breathtaking in both its design and its performance – as well as its features. On one hand, it has abandoned the one feature most gamers loved about the Logitech G502 Lightspeed Wireless: weight customization. And, many fans will be disappointed by this.
However, on the other, it comes with even more impressive features that benefit most gamers. That includes a more lightweight body, a brand-new hybrid optical-mechanical switch, a Lightspeed wireless protocol that's faster than the previous generation, and a battery life that's double its predecessor's.
The hybrid optical-mechanical switch delivered immediate responses and an extremely satisfying tactile feedback on test while the HERO 25K sensor proved to be just fast, smooth, and accurate. This wireless gaming mouse would have made it further up the list if it wasn't for the fact that Logitech also charges a premium for the Powerplay charging system.
Read our full Logitech G502 X Plus review
The best value premium wireless gaming mouse
Specifications
Features:
10 dedicated buttons, 4D scroll wheel, Roccat Easy-Shift function, charging dock
Reasons to buy
+
Feet glide so smoothly
+
Great performance
+
Charging dock included in the box
Reasons to avoid
-
Software often buggy
-
Scroll wheel has some resistance
While its rivals are out there charging a premium for extras like wireless charging, the Roccat Kone XP Air does the exact opposite. It not only includes a charging dock in the box for no extra charge and almost the same price as the competition, but it also comes with a few other features you'd be hard-pressed to find in others. Those include Roccat's Easy-Shift feature that kinda gives you a second mouse for free and 15 inputs, which when combined gives you a total of 29 programmable actions.
Its performance, of course, is just as speedy and as reliable as the rest – even if that scroll button could use a bit of tweaking. In fact, its PTFE feet glide smoother on most surfaces you'd use a gaming mouse on, which really helps with your gameplay. As for the 3D RGB lighting, which some people found to be a bit of an acquired taste in the wired Roccat Kone XP, is also more refined and appealing.
Yes, there are cheaper wireless gaming mice out there that offer excellent value. But, if you're willing to pay more and still want a lot of bang for your buck, this one's the obvious winner.
Read our full Roccat Kone XP Air review
6. Cooler Master MM731
The best lightweight wireless mouse
Specifications
Battery:
Up to 72 hours (Wireless), up to 190 hours (Bluetooth)
Connectivity:
2.4GHz Wireless, Bluetooth, Wired
Reasons to buy
+
Very light
+
Versatile connectivity
Reasons to avoid
-
DPI button is on the bottom
A lot of wireless gaming mice are trying to be as lightweight as they can, adding to their portable nature. But, none has succeeded as well as the new Cooler Master MM731. Almost half the weight of most of the mice on this list, this smart contender from Cooler Master delivers great performance and versatility in an affordable package.
Thanks to its 19,000 DPI, 1000 Hz polling rate, and optical switches, most gamers won't feel the difference between this and its wired counterparts. It also has three connectivity options – wired, 2.4 GHz wireless, and Bluetooth 5.1 – so you can pick and choose. What's even more astonishing is that it manages to keep that weight down while having a rechargeable battery inside.
7. SteelSeries Aerox 3 Wireless
The best battery life on a rechargeable gaming mouse
Specifications
Connectivity:
2.4GHz Wireless, Bluetooth, Wired
Reasons to buy
+
Fast charging and long battery life
+
Solid wireless connection
If getting more than 40 hours of battery life for 15 minutes of charging doesn't convince you, its 200 hours of battery life per charge will. But, impressively fast charging isn't the only ace the SteelSeries Aerox 3 Wireless has up its sleeve.
Adapting that honeycomb design technique, this is among the lightest wireless gaming mice out there – and the second lightest on this list. And, if you're worried about dust getting inside, you need not to because it also boasts what SteelSeries calls its AquaBarrier feature that makes this mouse water and dust resistant. As the nail in the coffin of its competitors, it has 2.4GHz Wireless, Bluetooth, and wired connectivity.
An ultra-lightweight wireless gaming mouse for MMO/MOBA
Specifications
Features:
Next-gen Golden Micro IP54 Switches, 18-button programmable layout, 12-button side panel
Reasons to buy
+
Excellent performance
+
Premium build quality
+
Fantastic battery life
We're huge fans of the new Aerox Wireless series from SteelSeries, but when it comes to MMO and MOBA gaming, the SteelSeries Aerox 9 Wireless takes the crown. Designed specifically for such games, it's one of the best you can get in terms of build quality and performance. That's especially if you're willing to pay good money for it.
While some MMO gaming mouse are built with heft, something that some gamers prefer we're sure, this offering from SteelSeries also sets itself apart with an ultra-light weight of 89g that it owes to its perforated body and an ultra-thin PCB material. It's more than just an ultra-lightweight option, however. We found that its button layout delivers an excellent experience while playing any game and its overall design allows for multiple gripe types, making it extra versatile.
Read our full SteelSeries Aerox 9 Wireless review
Versatile wireless gaming mouse for all types of gaming
Specifications
Features:
3 swappable side plates, onboard memory up to 5 profile
Reasons to buy
+
Highly modular
+
Best for MMO gamers
+
Software is extensive
The Razer Naga Pro Wireless may be one of the best MMO/MOBA gaming mice on the market, but it also lends itself incredibly well to other types of games, including FPS and Battle Royale titles. Not only does it offer superb speed and performance both wired and wireless – something we've definitely proven in testing, but it also provides alternative side plates to suit a wide range of games. It comes with three: the typical 2-button side plate for FPS, a 6-button one for Battle Royale, and a 12-button one for MMO.
We were impressed with its top-notch feature set during testing as well. Among those features are its up to 150 battery life, three types of connectivity including 2.4GHz wireless, and an on-board memory than lets you store up to five profiles. That's despite the fact that the bulkiness of the design may cause discomfort for some – or more specifically, gamers with smaller hands.
Read our full Razer Naga Pro Wireless review
An excellent wireless gaming mouse with stunning RGB
Specifications
Connectivity:
2.4Ghz Wireless, Bluetooth, USB-C
Reasons to buy
+
Excellent performance
+
Gorgeous RGB lighting
Reasons to avoid
-
Doesn't work well on all surfaces
-
Not cheap
The Roccat Burst Pro Air's RGB lighting might be a bit limited but it's brilliant. Once you've finished admiring its glowing hues (and come to terms with its price tag), you'll also realize that it has a lot more to offer. This is exactly what happened to us when we put this mouse through its paces.
Not only are there multiple forms of connectivity on hand including Wireless, Bluetooth and USB-C, but it keeps up with the action no matter how much we push it thanks to that 19,000 DPI and 1,000 Hz polling rate. And, we found that glides around easily and freely, thanks to its relative light weight and its PTFE sliding pads. Just make sure to invest in a mouse pad as those sliding pads are hit and miss on some surfaces.
Read our full Roccat Burst Pro Air review