Best animated shows on UK Netflix (April 2019): the 12 best Netflix cartoons
Cartoons aren't just for kids
Best animated shows on Netflix 2018
Welcome to TechRadar's guide to the best animated shows and TV series you can stream on Netflix in the UK.
If you think cartoons are just for kids, you couldn't be more wrong, and with a huge range of brilliant original and syndicated content, Netflix is arguably the best platform for diving into the weird world of animation. (For anime specifically, check out our best anime streaming service.)
All that choice can make it difficult to settle on a show, and if you're at a loss as to which animations you should put on your watch list, look no further than our roundup of the best cartoons available on Netflix in 2019.
If you're not sure where to begin, our list is in order of most to least recently updated shows, so you can be sure to stay up to date with the rest of the Netflix watching population. Commence binge-watching!
1. Big Mouth
Created by Nick Kroll, Andrew Goldberg, Mark Levin, and Jennifer Flackett, Big Mouth is a fictionalization of Kroll and Goldberg's teenage years in Westchester County, New York.
The series is all about puberty, with Nick's raging hormones personified by Maurice the Hormone Monster, who wreaks havoc on his anxiety-ridden teenage life. The new season sees the introduction of the 'Shame Wizard', who gives all the kids in the show a large dose of embarrassment about their changing bodies.
As a series it's pretty graphic, but not particularly in a gross out way - it actually feels quite progressive in it's frank portrayal of the ups and downs of puberty. Still, probably best not to watch this one with your kids/parents.
Seasons on Netflix: 2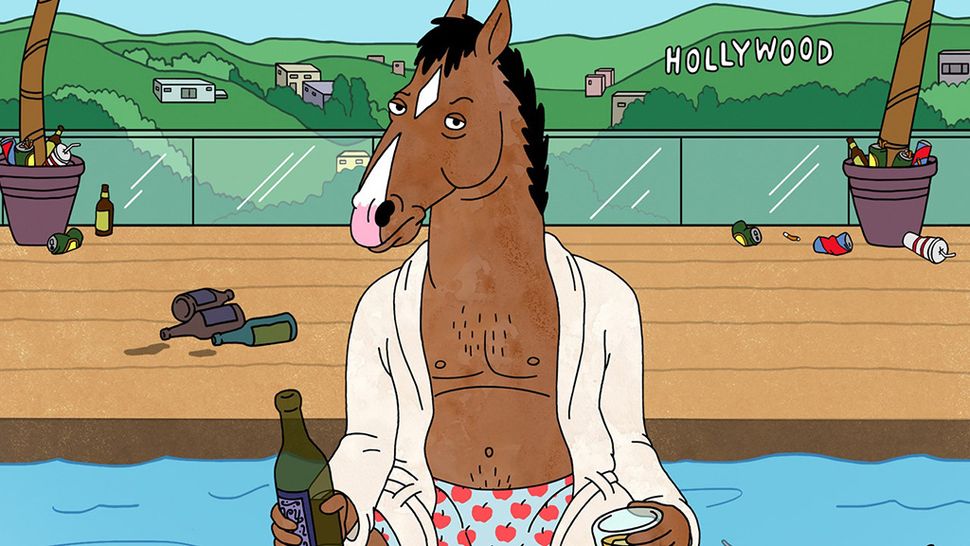 2. Bojack Horseman
Netflix has just released the fifth season of Bojack Horseman, an original series that follows the life of washed up actor Bojack as he struggles with alcoholism, toxic relationships, and a troubled childhood.
The new season sees Bojack trying to come to terms with his issues as the lives of the people around him spin out.
For those who are worried it may be too dark for them, fear not - there's loads of slapstick humor, word play, and stunning animation designed by cartoonist Lisa Hanawalt to keep everything balanced.
Seasons on Netflix: 5
3. Paradise PD
Paradise PD follows a small town police department whose officers are morally corrupt, over-emotional, and violent. Featuring a ton of gross-out comedy and shock value humor, the adult cartoon takes shots at pop culture figures in a similar vein to Family Guy or South Park.
If cartoon violence and crass humor makes you cringe, this probably isn't the show for you, but with ten 30 minute episodes available of Netflix, Paradise PD is pretty binge-able.
Seasons on Netflix: 1
4. Final Space
After human prisoner Gary meets a planet-destroying alien, they must go on an interstellar mission to save Earth. Alongside a ragtag team of misfits, Gary embarks on a journey through space to find out the true meaning of 'final space', or where the universe ends.
Laugh-out-loud funny, and surprisingly emotional, the series was picked up for another season in May 2018.
Seasons on Netflix: 1
5. Disenchantment
Matt Groening's done the present (The Simpsons), he's done the future (Futurama), so it makes sense that his latest series would take place in the past.
His first production for Netflix, Disenchantment takes places in the fantasy kingdom of Dreamland, and follows the feisty young princess Bean, her sweet elf companion Elfo, and demon Luci as they navigate the magical medieval world they inhabit.
With an all-star cast and impressive animation, the series has been met with mixed to positive reviews so far, and has been described by voice actor John DiMaggio as "the offspring of The Simpsons and Game of Thrones".
Seasons on Netflix: 1
6. Over the Garden Wall
Originally aired on Cartoon Network, Over the Garden Wall is a charming mini-series that centres on two half brothers Wirt and Greg (voiced by Elijah Wood and Collin Dean respectively) who must find their way home through an enchanted forest.
Stalked by an evil ancient creature called 'The Beast', the two boys encounter the strange and sometimes wonderful inhabitants of the forest along their way.
With stunning animation inspired by Victorian illustrations and postcards, Over the Garden Wall is the perfect watch for adults and (older) children alike in the run up to Halloween.
Seasons on Netflix: 1
7. Archer
Archer is back on Netflix for its penultimate ninth season, and like the previous season, the characters are playing different versions of themselves as Archer still lies in a coma.
This time Archer is a drunken co-pilot alongside Pam, who crash their plane onto the verdant Pacific island of Mitimotu, with the series paying homage to the short-lived television series Tales of the Golden Monkey and the Indiana Jones films.
Seasons on Netflix: 9
8. Aggretsuko
Created by Sanrio (the people who brought you Hello Kitty), Aggretsuko is a terminally cute and funny animation that follows fed up office worker Retsuko the red panda.
Feeling under-appreciated by her demanding boss, Retsuko turns to death metal karaoke to relieve her work related stress, with hilarious results.
Seasons on Netflix: 1
9. F is for Family
Based on the life of comedian Bill Burr, F is for Family is a funny and endearing cartoon set in 1970's American suburbia, and centres around Burr's father Frank Murphy.
A little like an even more adult version of The Simpsons, the series is all about 70's nostalgia, with musical, costume, and cultural throwbacks interspersed with Frank's profane rants at his misbehaving children and long suffering wife Sue.
Full to the brim with laugh-out-loud moments, the series is just as heartwarming as it is hilarious.
Seasons on Netflix: 3
10. Rick and Morty
Rick and Morty has enjoyed an almost obsessive cult following since its release in 2013, and with three seasons on Netflix, there's a lot to catch up on if you haven't seen it yet.
The series follows the crazy inter-dimensional adventures of mad scientist Rick Sanchez and his timid grandson Morty, as they navigate both the multiverse and fraught family relationships.
Part of it's wide appeal is creator Dan Harmon's masterful combination of side-splitting humor with sometimes devastating emotional depth, meaning Rick and Morty is a series you will unlikely be able to stop watching once you start.
Seasons on Netflix: 3
11. Castlevania
Adaptations of video games into TV series are rarely good, but Netflix's Castlevania may just buck that trend. Based on the 1989 Japanese video game Castlevania III: Dracula's Curse, the series is heavily influenced by anime-style animation.
Suitably gory for a show about vampires, the series follows monster hunter Trevor Belmont as he tries to take down the vengeful Count Vlad Dracula Tepes.
Seasons on Netflix: 1
12. Attack on Titan
Based on the manga of the same title by Hajime Isayama, Attack on Titan is an action -packed anime that's set in a world where humans live in cities protected by enormous walls to protect them from gigantic humanoid monsters called Titans who devour them at any opportunity.
When a Titan breaks through the wall of protagonist Eren Yeager's hometown, he vows to get revenge by joining a group of soldiers who battle them. Although the show has a dedicated fan following, the second and third seasons are yet to be released on Netflix.
Seasons on Netflix: 1
Olivia was previously TechRadar's Senior Editor - Home Entertainment, covering everything from headphones to TVs. Based in London, she's a popular music graduate who worked in the music industry before finding her calling in journalism. She's previously been interviewed on BBC Radio 5 Live on the subject of multi-room audio, chaired panel discussions on diversity in music festival lineups, and her bylines include T3, Stereoboard, What to Watch, Top Ten Reviews, Creative Bloq, and Croco Magazine. Olivia now has a career in PR.