Attack on Titan season 4: what you need to know about the hit anime series
Attack on Titan season 4 is here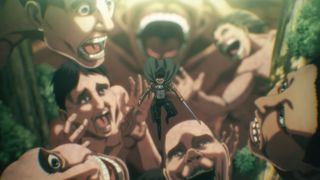 (Image credit: Netflix Philippines)
Attack on Titan season 4 has now arrived. The final season of the hit anime series has started streaming on Crunchyroll and Funimation, with weekly episodes set to keep the giant-sized series in our hearts and minds for the coming few months.
With three seasons now behind us, and a new one available to watch, we've brought together everything you need to know about the iconic anime series bringing giant body horror and heartfelt action to so many of our screens.
Attack on Titan, originally a bestselling manga series created by Hajime Isayama, was turned into the wildly popular anime back in 2013, and has now run for a total of 57 episodes across a period of six years – but it's not over yet.
The series follows a band of elite soldiers known as Scouts, as they defend the last refuge of human civilization against a literally looming threat: massive giants known as Titans, with a taste for human flesh.
There's a lot more to it than its sensational premise, though, with an intricate and eye-widening plot keeping up the suspense between its high-octane – and often airborne – action sequences. Whether you're after slick combat animation, dynamic and vivid characters, or an uncompromising look at the horrors of war – as well as the hope for something better – Attack on Titan delivers on all counts.
Here's what you need to know about Attack on Titan's release date, where you can stream it, and what you will or won't be paying for the privilege – as well as some info on characters we expect to see returning. You can check out a trailer for Attack on Titan season 4 below too.
Cut to the chase
What is it? The final season of the action-packed anime series, Attack on Titan
Where can I watch it? Crunchyroll in the US and Europe (and Netflix elsewhere)
When will it be released? Episodes are releasing weekly on Crunchyroll, every Sunday – with availability to free users coming exactly one week after each episode drops
How many episodes will there be? There will be 16 episodes in the season, it seems
What resolution can I watch in? 1080p for subscribers, and 480p for those viewing for free
Attack on Titan season 4 release date
The first episode of Attack on Titan season 4 dropped on December 6. New episodes will be dropping every Sunday, with a total of 16 for the entire season.
Given how previous Attack on Titan seasons have been split up, though, we may end up seeing eight episodes over as many weeks, with a brief interlude before the final eight episodes are released. (The third season was cut into two parts, with the first running July-October and the latter running April-July).
This is the first time a season has kicked off in December. Previous Attack on Titan seasons have tended to start broadcasting in April, though the first half of season 3 did buck this trend with a July release.
Where can I watch Attack on Titan season 4?
Previous seasons of the anime series have been simulcast on dedicated anime websites Crunchyroll and Funimation, both of which are free to use for ad-supported streaming, with a paid subscription option for more premium features.
Paying $7.99 / £7.99 / AU$7.99 a month for Crunchyroll will net you HD quality streaming on all devices, without ads. You'll need a premium subscription to watch new episodes as they release too – with a week delay for those using free accounts.
Paying $5.99 / £4.99 / AU$5.99 for Funimation also removes ads for HD streaming, and gives you the option to download and watch shows offline. Whichever service you pick, you won't need a 4K TV to make the most of the series.
Attack on Titan season 4 trailer
While Attack on Titan season 4 now streaming, the above trailer launched in late November. Don't be confused by the Netflix logo – the show is coming to Netflix in certain territories from December, but not in the US or Europe.
The trailer does, however, give a good and blood-thumping look at the final season, with far more of an emphasis on WWII-era gadgetry and weaponry than the more medieval stylings of the earlier seasons. There are a few familiar faces, of course, as well as some new ones. Check the trailer out.
Attack on Titan season 4 characters and plot
*Spoilers ahead*
Season 3 massively expanded the world of the series, with the revelation that the walled-off nation the Scouts called home wasn't the last refuge of humanity after all – but a place for those descended from Titans to live in ignorance of their history.
With the Scouts now traveling to the nation of Eldia, we're bound to see some new locales and characters – as well as recurring ones. The Beast Titan and Reiner will no doubt make a return, this time on their home turf. Historia will likely face challenges in her kingdom, possibly with threats to fend off while the Scouts are off fighting elsewhere. The likes of Eren, Mikasa, Levi, and Armin (now a Titan in his own right) will certainly be gracing the screen also.
We expect to see more of the Nine Titans we heard about in season 3, being Titans with exceptional powers like Eren, or the Colossal Titan.
As the final season, too, it's likely we'll see a final explosive clash between the nation of Eldia and those oppressed within it – with the Scout's help, of course.
Isn't Attack on Titan on Netflix?
Yes and no. Only season 1 of Attack on Titan is licensed for distribution on Netflix, meaning you can only watch the first 25 episodes of the anime series. (See our Netflix plans guide for more details.)
To watch season 1-4 all together, you'll need to use either Crunchyroll or Funimation – or through the Funimation Now TV channel on Amazon Prime Video.
Attack on Titan season 4: subbed or dubbed?
Crunchyroll specializies in subbed anime, meaning you won't get a US English dub over the audio, but can read English subtitles overlaid on the screen, while hearing the original Japanese voice acting. Funimation also gets a US English dub for Attack on Titan – with characters speaking English – though usually several days after the subtitled option comes out.
Sign up for Black Friday email alerts!
Get the hottest deals available in your inbox plus news, reviews, opinion, analysis and more from the TechRadar team.
Henry is a freelance technology journalist, and former News & Features Editor for TechRadar, where he specialized in home entertainment gadgets such as TVs, projectors, soundbars, and smart speakers. Other bylines include Edge, T3, iMore, GamesRadar, NBC News, Healthline, and The Times.