Apple reveals new HomePod 2 wireless speaker built for Dolby Atmos
Developing: surprise speaker now packs Spatial Audio support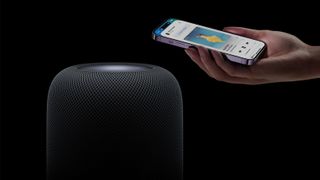 (Image credit: Apple)
Update: you can now read our full HomePod 2 review.
Apple has finally unveiled the HomePod 2, its next-generation wireless speaker. It features a very similar design to the first Apple HomePod from 2018, but with a redesigned speaker system that's even more geared towards Dolby Atmos and Spatial Audio. It will launch at $299 / £299 / AU$479. It's available to order today, and will be released on Friday, February 3 2022.
Also like the original, it features a high-excursion woofer for deeper bass, and an array of tweeters around its circular body – though this time there are five tweeters instead of seven in the original, and they're now upwardly angled, which are likely to help with the immersion of Dolby Atmos tracks.
It features both room-sensing and system-sensing to optimize audio as it's playing, which is a slight development over the original, which included room sensing – it's hard to say how much difference a 'system sensor' will make – Apple says that it "runs complex tuning models in real time to preserve dynamic range and maximize acoustic performance".
Like the original (there's a theme developing here), it's designed to work completely with the Apple ecosystem. It runs Siri as its voice assistant, and you can send audio to it over AirPlay 2 – but there's no option for an aux-in, or Bluetooth audio from any old device.
It does support Bluetooth, however, for smart home purposes – it also supports the Thread and Matter smart home systems, so it acts as a smart home hub for HomeKit and Matter accessories.
You can have the HomePod alone or in a pair, and it works with the Apple TV 4K as a speaker system – this means you use it an alternative to one of the best Dolby Atmos soundbars for everything you watch through the Apple TV (and other audio from your TV, if you have the Apple TV 4K 2022), though we'll have to test it to see how it compares for height and detailed directional audio.
At 5.6 inches in diameter, it's the same width as the original HomePod, but it's marginally shorter – it's now 6.6 inches high instead of 6.8 inches. It's available in black and white finishes, which Apple is calling Midnight and White.
The top is a swirling mass of color, but it now covers the whole top of the unit, just like the HomePod mini, rather than the small dot of color of the original HomePod.
It's coated in the same kind of fetching acoustically clear fabric as the original HomePod, which is just fine with me – it's still a great-looking device.
Analysis: does the new HomePod fix the problems of the first?
The original HomePod appears from the outside to have been one of Apple's least-successful launches in years, with some launch units reportedly still available to buy when it was being discontinued.
I actually love the HomePod, and I still use two as my main music speakers in my living room (and I use a pair of HomePod minis on my desk), but I'm deep in the Apple ecosystem. I watch movies on Apple TV, I use Apple Music for my tracks, everyone in my house has an iPhone.
The problem with the original HomePod is that it didn't offer any flexibility – at launch, Siri could only play music from Apple Music, and AirPlay was the only way to get audio to it otherwise. Apple eventually enabled other music services to use Siri, which helps, but there's still no official way to get audio to it from an Android phone or a non-Apple laptop.
This means that for people in a mixed-OS household, something like the Sonos One makes more sense – it's about the same size, it works with Alexa and Google Assistant, it works with multiple streaming options (including AirPlay 2), and it's cheaper.
From what we've seen so far, I'm not sure that the new HomePod has solved the biggest problems of the original – but perhaps Apple is hoping that its push for Dolby Atmos music with Spatial Audio and lossless-quality tracks in Apple Music will push people to want a higher-quality speaker.
Because make no mistake, the original HomePod was the best-sounding thing you get for its size and price – not far off the quality of wireless speakers that cost twice as much from elite hi-fi brands. Based on audio quality, I expect the new model will crack our list of the best wireless speakers too – but will it crack the market this time?
Sign up to receive daily breaking news, reviews, opinion, analysis, deals and more from the world of tech.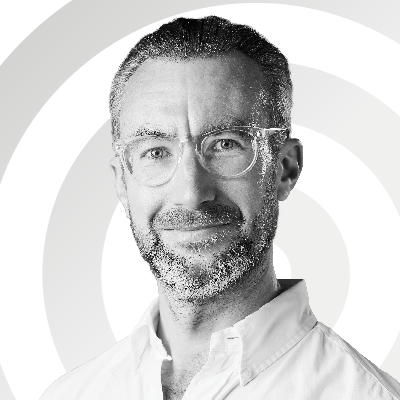 Managing Editor, Entertainment
Matt is TechRadar's Managing Editor for Entertainment, meaning he's in charge of persuading our team of writers and reviewers to watch the latest TV shows and movies on gorgeous TVs and listen to fantastic speakers and headphones. It's a tough task, as you can imagine. Matt has over a decade of experience in tech publishing, and previously ran the TV & audio coverage for our colleagues at T3.com, and before that he edited T3 magazine. During his career, he's also contributed to places as varied as Creative Bloq, PC Gamer, PetsRadar, MacLife, and Edge. TV and movie nerdism is his speciality, and he goes to the cinema three times a week. He's always happy to explain the virtues of Dolby Vision over a drink, but he might need to use props, like he's explaining the offside rule.