AirPods Pro 3: everything we know so far, key upgrades we want to see
Not to upset the Apple cart, but people are starting to talk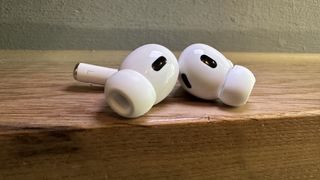 (Image credit: TechRadar)
Have a read through our Apple AirPods Pro 2 review and you'll see they're some of the best noise-cancelling earbuds you can buy right now – but we're still waiting for the next generation to arrive.
While there's undoubtedly a lot to like in our best AirPods list, we can't help but think the AirPods Pro 3 could be the best of the bunch. More customization options for noise cancelling would be a welcome improvement, for example.
Here we've collected together all the Apple AirPods Pro 3 rumors and leaks so far, including possible pricing and release dates – so if you're weighing up one of the best AirPods Pro deals right now, you might want to hang on.
We've also gone into detail when it comes to some of the upgrades we think Apple should be considering this time around, just in case anyone from the AirPods engineering department is reading...
Apple AirPods Pro 3: release date and pricing
Looking back in time, the AirPods Pro 2 arrived on September 23, 2022 – so you may assume that we were due a new pair in September 2023, alongside the iPhone 15, the Apple Watch 9 and the Apple Watch Ultra 2.
Hang on though, because the inaugural AirPods Pro arrived on October 30, 2019, so there was a three year gap between first-gen and second-gen. With that in mind, 2025 might be a better bet for the AirPods Pro 3, though 2024 is still on the table.
As for pricing, both the AirPods Pro and the AirPods Pro 2 were priced at $249 / £249 / AU$399 when they first appeared, so the AirPods Pro 3 cost should be similar – though some inflation is probably inevitable.
Apple AirPods Pro 3: Rumors and leaks
We haven't seen too much in the way of leaks and rumors for the AirPods Pro 3 just yet, which is another sign that a launch isn't exactly imminent, and that we might have to be patient about a new version of this particular product.
What has happened is that the AirPods Pro 2 have been updated with a USB-C case, as previously predicted. This is of course because of the European Union setting an autumn 2024 deadline for the adoption of USB-C charging technology.
While Apple has expressed it isn't happy, claiming such a move can stifle innovation, it seems highly likely the company will comply with the AirPods Pro 3, as it has with the AirPods Pro 2 and the latest iPhone.
I think this is likely the USB-C version of the AirPods Pro 2, with mass shipments expected in 2Q23-3Q23. By the way, Apple currently appears to have no plans for USB-C versions of the AirPods 2 & 3.我覺得這應該是AirPods Pro… https://t.co/aWKJvGh1lWMarch 24, 2023
As you can see from the tweet above, evidence for some new AirPods and a new AirPods case in iOS 16.4 were predicted to be the updated USB-C versions by highly respected analyst Ming-Chi Kuo.
That leaves us still waiting for the Apple AirPods Pro 3 to appear. It's perhaps telling that a leaked Apple hardware roadmap suggested that third-gen Apple AirPods Pro earbuds were still in "early development". There's a pretty fair chance we'll see the AirPods 4 before the AirPods Pro 3.
With that in mind, we might expect some more leaks and rumors to start emerging as we make our way through 2024. We'll be reporting on all of them here, so be sure to check back regularly.
AirPods Pro 3: features and what we want to see
In case you didn't know, Apple had originally planned to sell its AirPods in a variety of color options beyond the shiny arctic white that's been standard for the company's wireless earbuds since the first AirPods version shipped back in 2016 (thank you @KostuamiSan on Twitter, via AppleInsider). The story goes that ProductRED, Purple, Black, and Blonde AirPods were planned, to correspond with options for the iPhone 7, but all were ultimately cancelled.
We have seen various finishes available for the AirPods Max, (Space Gray, Silver, Sky Blue, Green, and Pink) so surely different AirPods Pro finishes isn't too big an ask?
Apple used to release color version of 1st gen AirPods, they planned to make Pink, ProductRED, Purple, Black, Blonde.Reason of that: they wanted to match the color with iPhone 7. (Purple version of iPhone 7 cancelled at last)And it's been cancelled. #appleinternal #Apple pic.twitter.com/AaQqrJZbSrMay 30, 2023
But let's get serious. In case you missed it, Apple's WWDC 2023 shindig happened from June 5 to June 9. And it was a scorcher, including new voice mail features for iOS 17, a new name for macOS 14, video conferencing for tvOS 17, widgets and wallpapers for iPadOS 17, and full-screen app updates on watchOS 10. Oh, and at the very end, Tim Cook finally revealed the Apple VR headset, the Apple Vision Pro.
But none of that is pertinent here. Where Apple's unannounced AirPods Pro 3 are concerned, we need to discuss the fact that in 2023, the Cupertino giant has added Adaptive Audio to AirPods – a headline upgrade within six new features coming to AirPods Pro 2 thanks to iOS 17.
Not all AirPods get the update, only the current models toting active noise cancellation, aka the AirPods Pro 2 and AirPods Max. Essentially, where once there were only three modes available – ANC, transparency mode, and off – you now get a fourth: Adaptive Audio. Apple's take is that this offers the middle ground that we've all been looking for.
I disagree. The new feature blends transparency mode with ANC to match the conditions of your natural surroundings. Using machine learning, Adaptive Audio then creates a more customized and dynamic listening experience so that you don't have to play around with audio settings on your iPhone while you're on the move.
I'd argue that users may want to play with the levels of noise nixing. What if listeners want Adaptive Audio that's tweakable further than simply on/off? As TechRadar's Managing Editor of Entertainment wrote in a recent missive entitled Six features I hope Apple adds in iOS 17 at WWDC: "Give me different levels of noise cancellation – or even better, let me create my own, using a slider or two to set my preferred level, and then saving them as presets I can easily access from Control Center (or maybe they can be triggered by location)."
What might be ideal is something along the lines of the Bose Noise Cancelling 700, which arrived on June 30, 2019, with 11 noise cancellation settings on a slider.
Also, the Sennheiser Momentum 4 Wireless can guide you through a 'Sound Check' via a quick listen to your favorite music and from there generate custom presets as well as Adaptive ANC, including a slider to tweak how much extraneous noise you want to eliminate. Then, there are 'Sound Zones', aka up to 20 profiles (think home, the office, the gym, the train station) featuring specific EQ and noise isolation levels – which will magically activate or deactivate when you enter or leave a specific 'zone' wearing the Momentum 4 Wireless.
To summarize, Apple could adopt a few of these ideas for the AirPods Pro 3 and come off looking very good indeed.
Elsewhere, the flagship Technics EAH-AZ80 earbuds now offer multipoint connectivity to three devices whether Android or iOS, and in this 'Pro' space it would be great if Apple could follow suit with device-agnostic multipoint pairing. Current AirPods cannot connect to two different devices simultaneously – unless they're both Apple products. Provided someone links their AirPods to their Apple ID, AirPods will instantly switch to whatever device the wearer is using.
For stamina, AirPods Pro 2 are more than acceptable at up to 6 hours of listening time with a single charge (up to 5.5 hours with Spatial Audio and Head Tracking enabled) or up to 30 hours of listening time. This is a little longer than Sony and Technics' flagship 2023 buds can manage; it's seven hours and up to 25 with the charging case from the Technics EAH-AZ80; eight hours or 24 in total with the case from Sony's WF-1000XM5.
But the main bone of contention where any new AirPods are concerned is support for Apple Music's own high-resolution audio offering, specifically 24-bit/96 kHz, aka the maximum resolution of Apple Music's Lossless tier, and 24-bit/192kHz – where Apple Music's Hi-Res Lossless offering maxes out.
Currently, to have Hi-Res Lossless files (which Apple gave to its Apple Music subscribers at no extra cost almost two years ago) on your iPhone, you need a fairly involved wired system commencing with the Apple Lightning to USB camera adapter (which is limited to 24-bit/48kHz) then a third-party portable DAC to get you up to resolution, then a set of good wired headphones.
And the slightly lowlier Lossless tier? You still need wired headphones – although your iPhone's onboard DAC is good enough to give you the goods provided you're attaching a cable; something like Apple's still-great EarPods.
If AirPods Pro 3 could grant loyal Apple devotees access to Apple Music's Hi-Res Lossless tier, it'd be a home run.
Sign up for Black Friday email alerts!
Get the hottest deals available in your inbox plus news, reviews, opinion, analysis and more from the TechRadar team.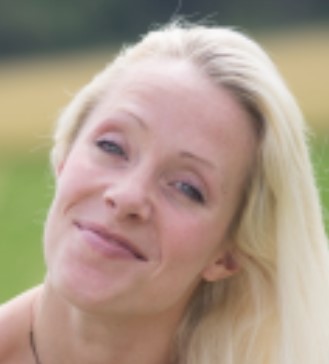 Senior Audio Staff Writer
Becky is a senior staff writer at TechRadar (which she has been assured refers to expertise rather than age) focusing on all things audio. Before joining the team, she spent three years at What Hi-Fi? testing and reviewing everything from wallet-friendly wireless earbuds to huge high-end sound systems. Prior to gaining her MA in Journalism in 2018, Becky freelanced as an arts critic alongside a 22-year career as a professional dancer and aerialist – any love of dance starts with a love of music. Becky has previously contributed to Stuff, FourFourTwo and The Stage. When not writing, she can still be found throwing shapes in a dance studio, these days with varying degrees of success.