How much should I spend on a mattress?
Don't lose sleep over the price of your dream bed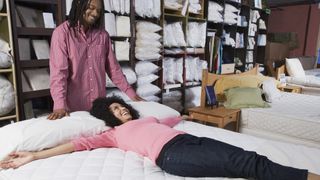 (Image credit: Getty)
Figuring out exactly how much you should spend on a new mattress can be a tricky business, because they come in a wide range of prices. It's worth investing in the best mattress for your sleep style, but that doesn't always mean you have to spend a lot. Knowing what drives those costs will give you a better idea of how you should budget your money.
Of course, mattresses are rarely sold at their full MSRP – but you'll still want to understand exactly what you're getting in return. Below, I'll be sharing the five things that influence the price of a mattress so whether you browse the best current mattress sales or upcoming Black Friday mattress deals, you won't risk overpaying (or even underpaying) for the wrong bed.
How much should I spend on a mattress?
If you can afford it, around $1,000 for a queen size is kind of the sweet spot. You can widen that to anywhere between $800 and $1,200, depending on the category you're looking at (that's the band TechRadar considers 'mid-range'). Note: that's based on the price you're actually paying – many brands have perpetual discounts, making MSRP irrelevant.
The best budget mattresses are under $500 for a queen size, but you'll need to make some concessions in terms of quality and longevity if you're shopping within that price bracket. At the other end of the scale, the very best queen size mattresses can cost upwards of $1,500. While some of these are worth the investment (TechRadar's #1 mattress, the Saatva Classic, falls into this band), it's often not strictly necessary to spend quite this much.
That's said, the price of a mattress is influenced by the build quality, materials, and even the level of brand recognition. I'll explain all of the contributing factors in more detail below.
5 things that influence the cost of a mattress
Ever wonder why mattress prices vary so much? Here are five factors that influence how much you'll possibly spend for a good night's rest...
1. The quality of the materials
Higher quality materials yield higher prices, but on the flip side that bodes well if you're seeking a mattress that'll last a long time. Latex mattresses are costly since they're expensive to produce – however, latex is a durable material that can last up to 25 years. If you're considering an all-foam mattress, our guide to latex vs memory foam can help you dive in.
Memory foam and innerspring mattresses are popular. Each type spans a broad range of price points. The best memory foam mattresses are made with high-density foam, which is more expensive and supportive than lightweight foam. Pocketed coils and microcoils are deemed more valuable and comfortable than traditional wire springs for their responsiveness and contouring.
The price of a specialty cooling mattress will vary based on how much temperature-regulating tech it has. For example, the budget-friendly Cocoon by Sealy Chill mattress only has a phase-changing cover but the premium GhostBed Luxe mattress boasts multiple layers of cooling foam plus a cool-to-touch cover.
2. How the mattress is constructed
Materials significantly influence the price of a mattress, but they're only half of the equation. How those materials come together is just as important.
Generally speaking, hybrid mattresses with springs cost more than their all-foam counterparts. That said, there are budget hybrids out there – read this Allswell mattress review to learn about one of them – but the quality of the materials won't withstand the rigors of nightly use for all that long.
Organic mattresses consist of either latex alone or a mix of latex and springs. They often include other natural materials like cotton and wool. Adherence to strict environmental standards for eco-friendly certifications drives up the cost of production, which is ultimately passed on to the consumer.
3. The included extras
In addition to the mattress, you're also paying for its amenities. At a minimum, you'll receive a warranty and a trial period. The length of the mattress warranty often corresponds with the materials used. For example, memory foam mattresses usually come with a 10-year warranty. However, there are outliers such as the forever warranty I highlighted in this Nectar memory foam mattress review.
Mattress trials range from 90 nights to a full year, although most brands hover around the 100-120 night mark. In our experience, this doesn't always correlate with the final price as I've seen plenty of high-end beds from Casper and Purple feature relatively meager at-home trials while the affordable DreamCloud mattress offers 365 nights to try it out.
Premium brands such as Saatva and Tempur-Pedic throw in free white-glove service because their mattresses are delivered flat. This perk is less common among mattress-in-a-box brands, though some do offer in-home setup for an extra fee.
4. Whether you buy online or in-store
Buying a mattress from a physical store gives you the chance to try it out before you buy but you'll find better deals online. Brick-and-mortar retailers have to account for overhead costs and they pass the burden on to consumers through heavy markups.
Should you buy a mattress directly from the manufacturer or a third-party retailer? I recommend going straight to the brand as this will yield better aftercare. Plus, online stores tend to price-match what the brands are offering anyway, although sites like Amazon occasionally undercut those deals while also providing faster shipping.
5. The brand reputation
Some name brands like Saatva, Tempur-Pedic, and Stearns & Foster command higher prices due to their sterling reputations. It's a well-deserved honor that's indicative of the impeccable craftsmanship of these beds.
But comfort is subjective and no single bed is perfect for everyone. In my Tempur-Pedic Tempur-Adapt mattress review, I noted that it wasn't quite right for me as a side sleeper who runs warm. That's not an attack on the quality of the mattress itself, which is otherwise excellent – it just doesn't mesh with my preferences.
Before splurging on a luxury brand, knowing how to choose a mattress based on your sleep preferences and situation will save you a lot of hassle. Who knows? Your ideal mattress might end up costing less than you anticipated.
Should you ever pay full price for a mattress?
Never expect to pay full price for a mattress. Many brands run frequent promotions, though some only roll out their discounts during major holidays. In any case, if your dream mattress somehow isn't on sale, it's best to wait until a deal eventually comes along.
You can take a look at all of today's best mattress deals below:
Get daily insight, inspiration and deals in your inbox
Get the hottest deals available in your inbox plus news, reviews, opinion, analysis and more from the TechRadar team.
Alison is a freelance writer and editor from Philadelphia, USA. She is an expert mattress tester and sleep product reviewer, and has been sharing trusted buying advice and retail news for over a decade. When she isn't reviewing mattresses or hunting for deals, Alison can be found teaching/training in martial arts, fawning over skincare, and indulging in her quarantine-borne hobby: cooking.