The next Motorola Defy could beat the iPhone 14 at satellite communications
Using a satellite far, far away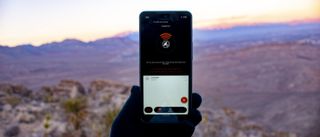 (Image credit: Future / Philip Berne)
A good CES rule is never turn down a cool ride. Sometimes you get offered a ride in a holographic car. Other times, you get a helicopter ride into the middle of the desert to try out a new satellite technology. That's how I found myself hovering above the Strip with Bullitt Group, about to check out technology in a pre-production model of the next Motorola Defy rugged phone that promises much better satellite communications than the iPhone 14 or even the new Qualcomm satellite platform.
Bullitt Group usually works behind the scenes to make rugged phones. It works with Motorola on the Motorola Defy, and it makes the CAT brand phone associated with the Caterpillar construction company. Its specialty is durability, but it may be onto something truly unique with its latest satellite innovation.
Unlike Apple, which has very limited satellite functionality, or Qualcomm, which is only delivering satellite messaging to expensive flagship mobile phones, the Bullitt Group is bringing satellite messaging, and eventually high-speed satellite data, to phones that are more affordable and durable, starting with a Motorola Defy in the first half of 2023.
Better than Apple or Qualcomm's satellite features
The iPhone 14 family of phones can talk to satellites, but the communication is very limited. In fact, Apple only advertises the feature as an Emergency SOS via satellite capability. There are scripts that help send appropriate information to rescuers and emergency services. You can't send a text message to anyone you choose, whether it's an emergency or not. As with most of Apple's services, you're locked into the way Apple wants.
In contrast, Qualcomm recently brought our US Editor-in-Chief Lance Ulanoff to the Las Vegas desert to try its flavor of satellite communications. Unlike Apple, Qualcomm will allow more general text messaging through its satellite service. There will be subscription plans, and geographic limitations based on licensing and politics, but anyone can send a text message to anyone else, and use a satellite when a cellular tower is not close by.
Anyone with the most expensive Qualcomm-based phone, that is. The new satellite features are only launching with the Qualcomm Snapdragon 8 Gen 2 mobile platform, but won't be available on the first devices to use the new chipset. Qualcomm says the satellite functions will launch late in the year, so it's possible that early adopters with the newest Snapdragon may still be left out of the space race.
Enter Bullitt Group, with a surprisingly democratized and advanced offering. I say surprisingly because I wouldn't have expected major communications advancements from a company known for ruggedizing gear. Of course, for the sort of customers who rely on extremely durable phones, having communications available outside of cellular range may be key to their business.
Data from a satellite 22,000 miles from Earth
While Qualcomm and Apple communicate with networks of low-Earth orbit satellites, the Bullitt Group technology talks to a satellite in geosynchronous orbit. That's about as far as a satellite can get from the ground, over 22,000 miles. Compare that to an Iridium satellite that's racing overhead at an altitude of just under 500 miles.
The big difference is that Iridium satellites form a network that orbit the Earth multiple times a day. That means your device needs to find the right satellite every time, then track it as it moves across the sky, and hand-off to another satellite if it loses the original.
The Bullitt Group, on the other hand, uses a more stationary satellite that never needs a hand-off. Sure, the satellite is more than 20,000 miles farther away, but radio signals travel at the speed of light in a vacuum. That adds fractional milliseconds to the transmission time, not a significant difference.
I got a chance to send and receive messages directly from the satellite using a pre-production bit of hardware that will eventually become a Motorola Defy. The phone I tried is not the final look and feel, but all of the features, including the cameras and the rear fingerprint sensor, are expected to be part of the final device. The outer shell is a custom bit of plastic made for Bullitt's demonstrations.
Messaging was very easy. The phone found the satellite in almost no time, much faster than the demonstrations I've seen with the iPhone 14 emergency SOS via satellite feature. Bullitt prearranged with its emergency call center to receive messages from our group in Red Rocks National Park, and the back-and-forth worked flawlessly.
Fast data is coming soon... from space
How much better is the Bullitt Group technology? Bullitt says that as the 3GPP wireless standards mature, its technology will be ready to add high-speed data, delivered from a satellite in space directly to your smartphone. Neither Qualcomm nor Apple have any high-speed data capability on their satellite roadmap.
That doesn't mean the new Motorola Defy that you buy this year will get high-speed data from space any time soon. It will likely take two years for the standards to be fully finalized and adopted. By then, we could see any sort of advancement from Qualcomm or Apple. For now, Bullitt Group is confident that it can deliver data where competition cannot.
To do this, it's using a satellite chip from MediaTek. Bullitt is the first to use MediaTek's Non-Terrestrial Network (NTN) chips in its device. In addition to the chips, it has also partnered with networks on the ground to direct and receive the satellite messages.
The upshot is that instead of a normal, seamless messaging experience, the Bullitt Group satellite messenger relies on a separate app. The app decides how to route the message. If you can connect to a tower, the app will simply send your message via SMS. If you're too far away, the app will initiate the satellite procedure.
What happens on the recipient side? If they don't have the Bullitt Group messaging app, which they probably won't, they'll get an SMS message telling them that someone with a fancy satellite-enabled phone is trying to get in touch. They'll then have to download the app to get the message and participate in the conversation.
This is the biggest sticking point with Bullitt Group's current design, and it's a big one, but I don't think the separate app needs to last. As long as Bullitt is working successfully with MediaTek's chipset, the separate messaging app will be bloatware to bundle for clients, but hopefully not a necessary feature.
Even though Bullitt Group is known for the Motorola Defy, the satellite chips and the network it has created can be used on a variety of devices. If Bullitt can really deliver fast data from space, it will be time for the iPhone and Galaxy fans to admit that perhaps their phones need new priorities. A humble, rugged Defy could quickly become the most capable device communications device in – or above – the world.
Sign up for Black Friday email alerts!
Get the hottest deals available in your inbox plus news, reviews, opinion, analysis and more from the TechRadar team.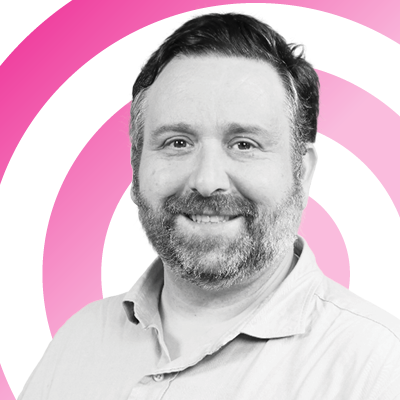 Phil Berne is a preeminent voice in consumer electronics reviews, having reviewed his first device (the Sony D-EJ01 Discman) more than 20 years ago for eTown.com. He has been writing about phones and mobile technology, since before the iPhone, for a variety of sites including PCMag, infoSync, PhoneScoop, and Slashgear. He holds an M.A. in Cultural Theory from Carnegie Mellon University.
Phil was the internal reviewer for Samsung Mobile, writing opinions and review predictions about top secret new devices months before launch. He left in 2017. He worked at an Apple Store near Boston, MA, at the height of iPod popularity. He has been a High School English teacher at Title I schools, and is a certified Lifeguard. His passion is smartphones and wearables, and he is sure that the next big thing will be phones we wear on our faces.