The best duvet in 2023 for a cosy or cool night's sleep
Best
Contributions from
last updated
Find the best duvets for all seasons and every budget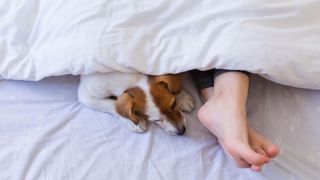 (Image credit: Getty Images)
Investing in the best duvet is the perfect way to top off your sleep setup and ensure a great night's sleep, every night. Just about every duvet will keep you covered up and warm in the night, but whether you have particular needs such as allergies or a tendency to sleep hot, or if you just want a straightforward duvet you can use all year, we can help you choose with confidence.
We've picked out six of the best duvets on the market right now, and at least one of them should be the ideal bedtime match for you. Most of our picks are 10.5 tog, which is the warmth rating that should see you right for most of the year (although you may want to add a blanket on top for the coldest winter months). We've included a few other tog options, though, if you need a little more versatility. You'll also find an assortment of fill options, so regardless of whether you want a synthetic fill or a classic feather duvet there'll be an option for you here. And if you're not sure what you need, scroll down the page for advice on choosing the right duvet for your needs.
Pricing ranges from budget to luxury duvets, but every one of our best duvet choices are great quality, and come from trusted sleep brands including Simba, Scooms and Silentnight. And if a duvet alone isn't quite enough to give your sleep setup the upgrade it needs, take a look at our roundups of the best mattress and best pillow, while if you're looking for something to snuggle up with on the sofa, see our guide to the best weighted blankets. For now, though, here's our selection of our best duvets for sleeping.
The best duvets in 2023
Why you can trust TechRadar We spend hours testing every product or service we review, so you can be sure you're buying the best. Find out more about how we test.
Best overall
Tog: 10.5
Cover: Microfibre
Fill: Smartfil fibres with modal
Price: From £57
Alongside its mattresses, Nectar also excels when it comes to duvets. The 10.5 tog Nectar Duvet is light, breathable and filled with the brand's own Smartfil technology, which uses 20% Modal derived from natural wood pulp. As well as being breathable this material helps wick moisture away from the body, keeping temperatures comfortable. The duvet is non-allergenic, has a soft microfibre cover and is washable at 60°C. Prices start at £80 but this one's almost always discounted, which means you can grab a double for £57 right now. There is also a two-year guarantee and free shipping.
Year-round comfort
2. Simba Hybrid 3-in-1Duvet
Tog: 3.5 and 7
Cover: Cotton
Fill: Recycled polyester with modal
Price: From £249
If you spend half the year struggling to sleep under a too-thick or too-thin duvet, Simba Hybrid 3-in-1 Duvet could be the answer to your prayers. It's comprised of two duvets – a 3.5 tog for summer and a 7 tog for spring and autumn – that can be used separately then fastened together in the colder months to deliver a cosy 10.5 tog. It's expensive but well worth the price, with impressive use of sustainable materials and great temperature regulation. Both duvets are washable, and it's easy to attach and separate them; there's even a handy carry case included that you can use to store either duvet when not in use.
Read more: Simba Hybrid 3-in-1 Duvet review
Most eco-friendly
Tog: 10.5
Cover: Bamboo
Fill: Bamboo/recycled plastic
Price: From £99.95
There's plenty to love about the 10.5 tog Panda Cloud Duvet. Not only is it light, soft and like sleeping under a cloud, but the bamboo cover and bamboo and recycled plastic-bottle filling are hypoallergenic and vegan-friendly. The duvet is also anti-bacterial, easy to wash and quick to dry, and it uses ethically sourced organic bamboo, which is grown pesticide free. It is also delivered in a recycled and recyclable box, and includes a reusable bamboo bag, ideal for storing the duvet when not in use. Panda offers customers a 30-night trial, free UK delivery and returns, plus there's a five-year guarantee.
Luxury choice
4. Scooms Hungarian Goose Down Duvet
Tog: 2.5 – 13.5
Cover: Organic cotton
Fill: Goose down, goose feather
Price: From £125
If you're looking for luxury then it will be hard to resist a real-feather duvet from Scooms. These duvets are available in different tog ratings from 2.5tog to 9 tog, plus you can combine two duvets to create a 7 tog, 11.5 tog and 13.5 tog option. The filling is 90% Hungarian goose down with 10% Hungarian goose feather, making this duvet light, breathable with great insulation, and it's soft and fluffy too. The feathers add weight and help the duvet drape well, while the high-thread-count cotton cover has a tight weave to keep dust mites at bay; the duvet also holds the 'Nomite' anti-allergen standard.
Lighter option
Tog: 6.7
Cover: Microfibre polyester
Fill: Microfibre polyester
Price: From £69
For a duvet that won't leave you sweltering in the summer months, Emma's Cloud Duvet is well worth checking out. This is a lighter 6.7 tog duvet, so it's not really one to keep you cosy through the winter, but it's perfect to prevent you from sweltering when the temperatures rise. Both the cover and filling are made from breathable and hypoallergic polyester microfibre, and this duvet's machine washable at up to 60°C. It's rated 4.9 out of 5 by customers, there's free delivery and returns, and Emma provides a 14-night risk-free trial so that you can make sure that the Cloud Duvet is the perfect fit for you.
Budget pick
6. Silentnight Airmax Duvet
Tog: 10.5
Cover: Microfibre
Fill: Microfibre
Price: From £30
Silentnight's Airmax duvet is the ideal choice if you want something that'll feel comfortable all year round and that won't cost you a packet. With prices starting at £30 for a single this one's great value, and it doesn't skimp on quality. It features mesh sides that enhance breathability, so it's less likely to trap heat in the warmer month, it's made with hypoallergenic microfibre that's kind to your skin and won't trigger allergies, and it's machine washable so you can keep it fresh easily. Amazon shoppers rate this one 4.7 out of 5, finding it soft, light and breathable; it comes with a five year guarantee, too.
How to choose the best duvet for you
Even though duvets might appear the same on the outside, there's plenty of difference when it comes to what's on the inside.
Things to consider include how warm you want your duvet to be and during which seasons you are most likely to need it. Duvets come with different tog warmth ratings (see below for more), and can be used singly in warmer seasons or attached together to make a super-snug option for the coldest winter nights.
You can then decide whether you need a duvet with a real feather or synthetic fibre fill. These offer different warmths, with feather and down duvets trapping more heat. However, if you want a vegan option or suffer from allergies, then feather duvets are best avoided.
Synthetic duvets are a good substitute for feather ones and are often made with recycled materials. They're usually cheaper too and more practical, as they are easier to clean in a washing machine – ideal for hot sleepers who like to keep their bedding light and feeling fresh.
What tog should my duvet be?
The lower the tog rating, the less warm the duvet. Around a 4.5 tog is a good hot weather duvet, a 10.5 will work for autumn and spring, and in cold weather, you could go for a 13.5 tog.
Typically, duvets start at around 4.5 tog (although some can be as light at 2.5), these lighter duvets are ideal for summer months or if you sleep hot. For the colder seasons and people who sleep cold, you can buy duvets that go up to a super-toasty 13.5 tog. Generally speaking though a 10.5 tog is a good average weight for a duvet to see you through spring, autumn and into winter.
There's also the option of a 3-in-1 duvet, which comprises a lightweight duvet (usually 4.5 tog) for summer and a mid-weight duvet (usually 7 or 9 tog) for spring and autumn. These can be used individually or attached together to create a warmer winter duvet.
Get daily insight, inspiration and deals in your inbox
Get the hottest deals available in your inbox plus news, reviews, opinion, analysis and more from the TechRadar team.
Grace Franks is an experienced sleep and mattress writer who has written for our sister sites Tom's Guide and T3, among other brands. She's interested in organic and eco-friendly sleep products, and how good sleep can improve our general wellbeing. When not writing about mattresses, Grace loves reading, creative writing, and practicing yoga.