Figuring out the best Hulu movies to watch? We've got your back. Hulu's movie collection features a satisfying range of genres, from teen horror to gust-busting comedy and dark drama to stellar sci-fi. Given its credentials (Hulu is a joint venture between Disney and the parent company of Universal, Comcast), you'd expect nothing less than cinema classics, new releases and Hulu originals – and that's what you get.
Hulu is a genuine rival to streaming powerhouses Netflix, HBO Max and Prime Video, and, though its movie library is constantly changing, deals with 20th Century Studios mean its core cohort is brilliant and always available. This means access to the likes of Garden State and Deadpool, as well as a constantly expanding collection of Hulu originals.
So, without further ado, here are our picks of the best Hulu movies to stream right now (and be sure to check out the Hulu plans and prices as well).
Best Hulu movies
Prey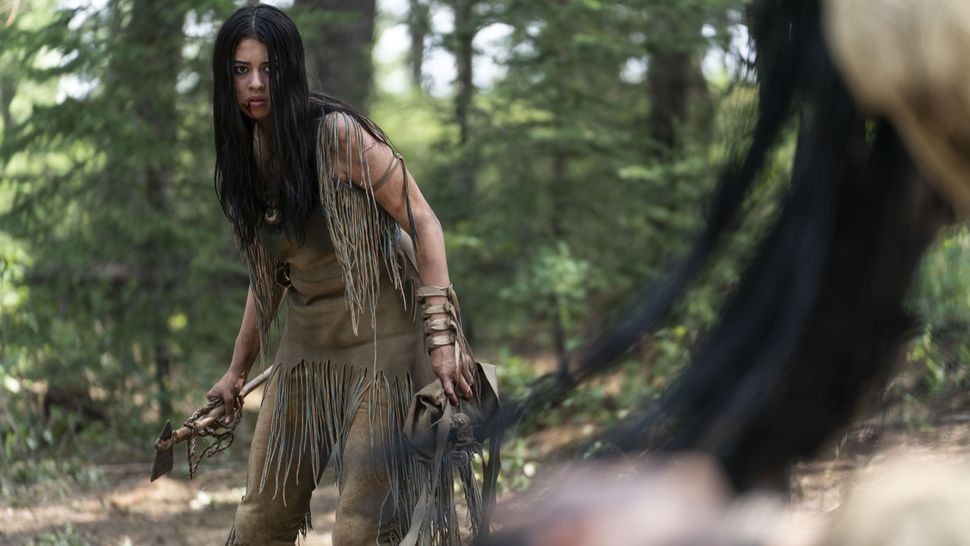 The fifth instalment in the Predator franchise, Prey, is a prequel set 300 years ago and sees the iconic villain hunting skilled Comcanche warrior Naru. Trained as a healer, Naru is trying to prove herself as a warrior and finds herself protecting her people against a vicious humanoid alien, as well as French fur traders trying to catch and destroy the buffalo the tribe relies on for survival.
The film has been widely praised for its fresh take on the franchise format, with many believing it to be the best Predator film since the very first one.
The 40-Year-Old Virgin
It's easy to forget what this movie did for comedy, with Judd Apatow launching a whole genre shift from the springboard of The 40-Year-Old Virgin. If you haven't seen it, the plot follows Andy, a 40 year old electronics store assistant who, as the title suggests, is a virgin. The movie focuses on his attempts to change that particular situation after his friends find out during a poker game.
Yes, it's embarrassing at times and the humour won't be for everyone. But it is an important movie, which propelled Steve Carell into his mega-star status and gave Seth Rogan a showcase for his comedic talents. And it is very funny, even when hiding behind your hands.
Final Destination (all five movies)
If you like your horror to be spine-chilling, funny and enormously entertaining, Hulu has a treat for you: it's added all five Final Destination movies. The critical consensus is that Final Destination 3 is the best of the series, but we've got a soft spot for the very first one. It's an inspired take on the classic teens-in-peril horror trope, and it's more unsettling than straight-up scary.
The setup for Final Destination is really simple. A bunch of teens are flying out on a school trip, but not everybody makes the flight – which promptly explodes in mid-air. The teens have cheated death, but it seems that death has other ideas.
This is a glorious cheeseburger of a movie, and so are the sequels: you know that almost everybody is going to die, so the suspense here isn't in the "if"; it's in the how. The grim reaper's attempts to finish the job are increasingly complex and entertaining – some of them will have you jumping out of your seat in surprise and horror – and in the sequels the filmmakers have tons of fun with misdirection and jump scares.
The Princess
Joey King leads this all-out action thriller.
Set in an unnamed medieval kingdom, her character, known only as The Princess, finds herself betrothed to Dominic Cooper's Julius, a cruel sociopath who wants to take the throne by any means necessary. When she refuses to marry him, The Princess is kidnapped and locked in a remote tower.
But what Julius and Olga Kurylenko's Moira, his vicious right-hand woman, haven't banked on is the fact that The Princess has spent her youth under the tutelage of Veronica Ngo's Linh, a teacher in all things martial arts, swordplay and vicious self-defence. There are hoards of guards between The Princess and escape, but she's prepared to fight every single one of them to get out of the castle...
Deep Water
Taking its inspiration from Patricia Highsmith's novel of the same name, Deep Water reignites the erotic thriller. It's no surprise given its director Adrian Lyne's back catalog of work. Lyne took charge of both Fatal Attraction and Unfaithful, two films where steamy shenanigans are afoot.
And they are afoot again here. Vic Van Allen (Ben Affleck) is a retired millionaire whose wife Melinda (Ana De Armas) isn't satisfied by his wealth and engages in multiple extra-marital affairs. Despite his initial willingness to look the other way, Vic's jealous streak emerges right as the bodies of her former paramours also emerge. Affleck and De Armas' real-life relationship at time of filming adds an edge of rawness to the proceedings.
Palm Springs
Living the same day over and over in sunny Palm Springs can't be the worst way to spend eternity, right? This Hulu original rips apart this seemingly-ideal time loop concept through the experiences of Nyles (Andy Samberg) and Sarah (Cristin Milioti), two strangers who meet at a wedding only to realise they're both trapped in an endless repeat of a terrible day.
It's no surprise Hulu paid big bucks (around $20 million) for the rights following its Sundance premiere. Much like the granddaddy of time loop movies, Groundhog Day, Palm Springs is loaded with poignant moments of reflection and black-as-night jokes.
Titane
Raw director Julia Ducourneau's sophomore effort is a blistering, stomach-churning descent into body horror unlike anything else we've seen in recent years. The fact it won the Palme d'Or at Cannes is evidence of its raw, unfiltered power.
Agathe Rousselle, in her film debut, stars as Alexia, a young woman who has a metal plate fitted in her head following a car accident as a child. This foreign body stimulates a love for automobiles that makes Christine play like a Pixar movie. Alexia's flourishing desire sends her on a violent cross-country spree with twists and turns you won't see coming. This is an experience you won't forget.
Garden State
At the height of the Manic Pixie Dream Girl trope, we got Garden State, Zach Braff's semi-autobiographical ode to figuring out your life while falling in love with a kooky girl who helps you achieve your dreams. While the trope has thankfully been dismantled, Braff's debut remains a fun, moving film, about how we handle our youth on the cusp of leaving it behind.
Braff plays Andrew Largeman, a struggling LA actor who returns to New Jersey when his mother dies. Back home he reconnects with old friends, meets Sam (a superb Natalie Portman), and learns to reconcile his past.
Benedetta
Garnering a reputation as "the lesbian nun movie", Paul Verhoeven's Benedetta sensationalises a 17th-century Sapphic relationship, but it speaks more as an examination of faith.
Sister Benedetta (Virginie Efira) and Sister Bartolomea (Daphne Patakia) begin an affair behind closed doors while the former experiences vivid daydreams of Jesus and signs of stigmata. Its titillating set pieces involving an augmented Virgin Mary statue raised eyebrows yet its most shocking moments stem from steadfast belief, and how that can lift you up or destroy you.
Fresh
Many romantic-comedies make light of the pitfalls of the dating scene, but Fresh takes it to task through black-as-night horror comedy, skewering the dire situation that is internet dating.
The movie opens as Noa (Normal People's Daisy Edgar-Jones) endures yet another evening of belittling, misogynist banter, leading her to give up on romantic prospects. That is until the perfect meet-cute in a grocery store where she encounters Steve (Sebastian Stan), a refreshingly normal guy. To say more would give away the film's best sting, an early twist which swiftly passes comment on the modern dating landscape with a savage sense of humor.
Director Mimi Cave is one to watch.
Spencer
In the years since The Twilight Saga, Kristen Stewart's worked to separate herself from Bella Swan, and she hammers the final nail in that coffin with Pablo Larrain's Spencer.
As Princess Diana, Stewart's own experiences with the paparazzi gift her an innate empathy for Diana, perhaps enabling her to channel the restraint of being in the spotlight. Her Academy Award-nominated performance is the highlight in a movie which shares more in common with The Shining than any other royal biopic, signaling the isolation and loneliness of the former Princess of Wales through a horror lens.
Run
Director Aneesh Chaganty follows up his screen-set debut Searching with Run, a homebound thriller that broke Hulu records shortly after it dropped. And it's no surprise, given the caliber of talent.
Sarah Paulson stars in this Hulu original as a mother whose dedication to her wheelchair-bound daughter Chloe redefines the concept of helicopter parenting. Chaganty and co. were determined to find a disabled actor for the role of Chloe, finding newcomer Keira Allen, who gives Paulson a run for her money in this taut, action-packed film. Cribbing from iconic horror Misery, this is packed with twists you won't see coming.
Happiest Season
Taking your new partner home for the holidays can be anxiety-inducing, but when your parents don't know your partner is a woman and that you're actually queer? That ramps things up even more so.
Clea Duvall's Christmas comedy stars Mackenzie Davis as Harper, who has kept her relationship with Abby (Kristen Stewart) under wraps, leading to a slew of hiding hijinks once they arrive. Think The Family Stone with sharper wardrobe choices. Plus this warm-hearted comedy about celebrating love in all forms features Aubrey Plaza and Dan Levy on scene-stealing form as the duo's respective best pals.
Mother/Android
There really should be a Letterboxd list featuring movies where Chloe Grace Moretz has to endure sci-fi shenanigans whilst carrying a baby. The former child actor is turning into a solid b-movie action lead, her turn in Mother/Android elevating this from forgettable straight-to-video fodder into excellent tech thriller.
The Batman scribe Mattson Tomlin makes his directorial debut based on his own screenplay, set in a world where AI butlers are installed in every home… and then start to murder their owners. Plenty of tense chase sequences and twists will keep you guessing.
No Exit
A solid one-location thriller, No Exit is based on the best-seller of the same name. Havana Rose Liu stars as Darby, a young woman we meet at a halfway house, who leaves in the middle of the night to get home to her dying mother. A blizzard forces her to hole up at a rest stop, where she encounters a bunch of strangers seeking solace from the storm.
But wait, there's more! She soon discovers a kidnapped girl in the back of a truck outside, turning her quiet evening into a mystery. With a strong supporting cast including Dale Dickey and Dennis Haysbert, like the relentless snow, the twists fall thick and fast in this pacy thriller.
The United States vs. Billie Holiday
Lee Daniels followed up The Butler with this biopic on the legendary jazz singer. Written by Suzan-Lori Parks and based on the book, Chasing the Scream: The First and Last Days of the War on Drugs, Hulu's Oscar-nominated take on Billie Holiday's life follows what happened following the release of 'Strange Fruit'.
Examining Holiday's struggles with addiction amid an investigation by the FBI, the movie juggles a slew of topics, bouncing from the late 1950s to the 1940s to paint a portrait of Holiday's life. Audra Day excels in the titular role, delivering a soul-shaking performance of Strange Fruit that's by far the standout moment.
Nightmare Alley
Guillermo Del Toro's latest offering is a noir throwback made fresh, taking inspiration from the novel of the same name and its 1947 first adaptation. The year is 1939 and Bradley Cooper stars as Stan, a carnival worker whose ambitions span farther than the scrappy circus to a solo clairvoyant act.
Despite the hushed warnings of his fellow workers, urging him to only do good, Stan has his eyes on the big prize in the form of a long con. On the surface, it feels like a straightforward story of the evil men do for money. Told through Del Toro's inimitable lens, a lush, warm production design with jagged edges here and there, it's a must-see thriller.
Pig
Following years of straight-to-video actioners, Nicolas Cage's recent offerings have shifted to the far corners of genre – cosmic horrors Mandy and Color Out of Space – before catapulting to this low-key, blurry-edged drama about a recluse chef.
Trailers for Pig played it like John Wick but with a porcine pal as the puppy yet Michael Sarnoski's debut deserves more than comparison, a tender tale of a man driven to a life in woods, where his days are spent ambling the forest with his best friend, a truffle pig. When she's stolen, Cage must reconnect with the outside world he left behind to retrieve her. It's a heart-breaking story of redemption in which Cage delivers a lifetime-best performance.
Plan B
This Hulu original is one of the best teen movies of the last decade. A charming road trip flick, Plan B follows best friends Sunny (Kuhoo Verma), the studious rule follower, and Lupe (Victoria Moroles) the freebird. With Sunny's mom out of town, they throw a party in the hopes of luring Sunny's crush - Hunter (Michael Provost) - but things don't go to plan, forcing the girls to go on a road trip to get the morning-after pill.
Considering its topic, which could easily rile, this movie is packed with heart, wit, and care for its two leads, who shine under the direction of first-time filmmaker Natalie Morales. Genuinely funny, flipping the road trip tropes on their head, it's a great ride.
Hustlers
Is the wildest thing about Hustlers the fact it's a true story or that its wide swathe of diverse talent, in front and behind the camera, make it an invigorating piece of cinema? It's both.
Based on a New York Magazine article, Lorene Scafaria directs with nuance and grit and shines light on a group of strippers who begin an illegal enterprise to make serious cash. Audience surrogate Destiny (Constance Wu) is our way into this world, as she embarks on a dancing career guided by vets Ramona (Jennifer Lopez) and Diamond (Cardi B), who symbolise the determination it takes to make it. Hustlers is a phenomenal work about powerful women whose achievements warrant praise because the deck is always skewed against them.
Little Miss Sunshine
Laugh, cry, repeat. That's the winning formula behind this feelgood road trip movie about a dysfunctional family on a cross-country journey. Cheerful Olive, a happy-go-lucky sort played perfectly by a young Abigail Breslin, applies to the Little Miss Sunshine pageant which takes place on the other side of the country. She scores a place, forcing the entire Hoover clan into a VW van for a slew of amusing antics ranging from hysterical to tear jerking.
The cast deliver their absolute best here, with Toni Collette and Greg Kinnear on form as Olive's parents, Steve Carell as Olive's depressed uncle, Paul Dano as her moody teen brother who refuses to talk and Alan Arkin as her sass-mouthed grandpa. Funny and moving, you'll be hard pressed not to cry when Olive's time in the spotlight finally arrives.
Censor
Prano Bailey-Bond's directorial debut places an unexpected hero at its center, a shy, unassuming movie censor. That fact alone should alert you to the fact this isn't a by-the-numbers horror. Niamh Algar stars as Enid, the film ratings censor whose job watching and rating films at the height of the video nasties era sparks a long-ago trauma. Unable to shake the memory of her sister's untimely death, she spots what she thinks is her sibling in a movie and embarks on a journey to uncover the truth.
What unravels past the film's midpoint is wholly terrifying, a sign of Bailey-Bond's filmmaking chops which will no doubt produce even more terrors in the future. Do not miss this.
In the mood for a series? See our list of the best Hulu shows.