If you're looking for the best camera under a $1,000 then you've come to the right place. Whether you're working to a budget due to the cost of living crisis, upgrading from your old smartphone or perhaps buying a camera for a loved on, there'll be something here for you.
The best cameras under $1,000 can all be found within this guide – we've got a whole range of different types of cameras, so if you're particularly interested in DSLRs, check out our best beginner DSLR guide.
These days, $1,000 can certainly get you a lot of camera for your money, but you can often pick up an even bigger bargain by opting for a slightly older models that are still capable of producing outstanding results. In this guide, we've got a healthy mix of different makes and models available to buy right now for you to advance on your photographic journey.
No matter your needs, this roundup should help you find what you're looking for. We've picked out the choices below based on a number of factors, including size, features, and, of course, price. Some of the cameras here are ideally for beginners who are just starting out, while others are more advanced, higher-end models that might be a couple of years old.
Picking the best camera under $1,000 is a little subjective, but our number one pick right now is the Fujifilm X-S10. It's an ideal for choice for both hobbyists looking to upgrade to a mirrorless all-rounder, and pros looking for a capable second body.
Whichever cameras you pick from this line-up, you can be sure it'll help you get those perfect photos or videos, and often a bit of both.

The best cameras under $1,000 in 2022:
Why you can trust TechRadar Our expert reviewers spend hours testing and comparing products and services so you can choose the best for you. Find out more about how we test.
By taking many of the headline features of the flagship X-T4 and placing them in a smaller, cheaper, body, the X-S10 is the ultimate all-round mid-range camera. You get in-body image stabilization, an already tried-and-tested 26.1MP X-Trans CMOS 4 sensor and X-Processor 4 combination, along with the ability to record 4K video at 30p.
The XS line is new for Fujifilm and attempts to catch those users who have so far managed to abstain from the charms of cameras such as the X-T30. It's designed to be just as adept at both shooting stills and shooting video, so it should appeal no matter which is your bag.
Handling is good – if somewhat of a departure from other classic Fujifilm models – so if you're currently using a DSLR and are thinking of making your first move to the mirrorless revolution, the X-S10 is a great place to start. You'll find the handgrip to be chunky and comfortable for prolonged shooting.
That's not to say that this is the perfect camera for every type of shooter. If you're majorly into your action and sports photography, the AF performance here isn't quite on par with some other models, such as the Sony A6600. But for the money, it's a fantastic all-rounder, and the IBIS system is a real bonus if you mostly shoot handheld rather than on tripods.

A follow-on to the hugely successful A6000, the A6100 brings a lot of useful specifications to a small, light and compact body. Ideally suited to beginners looking for their first mirrorless camera, it features an APS-C sized sensor which is much larger than those you'll find in your smartphone.
Many of the A6000's signature features can be found here on the A6100 - why change a winning formula too much? That means you get a very familiar body design, a sensor which uses the same 24.2MP resolution, and a very similar tilting screen and EVF combination - though the screen now has touch-sensitivity. 11fps shooting has also been brought over from the old model too.
However, there have of course been some much-needed improvements too. The A6100 is much more user-friendly than its predecessor, with improved handling and a better continuous autofocus system. This makes it a great all-rounder for anybody who likes to shoot a variety of different scenarios, including moving subjects.
Downsides include the fact that the touchscreen functionality is limited, while the EVF and LCD are comparatively low-spec in the modern market. But for all the other tech you get for the price, it's a decent compromise that is worth making.

There's a lot to like about the Fujifilm X-T30 II. Although it's a relatively minor upgrade over its predecessor, overall it's an excellent mid-range camera that's well suited to travel and everyday photography. It packs a fair punch with a great sensor, cracking AF system and some decent video specs. That said, if you already have the original X-T30, or have a little more budget to spend, it's worth looking further up the line.
Fujifilm has used the exact same chassis for the X-T30 II as for its predecessor – so there are no surprises here, for better or worse. What that means is that you get a retro-styled body, which we think looks particularly attractive in the black and silver finish; an all-black model is also available.
Given that we've seen the X-T30 II's sensor in multiple cameras, we didn't expect any surprises when it came to image and video quality. In fact, this sensor is probably the best APS-C sensor on the market right now, so you're all but assured of good image quality.
Fujifilm has earned a lot of fans for the way its cameras handle color, and as we'd expect, you get beautifully rich tones and vibrancy. JPEG images directly from the camera look fantastic, while the raw files give you lots of scope to make adjustments as you see fit.

Get past the slightly clumsy name and you'll find the Olympus OM-D E-M10 Mark IV is a straightforward, simple camera that's perfectly suited to beginners looking for something small, light and capable. It helps that it's got an attractive, retro design, too.
You won't find super-advanced specifications here, like 4K at 60p, phase-detection autofocus, specialized input ports, or even a USB-C port, but if you're more concerned about stills than video, you'll likely be fine without these omissions. If you want to create the odd video clip, then the E-M10 Mark IV can handle it if necessary, though.
If you're already shooting with a smartphone, some of the camera's specs may just tempt you over. The button layout and touchscreen combo make for intuitive handling, while the fact that it's a Micro Four Thirds camera means it's not too unwieldy for first-time users. It's also a bonus that there's dozens of lenses available for the system, giving you confidence that it's something you can grow and learn with, too.
Super in-body image stabilization (IBIS) comes from the flagship Olympus E-M1 series and helps to produce fantastic imagery in a wide-range of situations, too.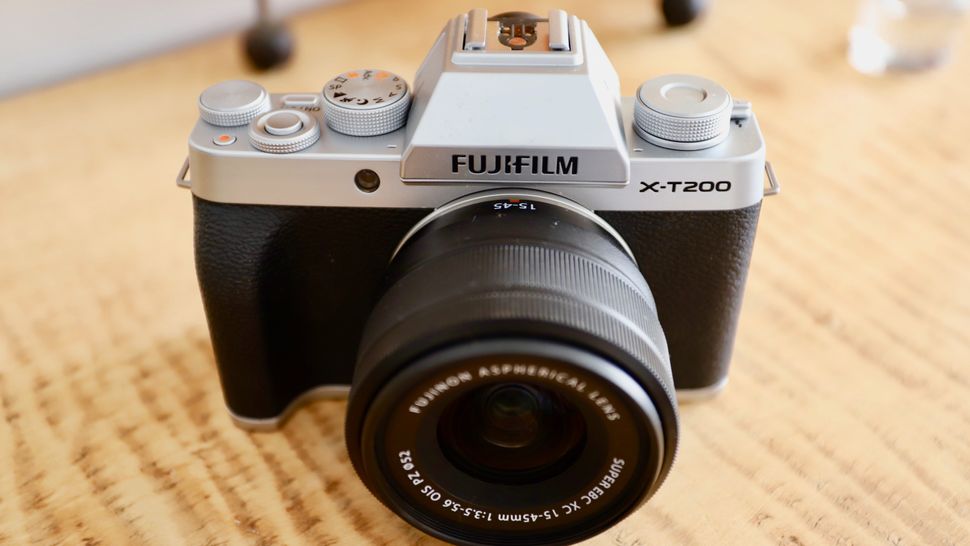 Aiming to bridge the gap between smartphone photography and the world of interchangeable lens cameras, the Fujifilm X-T200 provides a decent mix of physical controls and touchscreen functionality. As well as a decent viewfinder, which makes it easy to take pictures in bright sunlight, the X-T200 has a 3.5in display – the largest in its class. Its screen can even be flipped out to face forward, making it perfect for taking selfies and vlogging.
Having access to settings via a touchscreen keeps things familiar for people moving across from a smartphone. But this camera also offers physical controls, including three dials and a joystick, for those confident enough to explore them. It has a simple-to-use layout and helpful instructions displayed on the screen to explain menu items within the settings. Fujifilm mirrorless cameras are famed for producing incredible JPEG images in-camera that don't require editing. In part, this is thanks to the inclusion of a range of award-winning Film Simulation modes, which replicate the look and feel of a classic film. Move over social media filters!
If you're looking for a significant step up from a smartphone that offers decent photo performance with video capabilities, the X-T200 is a strong choice. As an entry-level camera, the X-T200 comes with the f/3.5-5.6 lens, which is a great everyday option for street portraits and travel. It also offers lens stabilization to help avoid blurry images in low light.
The X-T200 gives you access to a broad range of incredible Fujifilm lenses. This makes it an ideal camera for those ready to invest in a system that can grow with their skills.

Fujifilm's award-winning X-T range has been on a roll for a number of years now, although some may say that the X-T3 fell slightly short of expectations. If this is indeed the case, then why did it make it into our best cameras under $1,000 list?
Eye-catching vintage good-looks aside, the X-T3 is a brilliantly designed camera that provides physical access to all of its key settings. Beginners may find its full control layout style a little intimidating. However, once you're familiar, the X-T3 is one of the most intuitive and enjoyable cameras to use from any camera manufacturer.
Launched in 2018, the X-T3's specs hold up today. It has a 26.1-megapixel APS-C sensor and a comprehensive autofocusing system that uses phase detection areas that cover 100% of the camera's sensor. It also offers face/eye detection autofocusing, and can rattle off up to 11fps (with AF) if you're using the mechanical shutter, or 20fps using the electronic shutter. Whether you plan to shoot sports or capture portraits, landscapes and pets, the X-T3 will help you do so with relative ease.
If you're interested in making movies, the X-T3 can record up to 4K/60p 4:2:0 10-bit video, which is rare in this sub-$1,000 price bracket. I'm a huge fan of Fujifilm JPEG quality and the company's famed Film Simulation modes. Pictures taken with this camera look sumptuous without you needing to spend much time (if any) editing them. And best of all? Investing in the X-T3 gives you access to a huge range of top-quality Fujifilm lenses.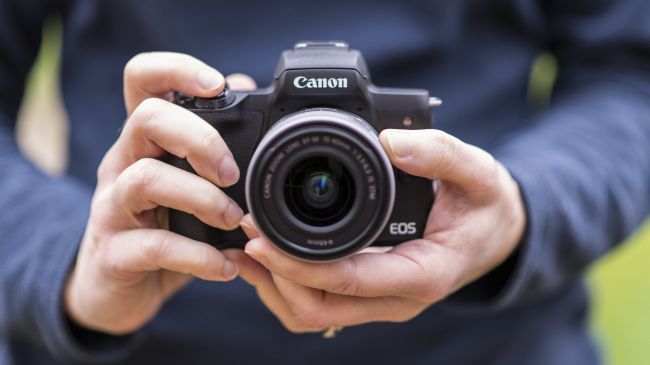 Canon is a name to which many beginners will be drawn. In a crowded market, brand recognition has helped make the Canon EOS M50 one of its most popular releases in recent times.
It may not be the latest in the range, but the M50 still offers beginners an approachable way into the world of interchangeable lens photography and video making. At its heart sits a 24.1-megapixel APS-C sensor and Canon's award-winning Dual Pixel AF system covering 143 points across its frame. This means it's quick to focus on a range of subjects and will suit people keen to explore the type of photography in which they may be interested.
It has an uncluttered settings menu with plenty of tips and suggestions to help beginners along the way. Of course, tips can be disabled once they're no longer needed. It's light on physical controls, but has a slickly implemented flip-out touchscreen that makes controlling the camera as intuitive and straightforward as using a smartphone. The M50's video specs aren't anything to write home about: it records up to 4K/24p with a large 1.6x crop, so this isn't the best option for video-centric amateurs.
One drawback of the M-series cameras from Canon is their limited lens range, but there's an EF-M converter that we'd recommend picking as part of a bundle. The converter opens up the M50 to a plethora of EF lenses from Canon, as well as reputable third parties such as Sigma.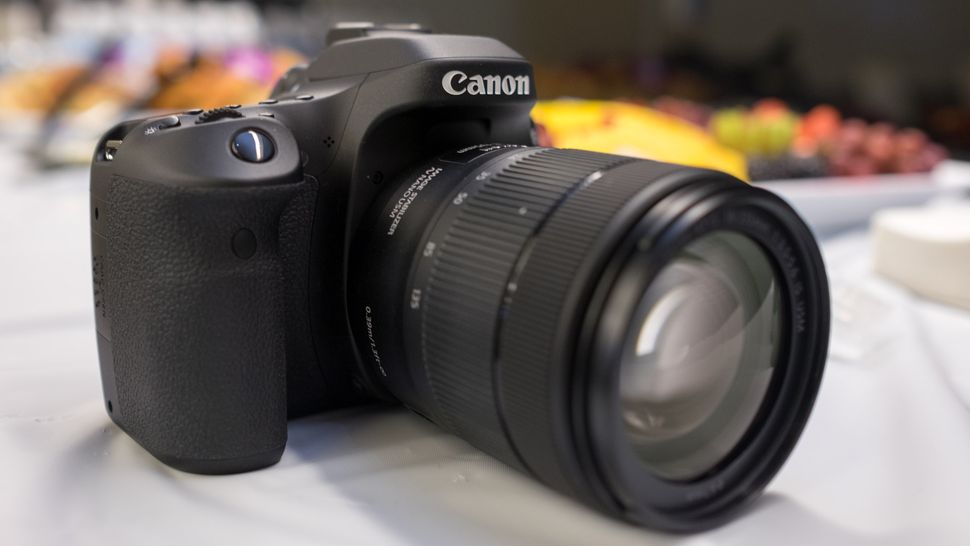 One of Canon's most popular enthusiast-level DSLR cameras, the EOS 80D is a versatile camera body with advanced Dual Pixel autofocus capabilities.
On paper, the 80D may look a little out of sorts compared to some of the latest mirrorless camera bodies. It doesn't offer any in-body image stabilization, and can record Full HD video only up to 60fps, for example. Many rivals, including phones, can record 4K resolution video at 60fps. So how did the 80D make it into the best cameras under $1,000 list? If your primary interest is capturing photos, the 80D is a reliable camera that will give you consistently beautiful and detailed photos.
It has a 24.2-megapixel sensor, with Canon's award-winning Dual Pixel AF technology covering 45 points across the sensor. It locks onto subjects quickly and tracks them well. It's body is well designed with an aluminium alloy frame, and it's moisture- and-dust-resistant. It also has a flip-out 3.2-inch LCD screen, which is great for composing images at creative angles. It's comfortable, and it offers decent battery performance, which means it will easily get you through a day of use.
Canon's menu system offers helpful tips for beginners, so this is a good option for people who are new to dedicated interchangeable lens cameras and could do with some guidance.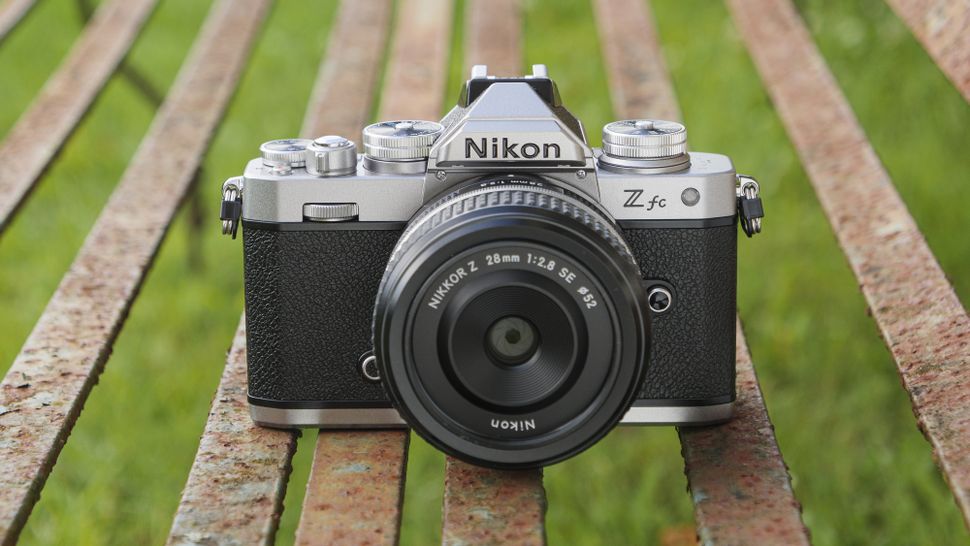 The Nikon Z fc is a triumph of design that offers a different shooting experience to the Nikon Z50 at a great price. The vari-angle screen is also an inspired choice that embodies Nikon's old-meets-new 'fusion' concept. More advanced photographers might miss the lack of weather-proofing and a larger full-frame sensor, especially considering current native lens availability. But for everyone else, the Z fc is a great mix of retro design and mirrorless shooting power.
For all its retro charm and emphasis on manual control, the Nikon Z fc is no slouch and comes packed with a competitive feature set. Start up time is brisk, with the camera able to shoot within a second of powering up. No dawdling here. Z-series lenses focus quickly and quietly for general scenes, offering a manual focus override, too. There's on-screen touch tracking auto-focus that is sticky on your subject and the Z fc detects faces and eyes with a reasonable speed, accuracy and reliability.
The 20.9MP sensor has a great handle on noise, with all settings up to ISO 6400 looking clean, especially those under ISO 800. It's a general rule of thumb to avoid the top two ISO settings if you want to avoid the adverse impact of noise, in this case ISO 25,600 and ISO 51,200. Dynamic range impresses and the implementation of a HDR mode is simple and effective.

If you want reliability and consistently great image quality, the Nikon D7500 is a strong all-round option for beginners and enthusiast photographers.
Created using much of the same winning technology inside the pricier D500, the D7500 uses a powerful Nikon EXPEED 5 imaging processor and 51-point autofocusing system combination that's designed to keep up with fast-moving action. This also means that it can capture full-resolution images at up to 8fps with continuous autofocus.
The D7500 is a camera you can count on to keep shooting in a range of environments: it has a tough frame with sealing against weather and dust. It also has a durable battery that will have you covered for a day trip.
Its screen may be relatively low in resolution at 922k dots, but it's fully articulated and comes with touchscreen functionality, which is great for capturing content at extreme angles. There's 4K video here, but it maxes out at 30fps and has a recording time limit of 29 minutes and 59 seconds. DSLR's are beginning to feel a little outdated in 2020, but the D7500 keeps things connected via Nikon's SnapBridge smart device pairing app. It allows you to remotely control your camera, and share your content, directly from your phone.

The Panasonic Lumix G9 was well ahead of its time when it was released in 2018, which is why it still merits inclusion in best camera lists in 2020. Housing a 20.4-megapixel Micro Four Thirds sensor, the G9 can capture full-resolution JPEGs at 20fps with continuous autofocus.
If that isn't quick enough, Lumix cameras also have 4K and 6K Photo modes. These can capture up to 15 minutes of ultra-high-resolution video at 30fps, and allow you to extract individual still frames at 8-megapixel and 18-megapixel resolutions respectively. Other great features include an 80-megapixel high-res photo mode that combines eight images into one, and 4K video recording at up to 60fps.
The G9 also has in-body image stabilization that will help you capture clean nightscape images and smooth video when shooting handheld. Its body is compact and tough, with an approachable button layout and intuitive menu system. Its extensive list of features and compact size makes the G9 a great companion camera for day trips and travel photography. It also has a flip-out screen, which is ideal for selfies and vlogging.
Micro Four Thirds sensor cameras are compatible with hundreds of relatively affordable lenses, making this a system you can invest in without having to shell out huge sums as your skills grow. The G9 is one of the most versatile cameras money can buy at this price point.
How we test cameras
Buying a camera these days is a big investment, so every camera in this sub-$1,000 guide has been tested extensively by us. These days, real-world tests are the most revealing way to understand a camera's performance and character, so we focus heavily on those, along with standardized tests for factors like ISO performance.
To start with, we look at the camera's design, handling and controls to get a sense of what kind of photographer it's aimed at and who would most enjoy shooting with it. When we take it out on a shoot, we'll use it both handheld and on a tripod to get a sense of where its strengths lie, and test its startup speed.
When it comes to performance, we use a formatted SD card and shoot in both raw and JPEG (if available). For burst shooting tests, we dial in our regular test settings (1/250 sec, ISO 200, continuous AF) and shoot a series of frames in front of a stopwatch to see if it lives up to its claimed speeds. We'll also look at how quickly the buffers clears and repeat the test for both raw and JPEG files.
In various lighting conditions, we also test the camera's different autofocus modes (including Face and Eye AF) in single point, area and continuous modes. We also shoot a range of photos of different styles (portrait, landscape, low light, macro/close-up) in raw and JPEG to get a sense of metering and its sensor's ability to handle noise and resolve fine detail.
If the camera's raw files are supported by Adobe Camera Raw, we'll also process some test images to see how we can push areas like shadow recovery. And we'll also test its ISO performance across the whole range to get a sense of the levels we'd be happy to push the camera to.
Battery life is tested in a real-world fashion, as we use the camera over the course of the day with the screen set to the default settings. Once the battery has reached zero, we'll then count the number of shots to see how it compares to the camera's CIPA rating. Finally, we test the camera's video skills by shooting some test footage at different frame-rates and resolutions, along with its companion app.
We then take everything we've learned about the camera and factor in its price to get a sense of the value-for-money it offers, before reaching our final verdict.