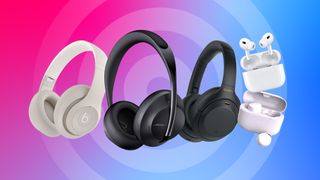 (Image credit: Sony, Beats, Bose, Apple and JLab)
Black Friday deals are historically the perfect time to buy some new earbuds or headphones. The combination of Black Friday and Cyber Monday mean we generally see the best discounts at this time of year, so it's a great opportunity to treat yourself or a loved one to some new headphones.
While some of the best cheap headphones are likely to be even more affordable, we're also counting on seeing some great discounts on the most highly sought after headphones and earbuds too.
If you're not sure where to begin, it's a smart idea to see what we consider to be the best headphones right now. However, we've used that expertise to narrow things down to five picks that we think are likely to be discounted this year, which we believe deserve your money and attention.
Some headphone deals have already popped up and we can only see them getting better, so take a look at TechRadar's top recommendations for headphones and earbuds below. There's something for every need here.
Sony WH-1000XM4
The Sony WH-1000XM4 aren't actually the latest in the brand's headphone range with the WH-1000XM5 also likely to be discounted. However, the older model top our look at the best noise cancelling headphones thanks to being more affordable yet offering pretty much all the features of the WH-1000XM5.
With a standard price of $349 / £349 / AU$549, it's likely the headphones will drop to $249 / £249 / AU$370 easily enough. Last Black Friday, we saw them go as low as $228 in the US, making them a pretty unbeatable pair of cans in this price range.
With class-leading noise cancellation, the Sony WH-1000XM4 are ideal for a noisy lifestyle with situational and conversational awareness second to none. They learn when you're at home and need a different level of noise cancellation compared to when you're on your commute and there are environmental sounds bothering you from every angle without them.
Audio quality is also exceptional with clear and powerful bass paired with warm and balanced mids and trebles. Up to 30 hours of battery life with ANC on, quick charging, and other useful features like Speak-to-Chat and Multipoint make these a feature-rich pair of cans.
As the older model, we're confident the Sony WH-1000XM4 will end up with a hefty discount during Black Friday as the focus shifts to the Sony WH-100XM5. The WH-1000XM4 should hit the $230 / £250 / AU$370 area while the newer cans are more likely to be $100 / £100 / AU$200 more for very incremental improvements.
Beats Studio Pro
The Beats Studio Pro are an interesting pair of headphones in that they look and feel great, but the features available aren't quite up to other headphones in the $350 / £349 / AU$530 range. So why are we featuring them here? They're seeing some fantastic price cuts bringing them down to $200 / £300 / AU$500 and making the cans a much more attractive proposition.
In our Beats Studio Pro review, we pointed out how they're the cans you want to love. They're incredibly low maintenance while looking just as stylish as you'd expect from Beats. However, they lack some key features like wear detection and they're a bit of a snug fit, which won't suit everyone.
Still, there's a lot of charm here. The Beats Studio Pro offer powerful bass, especially at their discounted price, and the ANC is respectable if not quite as remarkable as our perennial favorites – the Sony WH-1000XM4. Useful extras include lossless audio via USB-C which will be more attractive than multipoint connectivity to some people.
As standard, the Beats Studio Pro cost $350 / £349 / AU$530 but we've already seen discounts bringing them down to $200 / £300 / AU$500. At this price, they're an easy recommendation and we might yet see them go lower.
Apple AirPods Pro 2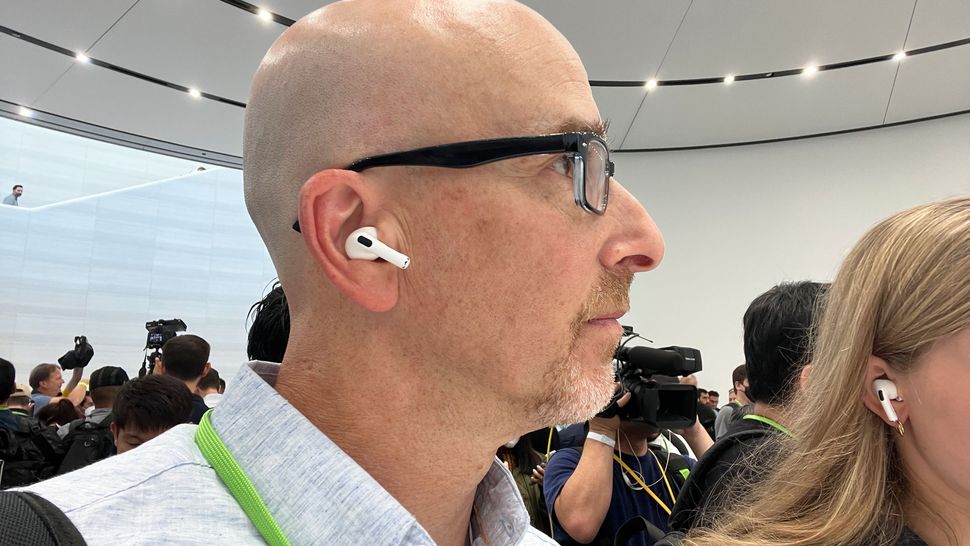 In typical Apple fashion, the Apple AirPods Pro 2 look good and work seamlessly with all your Apple devices. They are also seemingly always on offer with deeper discounts near certain during Black Friday and Cyber Monday. With a list price of $249 / £249 / AU$399, the Apple AirPods Pro 2 are often down to $199 / £199 / AU$300 and we could see them dip even lower during the holidays.
As our Apple AirPods Pro 2 review explains, they're a huge step up from their predecessor. They offer great noise cancellation for earbuds with sound quality ably backed up by Spatial Audio that ensures you feel wrapped up in whatever you're listening to.
Simply put, the Apple AirPods Pro 2 provide a lot of joy while also being incredibly simple to use. All your Apple devices are ready to connect to them and it's easy to switch between multiple devices. There's support for Dolby Atmos-enabled music and films with Adaptive Transparency ensuring you're always able to hear what you need to hear. Six hours of battery life could be a little better but the case can hold up to 30 hours which balances things out.
There's a chance we could see bigger savings on the Apple AirPods Pro 2 model which uses a Lightning charging case over wireless or USB-C, but we'd be tempted to focus on spending the little more for the future proofing. Either way, you're snagging some of the best wireless earbuds here.
Bose Noise Cancelling Headphones 700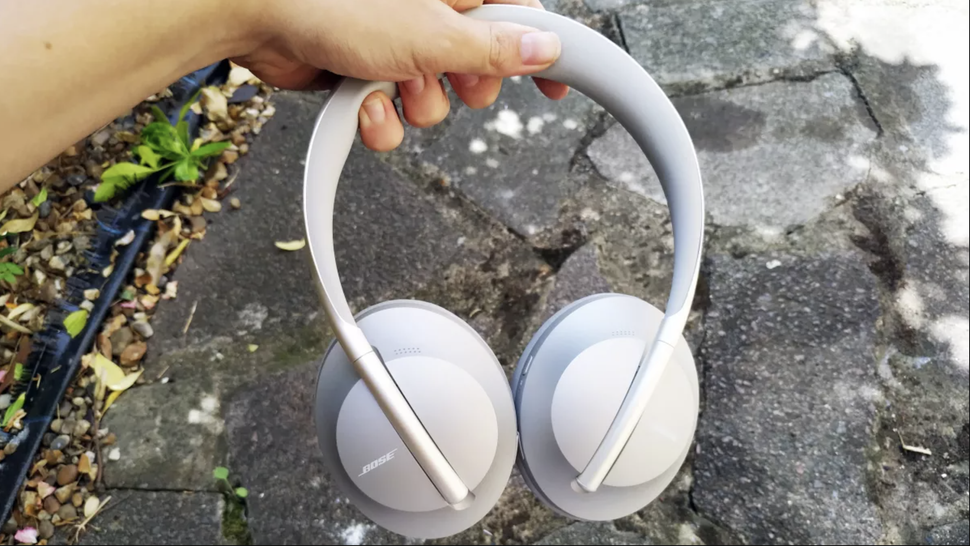 With class-leading noise cancellation, the Bose Noise Cancelling Headphones 700 are particularly well suited for anyone who travels regularly or has to deal with a very hectic office environment. Easily some of the best noise-cancelling headphones, the Bose 700s are usually $379 / £349 / AU$599. However, we're counting on seeing them drop over Black Friday.
Despite their professional credentials, the Bose Noise Cancelling Headphones 700 are actually a ton of fun to listen to. Lively and vibrant, their well-balanced soundstage make you seek out your favorites all over again.
Of course, you can listen to them crisply even when it's noisy around you. The Bose Noise Cancelling Headphones 700 offer 11 different noise cancellation levels so you can find what suits you easily enough. Such noise cancellation extends to phone calls with separate mics helping isolate your voice and reject environmental noise during calls.
The only downside to the Bose Noise Cancelling Headphones 700 is fairly average battery life of about 20 hours but that'll do just fine for most eventualities.
The Bose Noise Cancelling Headphones 700 have a standard price of $379 / £349 / AU$599. They're often on sale though bringing them down to just under $300 / £300 / AU$500. We're expecting to see them drop to their lowest price in the past year if past sales are anything to go by, but even if they don't, these discounts will be more than good enough.
JLab Go Air Pop
The JLab Go Air Pop are already very cheap at just $25 / £25 / AU$49.95 but we do sometimes see them drop even lower during sales events. This time around, we're hopeful that we'll see them hit $20 / £20. While $5 / £5 off might not sound like much, it's actually 25% off so it's a chunky saving at heart.
As we explained in our JLab Go Air Pop review, these are seriously special earphones. They sound far better than you would expect and even offer basic EQ profiles via a triple tap on either earpiece.
Some of the best budget wireless earbuds around, the JLab Go Air Pop offer reliable on-ear controls, a very lightweight build, and even wear detection. The only letdown is a somewhat weird way of charging due to the cable being built into the charging case.
Still, the JLab Go Air Pop really punch above their weight. Right down to eight hours of battery life and 32 hours from the charging case. A bit of a bargain at any time, we're hopeful we'll see the JLab Go Air Pop get discounted again during Black Friday. The outside hope is they could go even lower if previous sales are anything to go by.
Get daily insight, inspiration and deals in your inbox
Get the hottest deals available in your inbox plus news, reviews, opinion, analysis and more from the TechRadar team.