When Apple first rolled out the MacBook way back in 2006, it was meant to assume the mantle of the cheaper alternative to the MacBook Pro. However, when its 2015 follow up was released, while it's still more affordable than the MacBook Pro, a lot has changed for the MacBook, starting with that major redesign.
That's when the Apple MacBook developed into the 12-inch ultra-portable notebook it is – a design that the MacBook 2017 further expands on.
The MacBook 2017 rocks a ravishing Retina screen, raising the price somewhere between the 2017 MacBook Air and earlier MacBook Pro (without the Touch Bar). If you're not very familiar with Apple jargon, Retina means there are so many pixels in the display that they're practically invisible to the naked eye.
Sadly, Apple has recently discontinued this 12-inch laptop and has no current plans of releasing a new or overhauled model in the near future. However, particularly because there are still some third-party sellers that have it in stock, the 12-inch MacBook is certainly worth your consideration, even if the recently refreshed MacBook Air has fundamentally replaced it. Thin, light and unconfigurable, it's a classic Apple design no matter how you look at it, and will undeniably draw appreciative looks at your favorite coffee shop.
As for that high price tag? Well, we just hope that the dwindling supply will somehow rectify it.
Spec Sheet
Here is the 12-inch Apple MacBook (2017) configuration sent to TechRadar for review:
CPU: 1.2GHz Intel Core m3-7Y32 (dual-core, 4MB cache, up to 3.0GHz)
Graphics: Intel HD Graphics 615
RAM: 8GB LPDDR3 (1,867MHz)
Screen: 12-inch Retina (2,304 x 1,440, 226 ppi) LED (IPS, 16:10 aspect ratio)
Storage: 256GB SSD (PCIe)
Ports: 1 x USB 3.1 Type-C, 3.5mm headphone/mic jack
Connectivity: 802.11ac Wi-Fi; Bluetooth 4.2
Cameras: 480p FaceTime camera
Weight: 2.03 lbs (0.92kg)
Size: 11.04 x 7.74 x 0.14~0.52 inches (280.5 x 196.5 x 3.5~13.1mm; W x D x H)
Price and availability
The MacBook is no longer in stock at Apple's online store. However, you should be able to find the MacBook we reviewed here from third-party sellers for $1,299 (£1,249, AU$1,899). That should get you everything found under our hot pink spec sheet.
For now, should your lavish taste or demanding needs require a more powerful 12-inch MacBook, there are still higher tiers available if you look hard enough.
For instance, you might be able to find a MacBook with an Intel Core i5-7Y54 and 512GB of SSD storage in lieu of the base model's 256GB. It's still fanless, so it still wouldn't be as powerful as something like the MacBook Pro, but it does give a bit of a boost in power, while also raising the price to $1,599 (£1,549, AU$2,349).
If you want to max out the Apple MacBook, it'll set you back a monstrous $1,949 (£1,864, AU$2,909) for an Intel Core i7-7Y75 CPU and 16GB of RAM supported with a 512GB PCIe SSD.
Keep in mind that these are dated processors in 2019, what with both 8th-generation and 9th-generation chips now powering many laptops. If you want the latest fanless silicon, the refreshed and cheaper MacBook Air 2018 is a more fitting option for you.
If you're shopping around for a Windows laptop with similar specs, take a look at the Acer Swift 7, an Ultrabook that's positioned to compete with the 12-inch MacBook. Currently, it starts out at $1,699 (£1,499, about AU$1,200) for a similar Intel Core i7 Y-series processor, but with 8GB RAM and 256 GB SSD storage, you do get a Full HD, 14-inch display.
On the Chrome OS side, there's Google's flagship Chromebook, the Pixelbook, starting at $999 (£999, AU$791) with a more powerful Intel Core i5 CPU and the same RAM, but half as much SSD space as the top-end MacBook.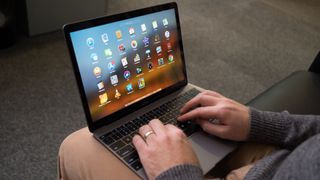 Design
The look and feel of the Apple MacBook 2017's frame hasn't been altered much – if at all – over the 2016 model. That isn't essentially a bad thing. Coming in Space Gray, Gold and Rose Gold, the brushed aluminum feels just as cool and attractive as ever.
The MacBook's thin chassis and feathery weight is also as remarkable as usual, to the point that its dimensions are one of the major selling points of the laptop.
That said, an even narrower screen bezel or just one more USB-C port would have been incredible at this point.
One major improvement the MacBook 2017 holds over its 2015 and 2016 predecessors is the more refined, second-generation butterfly switches that make up the new backlit keyboard. Travel isn't any deeper, but feedback is more forceful, improving the typing experience significantly.
The MacBook's wide, glass-coated trackpad stays unchanged since last year, which only means it's just as pleasurable to use as it's ever been. Apple's touch interface tech through both software and hardware remains practically unsurpassed.
We say 'practically' because Google may have caught up to Apple with its Pixelbook. Seriously, the keyboard and trackpad on that thing are ones to be matched.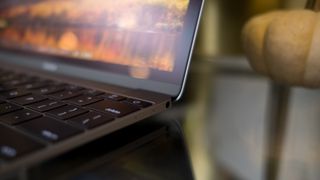 Display and sound
We all know that Apple has made a name for itself designing to its gorgeous displays, and the 12-inch MacBook's screen follows in the tradition, remaining unchanged since its launch in 2015. Editing photos and doing graphically intense work looks incredible on that Retina display, even if it's not exactly the sharpest screen in school anymore.
The MacBook's 16:10 aspect ratio, however, may just be uncommon enough to be frustrating sometimes – like while watching movies or editing images that are formatted to 16:9 in fullscreen mode, for instance.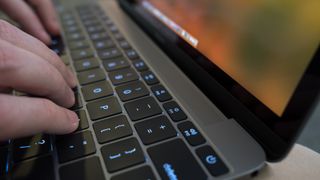 As for the MacBook's audio quality, the four stereo speakers toward its hinge can undoubtedly pump out some loud tunes. Still, like all notebooks with mere millimeters to work with for audio chambers, the sound can be a bit thin and tinny, with some channels in songs just getting lost altogether.
To be fair, you're not going to get much better audio from any laptop near this thin. Luckily, Apple didn't drop the headphone jack from the MacBook.
Gabe Carey and Bill Thomas have also contributed to this review
First reviewed November 2017
Images credit: TechRadar