With so many different options at different price points, picking out the best iPhone can be tricky. Besides the latest models, there are also older models to consider too, with each model often catering for different users.
Not only that, but new models have just landed, with Apple delivering the iPhone 14 line as expected on September 7. The newest family of iPhones is made up of four models and we've already reviewed three of them; comprised of the standard iPhone 14, the new big-screened iPhone 14 Plus, the iPhone 14 Pro and the iPhone 14 Pro Max.
You can buy most of them now too, with the iPhone 14, 14 Pro and 14 Pro Max all out now, while the iPhone 14 Plus arrives a little later on October 7.
In any case, if you need help figuring out which iPhone is best for you, we've got you covered. With the exception of the iPhone 14 Plus we've reviewed all the models of the iPhone, typically considered to be one of the best smartphones and best camera phones ever made.
We know every single one inside and out, so you can feel confident that our recommendations are based on in-depth analysis and our ability to compare each iPhone's worth not just to one another but competing phones from rival phone makers.
We've focused on key factors like the screen, power, cameras, and battery life, so you can find the best iPhone for your needs. We've ranked them all below, along with an overview and a specs list, so you can see at a glance what will work for you.
Whether you're considering the affordable iPhone SE (2022) or the high-end iPhone 14 Pro Max, or anything else right down to older and smaller models, we know it all. There's even a couple of options that suit anyone seeking out the best cheap phones too.
If you've already got your heart set on one of Apple's latest iPhones, you can also head straight over to our iPhone 14 deals roundup, which we're keeping constantly updated with the best iPhone 14-related offers.
The best iPhone 2022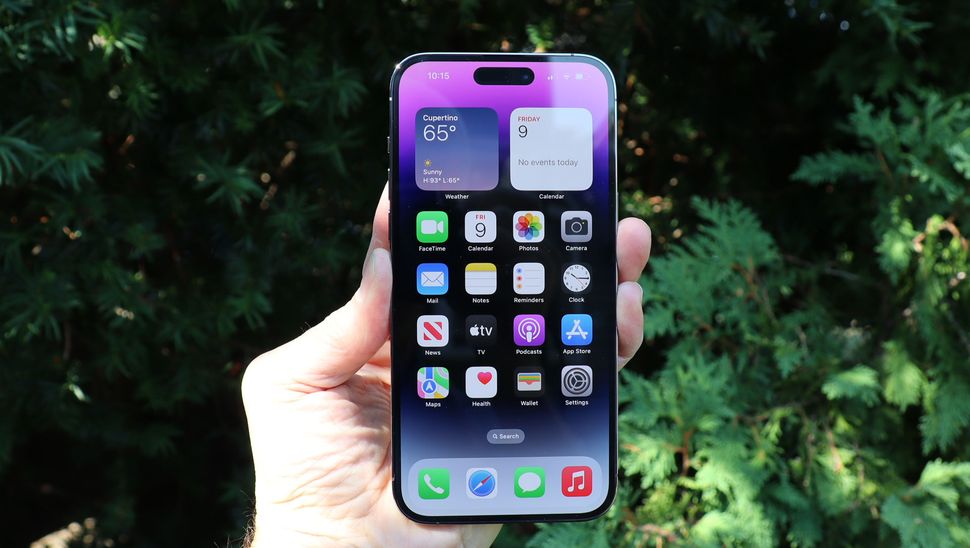 The latest everything iPhone brings a higher resolution camera, better battery life, more performance, all-new functionality and... no notch, to the table.
The iPhone 14 Pro Max takes over as the new head of the household in Apple's iPhone portfolio offering the same sizeable 6.7-inch 120Hz display as last year but granting it now power efficient always-on functionality and ditching the long-standing notch in favor of the new Dynamic Island.
The iOS 16-based (out the box at least) user experience offers a number of new features, and works with the Dynamic Island to offer adaptive functionality from this new display element that breaks away from the bezel.
For the iPhone 14 generation, only the iPhone 14 Pro and Pro Max get a taste of Apple's latest and greatest mobile silicon – the A16 Bionic – which delivers class-leading performance and improved power efficiency over its predecessor.

That chipset also supports the new triple camera array, which for the first time showcases a 48MP quad-pixel lead sensor that offers superior photography and video capabilities than its predecessor, as well as 2x lossless optical zoom, without the need for an additional sensor. This main snapper comes accompanied by an improved ultrawide and a familiar 3x telephoto camera, that's arguable one of the 14 Pro/Pro Max's weakest bits of hardware.
Provided you're okay with its large size and big price tag (which is pricier year on year in markets like the UK and Australia), there's no greater iPhone than the new iPhone 14 Pro Max.
If the iPhone 14 Pro Max is too big or too expensive for your tastes, the standard iPhone 14 Pro is the perfect antidote.
The latest Apple A16 Bionic chip underpins one of Apple's best iPhones ever, not to mention it's now one of the most powerful phones on the market. While the 6.1-inch screen size remains from its predecessor (the iPhone 13 Pro), like the 14 Pro Max, this generation of Pro shrugs the notch in favor of the new Dynamic Island – a smart new cutout within the display that houses the Face ID components but also adapts to offer a range of functionality, from music playback controls to connecting AirPods and more.
While ProMotion tech means visuals can range from 10Hz to a super-smooth 120Hz in general use, a new 1Hz mode enables always-on display functionality, paired to smart new lock screens, courtesy of iOS 16.
The rear triple camera is now fronted by a 48MP main sensor that takes better stills and video than any of its predecessors while also serving as the most versatile iPhone camera to date; narrowing the gap with key camera rivals, from the likes of Samsung and beyond.
Provided you can swing the high asking price, the 14 Pro operates as one of the most capable phones on the market, while also being more pocket friendly than the Pro Max.
The iPhone 13 Pro Max is the best and most exciting of Apple's iPhone 13 range, with the battery life being an unexpected highlight. This thing can last and last, and while it's not quite up there with the very longest-lasting phones, it's easily got some of the best battery life on an iPhone to date.
There's also a whole lot of power here, with Apple's A15 Bionic chipset providing significantly better performance not just than previous iPhones, but also than any Android phone. That said, we mostly know this thanks to benchmark scores – in the real world most users will struggle to truly tap into its potential.
The camera has also seen an upgrade, with low light shots particularly impressing, and the new macro mode opening the iPhone range up to a whole new type of photography.
In practice, the hyped Cinematic mode and 120Hz screen didn't impress us as much, and we're pleased that this is the last Pro with a notch (now that the iPhone 14 Pro and 14 Pro Max have introduced the Dynamic Island), but overall this is a fantastic upgrade for Apple's Max line, and it's still one of the very best iPhones.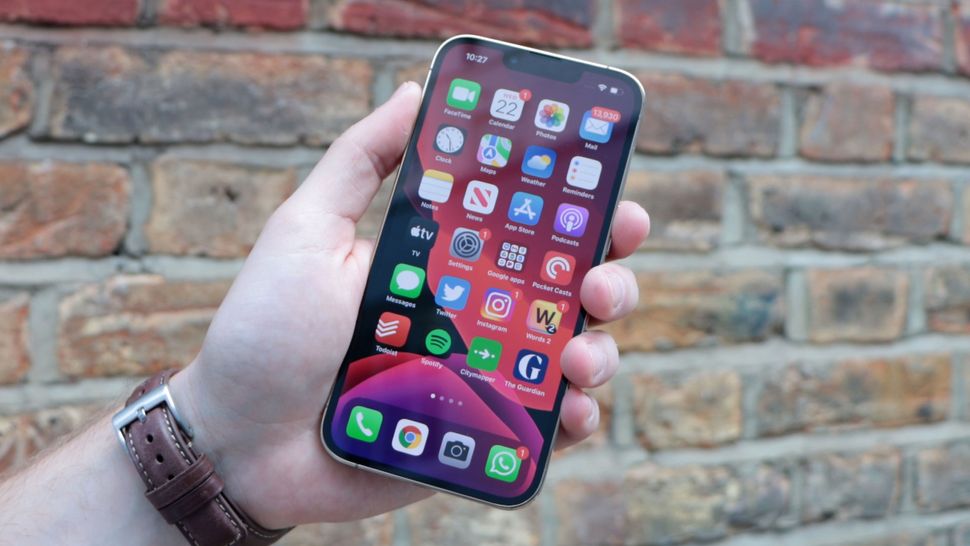 The iPhone 13 Pro has most of the same strengths and weaknesses as the iPhone 13 Pro Max, with its battery life being a highlight in our tests, if not quite as good as the Max model, and its A15 Bionic chipset providing stunning amounts of power.
Eagle-eyed users might notice that the iPhone 14's most notable upgrades borrow from the 13 Pro; with the same lead 12MP camera and the enhanced five-core GPU variant of the A15 at its heart.
Provided you can get a good 13 Pro deal that undercuts the 14, you get the same lead camera and chip but also gain a 120Hz ProMotion display, faster charging, better battery life, a better camera system, more memory and a nice finish, to name but a few benefits.
Speaking of the camera, the 13 Pro debuted macro mode; for taking clearer photos of tiny subjects. Elsewhere, you also get that 120Hz screen, and a slightly refined design – including a smaller notch, compared to the 12 Pro.
Collectively, these factors mean this is still an outstanding iPhone for those who want a relatively compact 6.1-inch display, or don't want to spend as much as the iPhone 13 Pro Max costs. Hopefully, now that its successors are here, pricing will continue to drop too.