Image 1 of 5
Image 2 of 5
Image 3 of 5
Image 4 of 5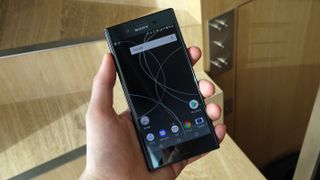 Image 5 of 5
12. Sony Xperia XZ Premium
A 4K screen that actually offers impressive performance
Release date: June 2017 | Weight: 195g | Dimensions: 156 x 77 x 7.9mm | OS: Android 7 | Screen size: 5.5-inch | Resolution: 3840 x 2160 | CPU: Snapdragon 835 | RAM: 4GB | Storage: 64GB | Battery: 3,230mAh | Rear camera: 19MP | Front camera: 13MP
Beautiful HDR screen
Impressive power
Chunky bezels
Lack of 4K content
We thought the days of the 4K phone were over – but Sony's back, and has reinvigorated the technology by cramming in HDR compatibility, which really makes videos look stunning.
Sure, there isn't masses of mobile HDR content out there at the moment, but the screen tech makes even the most mundane image look brighter and more colourful, and the rest of the phone is impressively powerful.
The camera is capable of taking exceptional pictures, the slow motion capabilities are insanely great in the right light, and the raw grunt of the handset is up there with the very best. If you're a Sony fan, you'll love this phone.
Sony Xperia XZ Premium photography samples
Image 1 of 5
Image 2 of 5
Image 3 of 5
Image 4 of 5
Image 5 of 5
Also consider: The easiest comparison here is with the Samsung Galaxy S8 Plus: they're both impressive phablets with excellent HDR screens, so it really depends which brand you're most attracted to.