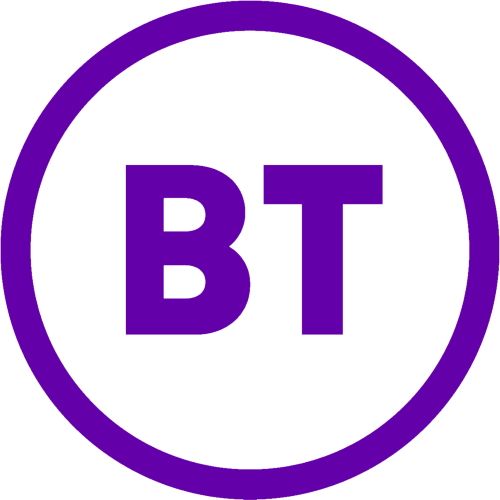 ADSL: Yes
Fibre: Yes
Full Fibre: Yes
TV bundles: Yes
BT is one of the most popular internet service providers in the UK and it's easy to see why. After all, the company offers a fantastic selection of deals, including ADSL, fibre and full fibre options. Plus, BT also offers a number of TV and broadband bundles for customers. However, BT's deals do sit at the more expensive end of the market and many of its contracts last for 24 months. On top of this, its full fibre packages aren't widely available yet.
For
Fantastic choice of speeds
Good internet and TV bundles High-spec router
Against
Deals can be expensive
Long contracts
Full fibre access is limited
ADSL: No
Fibre: Yes
Full Fibre: Yes
TV bundles: No
Vodafone is known as one of the better value home broadband providers in the UK. Today, the company offers a wide range of both fibre and full fibre packages, including a rapid 900Mbps option. However, the company doesn't offer any ADSL packages and its customer service offering has been continually found wanting.
For
Cheap fibre tariffs
Gigabit speeds available
Excellent router and tech
Against
Customer service must improve
No ADSL options
No TV bundles
Both BT and Vodafone are popular providers for a reason. After all, they both offer a fantastic range of broadband speeds, top broadband deals, added extras, dependable service and even incentives.
However, there are notable differences between the two internet service providers (ISPs). For example, while BT sits at the premium end of the market, Vodafone is seen as more of a budget provider.
Similarly, while BT offers a great range of TV and internet bundles, including options that in include BT Sport and Sky channels, Vodafone instead focuses on providing the cheapest deals possible and doesn't offer TV bundles.
Many people searching for a new broadband deal will struggle to decide whether a package from BT or Vodafone is better for them. For this reason, we've put together this handy guide that directly compares the two providers. We've also delivered our definitive verdict on which is better. Read on to discover everything you need to know.
Vodafone vs BT: broadband options
Vodafone and BT both provide a great range of broadband speeds, including both fibre and full fibre options. However, while BT offers a range of speeds to suit all needs, Vodafone does not offer an entry-level ADSL option. This means the provider may not be suitable for anyone who is looking for a basic and incredibly cheap option, or someone who cannot access fibre speeds in their area.
By way of direct comparison, BT provides all of the following broadband speeds:
BT Broadband Unlimited: 10Mbps avg. speed (this is only available in areas that cannot receive fibre speeds)
BT Fibre Essential: 36Mbps avg. speed
BT Fibre 1: 50Mbps avg. speed
BT Fibre 2: 74Mbps avg. speed
BT Full Fibre 100: 150Mbps avg. speed
BT Full Fibre 500: 500Mbps avg. speed
BT Full Fibre 900: 900Mbps avg. speed
By contrast, Vodafone offers the following speeds:
Vodafone Fibre 1: 36Mbps avg. speed
Vodafone Fibre 2: 73Mbps avg. speed
Vodafone Full Fibre 100: 100Mbps avg. speed
Vodafone Full Fibre 200: 200Mbps avg. speed
Vodafone Full Fibre 500: 500Mbps avg. speed
Vodafone Full Fibre 900: 910Mbps avg. speed
As you can see, both BT and Vodafone offer an excellent range of fibre and full fibre speeds, with both ISPs offering a package that provides average download speeds of at least 900Mbps.
However, BT is the only one of the two providers that offers an ADSL option. This means that if you live in an area that cannot receive a fibre connection, BT is the only provider with an option for you. That said, BT only offers this option to households in areas that cannot receive fibre, so you're ineligible to receive it if you can access a fibre connection and you're just looking for a cheaper deal.
The other difference between the two providers is that Vodafone offers a 'Pro II' upgrade with its fibre broadband deals. While you don't get a speed upgrade with Pro II, you do receive a range of extras including an upgraded hub, dedicated technical support and automatic 4G broadband backup if your connection fails. This could be incredibly handy if you live in an area where the broadband connection is unreliable or you work from home and you're reliant on an internet connection.
Besides these points, there's not much to split the two providers in terms of their offerings and the speeds available. This is because both ISPs use the Openreach network. Plus, both BT and Vodafone also specialise in 24-month contracts that tie customers down for lengthy periods of time. This means that if you're looking for flexibility, it's likely that neither provider will be right for you.
Vodafone vs BT: coverage
Again, there's little to split the two providers when it comes to coverage. This is because, as we mentioned above, both Vodafone and BT both utilise the Openreach network. This means that both ISPs can also provide reliable connections to almost anywhere in the UK.
Thanks to the Openreach network, 96% of the UK's population is within reach of a FTTC connection. This means almost everyone in the country can access the fibre tariffs mentioned above. On top of this, estimates suggest that 8 million households will have access to the full fibre tariffs we've highlighted. It's also worth noting that coverage on the network is constantly improving. For example, Openreach aims to deliver 'Ultrafast Full Fibre Broadband' to 25 million homes and businesses by December 2026.
However, you should be aware that not all providers use the Openreach network. For example, Virgin Media utilises its own network. This means that the company can provide faster speeds as it can use much faster cables than the older, copper-based network that Openreach relies on. As a result, although both BT and Vodafone can offer you dependable, reliable and fast connections, it's worth keeping in mind that neither provider can offer you the fastest speeds on the market.
So, if speed is your number one priority and you need a gigabit-capable option, it may be worth looking elsewhere.
Vodafone vs BT: TV bundles
BT offers its customers a fantastic range of internet and TV bundles, including packages that include BT Sport and others that provide access to Sky channels.
For example, you can also access Sky Cinema through BT's 'Big Entertainment' package. Alternatively, you can add every Sky Sports channel with the company's 'Big Sport' package. If you'd like every option, then you can combine the 'Big Entertainment' and 'Big Sport' packages with BT's 'VIP' package.
That said, these packages are quite pricy. As a result, if you'd like Sky TV channels, then it's more than likely that a Sky broadband and TV bundle will be better for your needs. You'll also be able to get a similar internet connection if you choose this option, as Sky also utilises the Openreach network and offers comparable broadband options to BT.
By contrast, Vodafone does not allow you to bundle TV packages with your broadband contract. However, the company does occasionally offer so-called 'Xtra' packages. With these you receive an Apple TV 4K box and a 3-month subscription to Apple TV+.
Vodafone vs BT: cost
When it comes to cost, there's a clear winner: Vodafone. In fact, Vodafone is so proud of its prices that when you select one of its fibre packages on its website, the heading boasts that you'll 'save vs BT'.
Of course, the exact amount you'll pay for your internet will depend on the deals available when you decide to buy. However, from a top level perspective, BT's prices range from £27.99 per month for its ADSL package to £55.99 per month for its Full Fibre 900 option. The company also usually has setup fees in place, which start from £9.99 and rise to £29.99. However, its popular Full Fibre 1 and Full Fibre 2 packages usually come without these fees.
By contrast, Vodafone's prices are much cheaper. Many of the company's packages come without any setup fees at all, and the company's Fibre 1 package is available from £23 per month (which is actually cheaper than BT's ADSL option). On top of this, if you have a mobile plan with Vodafone, you can also save an extra £3 per month.
However, you'll need to keep in mind that if you opt for any of Vodafone's Pro II packages, there's an extra cost associated. That said, Vodafone currently claims that its Pro II Full Fibre 1 package is £400 cheaper than BT Halo 3+.
Of course, it's also worth stressing that both of these providers usually take part in sales throughout the year; particularly around Black Friday and Cyber Monday. For this reason, we recommend that you regularly check our best broadband deals page. This way, you'll be able to quickly see exactly which plans are available at which price at your address. If you're lucky, you may be able to grab an incentive. BT is known for offering gift cards to new customers.
Vodafone vs BT: customer service
When it comes to customer service, the reverse is true and BT handily beats Vodafone.
Although BT's statistics are around average for the industry, the latest data shows us that relatively few customers actually make a complaint about the service they receive. Similarly, the data also shows us that customers who do want to make a compliant to BT also face relatively short waiting times.
Overall, Ofcom's data shows (opens in new tab) us that 86% of customers are satisfied with the service they receive from BT. Meanwhile, 84% of customers are satisfied with the speeds they receive and 86% are satisfied with the reliability of service.
By contrast, Ofcom data (opens in new tab) shows us that only 77% of customers are happy with Vodafone and more than a quarter (26%) of the company's customers 'have a reason to complain' about the provider. Overall, it's noticeable that Vodafone performs worse than the industry average in several categories (the overall satisfaction score is the lowest in the industry), and Ofcom has flagged the number of customers with a reason to complain as being 'statistically significantly worse than the sector average'.
So, while Vodafone's prices might be tempting, you may run into trouble if anything goes wrong.
Verdict
At the top of our review you'll have noticed we gave BT a slightly higher rating than Vodafone. The reason for this is simple: although Vodafone's deals are cheaper, BT provides a wider range of options and superior customer service.
Yes, Vodafone's deals are cheap. But, they may come at a cost if something goes wrong. Plus, your choices are slightly more limited if you go with Vodafone. This is because the company doesn't offer an ADSL option and you can't bundle TV and internet together.
Meanwhile, although BT's deals are more expensive, you have greater choice and the option to add BT or even Sky channels. Plus, the company's customer service is far superior.
That said, we still think that both providers are solid options. This is particularly the case because both ISPs use the Openreach network for connections. Ultimately, it's for you to decide whether the reduced price you pay with Vodafone is worth the reduction in options and the risk that you may suffer from poor customer service if you have an issue.