Tesla's grip on the EV market is slipping, as competitors make sizeable gains this year
Volvo, Mercedes-Benz, Nissan and Hyundai are finally taking the fight to Musk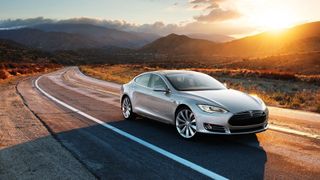 (Image credit: Tesla)
Electric vehicle sales figures have just been announced in the US, and the market for EVs has grown at a staggering rate.
Sales catapulted past 300,000 for the first time in the third quarter this year, as automakers including Hyundai/Kia, Nissan, Ford, Mercedes-Benz and Volvo start to bring more to the table.
According to the numbers revealed by Cox Automotive, electric vehicle sales accounted for 7.9% of total industry sales in Q3, up from 6.1% just a year ago and 7.2% in Q2. The overall sales figures represent a 50% growth on the previous year's quarter.
The news is not likely to be celebrated at Tesla HQ, as the company has enjoyed a massive market share for many years. Its market share is still pegged at an impressive 50% in the US, but it is down from the 61% posted in Q1 of this year. For many Tesla analysts, the Cybertruck can't come soon enough.
Mercedes-Benz has made huge progress in the US market, with 15% of its total sales now accounted for by EVs. Both Ford and GM have sold more electric vehicles, but the total EV sales mix is way down, representing just 4% and 3% respectively.
Tesla's dominance is only likely to wane further in the coming years
With many major manufacturers rapidly ramping up their EV portfolios, Tesla is going to have to get used to giving up its market share to rivals.
Kia has just taken the wraps off four new dedicated EVs, which will hit forecourts over the next three years, while the pricing strategy seems to have been deliberately set to undercut Tesla's cars - despite its recent slashing of prices.
Expect sister company Hyundai to hit back too, although its Ioniq5 is selling like hotcakes in the US already. The bottom line is, more affordable EVs are on the way, and they are coming thick and fast.
What's more, Chinese brands, such as BYD (one of Tesla's fiercest rivals), Zeekr and Lucid, are also gaining traction and offering enticing packages at a very reasonable price. Even Tesla's headline-grabbing Cybertruck could face a tough time.
Electric pick-up truck maker Rivian delivered 15,564 electric vehicles in the most recent quarter, up 126% from last year, while GM and Ford both plan to ramp up production of their own electrified trucks.
That said, rival sales numbers are still comparatively small compared to Tesla's, so running with percentage increases can be a little misleading. Tesla still delivered 435,059 vehicles in Q3, and it plans to hit a 1.8 million volume target by the end of this year.
Kia, for example, stated in its recent EV Day that it has a goal of hitting the 1.6 million vehicle in 2026.
You might also like
Sign up for Black Friday email alerts!
Get the hottest deals available in your inbox plus news, reviews, opinion, analysis and more from the TechRadar team.