A car that answers questions? Kia has an app for that
Kia's upcoming app features an AI chatbot, so you can ask your car anything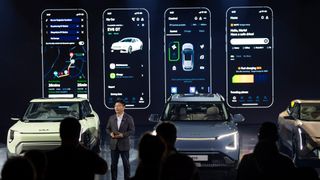 (Image credit: Kia)
During the hubbub of its recent EV Day, where it unveiled four new electrified machines in the EV2, EV3, EV4 and EV5, Kia also hinted at a refreshed smartphone app that aims to "elevate the customer journey."
Currently Kia has multiple apps, with one dedicated to EV charging and routing, while the other deals with vehicle diagnostics and more. The plan with the 2024 Kia App is to consolidate these and give the entire user experience a thorough refresh.
Charles Ryu, senior vice president and head of the Global Brand & CX Division at Kia, told TechReadar that one of the key features is an advanced AI chatbot that allows customers to ask the car pretty much anything.
Focussing on EV owners, Ryu suggested that customers could enquire about simple things, like remaining range or charge status of a vehicle, while more complicated requests, such as enquiring about and booking upcoming scheduled servicing, can be done by inputting conversational text into the app's chatbot.
What's more, vehicle telematics and driving data can be shared with insurance providers, who could then offer competitive premiums based on sensible driving; all you have to do is ask the chatbot.
During a presentation, we got to see some example screenshots, with one menu clearly showing a Kia Connect Store, which suggests the company is also considering offering the purchase of subscriptions for additional vehicle functionality.
Ryu wouldn't confirm what these are, nor would he reveal exactly who Kia is working with to advance the AI within its cars, but said they are partnering with "top generative model providers to roll out innovative services."
"The new app coincides with the launch of our upcoming EV3 model, which will also be the first car to feature a generative AI assistant that owners can engage with by having regular conversations," Ryu explained to us.
This technology, which looks to run separately from the app and will likely feature in newer generations of Kia's infotainment system, allows customers to use the "Hey Kia!" command to activate the AI assistant.
During a dummy demonstration, Ryu went through the process of searching for and booking a restaurant situated along his journey. "Can you recommend a restaurant that's good for kids along the route?" was one of the commands, and the chatty assistant responded with several well-considered options.
It also proposed charging spots near the restaurant and could send an entire itinerary of the trip to Ryu's wife's phone, which sounds a bit like a romance-killer to us, but useful nonetheless.
Leave no car behind
Although very much geared towards Kia's forthcoming electric vehicles, the new app isn't just for those who plug their cars in to charge. We chatted with Sjoerd Knipping, vice president of Marketing and Product at Kia, who said the app's advanced chatbot features would work with any Kia that houses an over-the-air (OTA) module.
"That is what's great about OTA updates, we can bring some of these new features to existing models, so customers get the same experiences as those buyers of the new EV range," he explained. "With the new app, we can offer the customer much more and generally make the ownership experience a lot simpler and more convenient."
There is no fixed date for the launch of the new Kia App, but EV3 is slated for a 2024 release, which is also when we are due to see Kia's in-car AI voice assistant debut. Expect to see the tech roll out across EV4 and EV5, too.
Although thanks to OTA updates, current Kia owners could also see the AI voice assistant in their vehicles. But there has been no word on whether this will come at an additional cost.
You might also like
Sign up for Black Friday email alerts!
Get the hottest deals available in your inbox plus news, reviews, opinion, analysis and more from the TechRadar team.