Kia bets all on electric and unveils EV3 and EV4 concepts
We will be seeing four new EVs landing in the next three years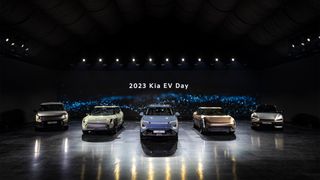 (Image credit: Kia)
As we race towards the 2030 deadline imposed by many automotive manufacturers, where the internal combustion engine will be effectively erased, the rate at which we will see new electrified cars is only going to increase.
Kia, which plans to sell at least 1.6 million EVs by said date, has made its intentions very clear. At its inaugural and aptly named EV day, which it plans to hold annually in order to talk openly about its upcoming vehicles, it launched two brand new concepts in the Concept EV3 and Concept EV4, while confirming the specification of its already announced EV5 SUV.
As if that wasn't enough, it also let slip that EV2, which will be the smallest electric vehicle in its dedicated EV line-up until EV1 arrives, is almost near production and will be launched in 2026.
Although we were allowed a sneak preview of EV2 while out in Korea, we weren't handed any media materials, nor are we allowed to give specific details until it has been officially revealed. However, we did get a good look at EV3 and EV4, so here's everything we know about Kia's future cars.
Kia Concept EV3
This Compact Utility Vehicle (CUV) takes many of the slick design cues found in Kia's mammoth EV9 and shrinks it down into a smaller, city-friendly package. It's a lovely piece of design, with imposing wheels filling squared-off wheel arches, a windscreen that has been pushed right forward to increase interior space and a long sloping roofline that compliments some of the sharp angles.
Inside, it's all very minimal and features the clean softness of a modern living room. There's a focus on the material choice here, with plenty of 3D knitted surfaces and bio-materials replacing traditional wipe-clean PU and leather.
Aside from the sliding interior tables and sleek integration of some equally minimalist digital displays, perhaps one of the coolest features is the rear bench seat. Not only is this like a little sofa for rear passengers, it also folds upright and offers a slide-in mechanism on its base for storing e-bikes or electric scooters.
When mounted and strapped in securely, the bench seat will then charge these devices using the Concept EV3's vehicle-to-load (V2L) functionality.
Kia Concept EV4
Intended to "redefine the sedan," this unconventional four-door saloon is slightly longer than the current Tesla Model 3, but comes packing some seriously genre-busting styling. A low nose, rises up to long, angular flanks, while a neat roof spoiler and elongated rear give it the feel of a speedtail at the back.
It's an aggressive new face for Kia, which is seen throughout the current crop of concept cars, and it features vertical LED headlamps at the very outer edge of the bumper that lead into the brand's signature Starmap lighting lower down.
There are a number of neat touches inside, but it's also worth noting that Kia chief designer Karim Habib, as well as help from his interiors team, have opted for very minimalist cabins throughout the line of EV concepts, with infotainment tech taking a back seat.
"The idea was to create an environment that would de-stress the occupants and bring people closer together," Habib explained during a brief walk around of the concept car.
To do this, there is a rear bench seat, a bit like the one on EV3, but this is larger and doesn't fold to accommodate eBikes. Up front, there is a distinct lack of air conditioning vents, because they have been hidden away in the dash.
When switched on, these pin-style air vents slide out, illuminate and then gently sway from side to side. Of course, this is a feature we won't likely see in a final model, but it's a great indication of just how clean the final interior will be.
"We wanted to create something called 'Mind Modes' in Concept EV4," Habib explains. "These modes will change the interior colour and ambience of the lighting. It can glow red when the driver needs to focus, or it switch to green and blues to make a much calmer environment."
These 'Mind Modes' have an impact on those swaying air-con outlets, as they too light up and put on a show.
As we previously mentioned, infotainment is limited to a discreet, dual screen setup embedded in the dash. No massive, tablet-style operation here. When questioned on it, Habib says that in his concept, "luxury is in the tactility" and not necessarily in obvious tech. "Shy tech," VP for interiors, Jochen, Paesen calls it.
The tactility referred to is the sheer amount of different fabrics and woven knits that cover most surfaces. The cushions scattered on the rear bench are made from mycelium, which is a natural fungal thread harvested from the roots of mushrooms, while recycled plastics, hemp and even flaxseeds have been used in other areas.
Will these make production?
According to Kia, these are very close to final production models, and considering there are due to launch in the next couple of years. So we can safely say there will likely only be minor changes to those cars that go on sale.
What's more, Kia has said its range of upcoming EVs will cost between $35,000 and $50,000 in the US, meaning that EV4 is slated to have a price tag that will make it very competitive. In fact, we can predict it launching slightly cheaper than the Model 3, just to spice things up.
However, there has been no mention of range and charging times, although we do know that the E-GMP platform used here will feature a 400V electrical system, as opposed to the fastest 800V system seen in EV6 and EV9.
This will mean longer charging times, but it has been done in order to keep the overall costs down.
You might also like
Get daily insight, inspiration and deals in your inbox
Get the hottest deals available in your inbox plus news, reviews, opinion, analysis and more from the TechRadar team.