Kia's EV2 concept could be the small, affordable EV you've been waiting for
Compact SUV could be the most affordable dedicated EV in Kia's upcoming line-up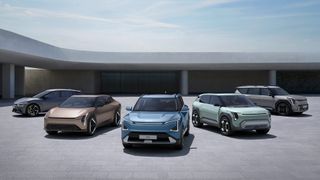 (Image credit: Kia)
Kia is planning to launch a small, affordable EV called the EV2 in 2026 – and it could cost less than $30,000.
The company held its inaugural EV Day in South Korea this week and unveiled two new fully electric concepts in the form of the EV3 SUV and the EV4 saloon. It also confirmed details of the production version of the EV5, its upcoming mid-sized SUV.
If you count the recent EV9 launch, which sits at the very top of an enticing electrified pack, that's four new EVs hitting roads in the next two years.
However, Kia's CEO Song Ho-Sung also stated plans to launch an even smaller EV2 to slot beneath the EV3 model. What's more, Kia's factory in Žilina, Slovakia, which currently produces the Ceed and Sportage models, has already been fitted out to produce it.
Despite having no concept car or imagery to show on the day, Kia confirmed the EV2 would go on sale in 2026 for less than $30,000, making it the most affordable model in its upcoming line-up; there was no mention of UK pricing, but a straight conversion would be around £24,300.
The South Korean company has already stated that it has plans to create dedicated EVs badged 1 to 9 over the next five years, helping it to reach a total of 1.6 million electric vehicles by the year 2030, so we can expect an even cheaper, smaller model – named EV1, obviously – to be unveiled in the near future.
With the new EV3 concept covering the small SUV category (or B-segment, for UK and European customers), and the EV4 being a mid-sized saloon, it would suggest the EV2 will be a smaller compact crossover (or CUV). It will presumably run on Kia's dedicated electric vehicle E-GMP platform, and will perhaps be similar in size to the current Ceed – a popular and fiercely contested segment among European customers – but with the ubiquitous SUV styling cues.
Although it looks like the EV2 will head to Europe first, it is likely to be imported to the US in the future, where the current cheapest model made by Kia or its parent company Hyundai is the now relatively dated Kona Electric SE. That has a maximum range of 258 miles, while the diminutive Chevrolet Bolt EV takes the crown of most affordable US EV at $27,495 and offering 259 miles of range. But the latter is tiny and likely a more natural rival to the forthcoming EV1.
Early insight suggest this EV2 will offer more interior space, greater material refinement and more electric range than both the Bolt and Kona, at a very competitive price.
Breaking down barriers
By Kia CEO Song Ho-Sung's own admission, the two biggest barriers to mass EV adoption remain the charging network and the price hike over ICE counterparts.
To address the charging network, Kia has teamed up with Ionity in Europe to install 7,000 new chargers by 2025, while in the US, it is part of an alliance, consisting of six major OEMs, that has formed to install 30,000 chargers by 2030.
This lower-priced EV2 will also form a large backbone of its future EV sales, allowing those customers who perhaps didn't want to step up to a larger electric SUV to opt for a cheaper electric hatchback crossover instead.
According to Kelley Blue Book data from May 2023, the average new electric vehicle transaction was pegged at $55,000. That's around $7,000 more expensive than the comparable ICE purchase. Releasing models that help push that price down to $35k – or even under $30k – will only help increase the speed of EV uptake and help secure Kia as a major player in the EV market.
Get daily insight, inspiration and deals in your inbox
Get the hottest deals available in your inbox plus news, reviews, opinion, analysis and more from the TechRadar team.