Trying to find the best 360 camera for you? Well, you've come to the right place. If, like Aerosmith, you don't want to miss a thing, these cameras are exactly what you need: each of the models in this list is capable of capturing footage in full 360-degrees. 
Most work by using multiple camera modules – usually two wide-angle lenses back-to-back – to capture footage which can then be digitally combined into a fully spherical video or, more usefully, into a standard two-dimensional video weaved together from frames that you've chosen after the fact.
That said, there are plenty of differences between them. Features to consider include automatic stitching (which saves you the hassle of manually aligning multiple captures), image stabilization, live-streaming and resolution, which in some cases goes up to 8K (see the Kandao QooCam 8K below). It's worth remembering, though, that even a relatively high resolution won't necessarily result in detailed images: because pixels are stretched over a 360-degree frame, the small part you're viewing might well be less than Full HD.
Also look at cropping functionality, which allows you to extract a standard 'flat' video from the 360-degree footage you've captured. This means you can shoot everything that's going on and select your area of focus when you're back home – particularly useful for fast-moving and unpredictable subjects, such as safari animals of extreme sports enthusiasts.
The relevance of other features, such as GPS, Wi-Fi and slow-mo modes, will depend on what and how you like to record. Helpfully, we've accounted for all of this in our list of the best 360 cameras. Some are the latest and greatest models, while others are a little older but priced very competitively. And don't forget that our widgets always display the latest and best deals too.
Best 360 cameras 2020 at a glance:
GoPro Max
Kandao QooCam 8K
Insta360 Evo
Insta360 One R
HumanEye Vuze XR
GoPro Fusion
Insta360 One
Ricoh Theta V
Garmin Virb 360

Best 360 camera 2020: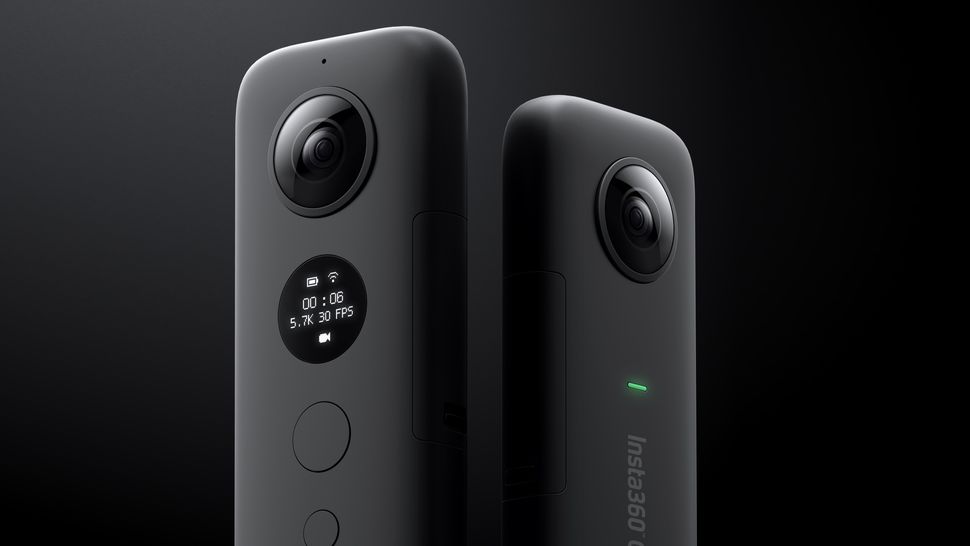 1. Insta360 One X
5.7K, HDR, slo-mo and a time-shift star
Weight: 115g | Max. video resolution: 5760 x 2880 at 30fps | Stills resolution: 18MP | Battery life: 60 minutes
HDR video and photos
Gimbal-grade stabilisation
Short battery life
Not waterproof
Producing great video is about two things; capturing all of the action, and slick editing. What if you could do both with an action camera and an app? With dual fisheye lenses and some unique time and perspective-manipulation special effects, the One X is our current pick for the title of best 360 camera.
What we love about the One X isn't its 360 tricks at all, but how easy it is to produce a great-looking regular widescreen video. Kudos in particular to the silky smooth image stabilization, which all goes to make it a tempting proposition for semi-pro videographers looking for some unique special effects on-the-fly.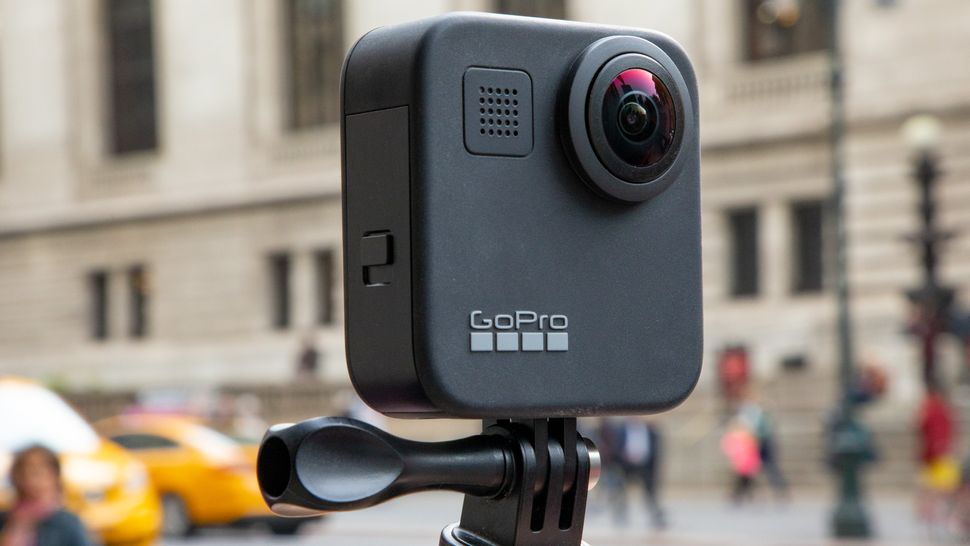 2. GoPro Max
The best waterproof 360 camera you can buy
Weight: 163g | Waterproof: 5m | 5.6K spherical video: Up to 30fps | 1440p 2D video : up to 60fps | Stills resolution: 16.6MP | Battery life: 108 minutes (1440p), 78 minutes (5.6K)
Slick editing process
Waterproof without needing a case
Poor in low light
Low-res 2D footage
If you're looking to shoot immersive videos of sporting escapades or outdoor adventures, then the GoPro Max is the best 360 camera option around. Unlike the Insta360 One X, it's waterproof down to five meters without needing a case, and the editing workflow is slick and simple. If you want to turn your 360-degree video into a traditional 2D film – which is one of the main benefits of 360 cams – the app's OverCapture software lets you do this easily, as long as your happy with the final footage being in Full HD. The Max also amps up many of the features seen on the GoPro Hero 8 Black, including superior HyperSmooth stabilization and 360-degree TimeWarp sequences. The slightly sub-par 2D video footage (which is the result of it being converted from a fish-eye images) means the Max falls short of being the ultimate GoPro for both 360 and standard footage. But it's a fantastic option for anyone who wants to shoot action sequences in every direction without the hassle of deciding where to point their action camera, then edit it together quickly later.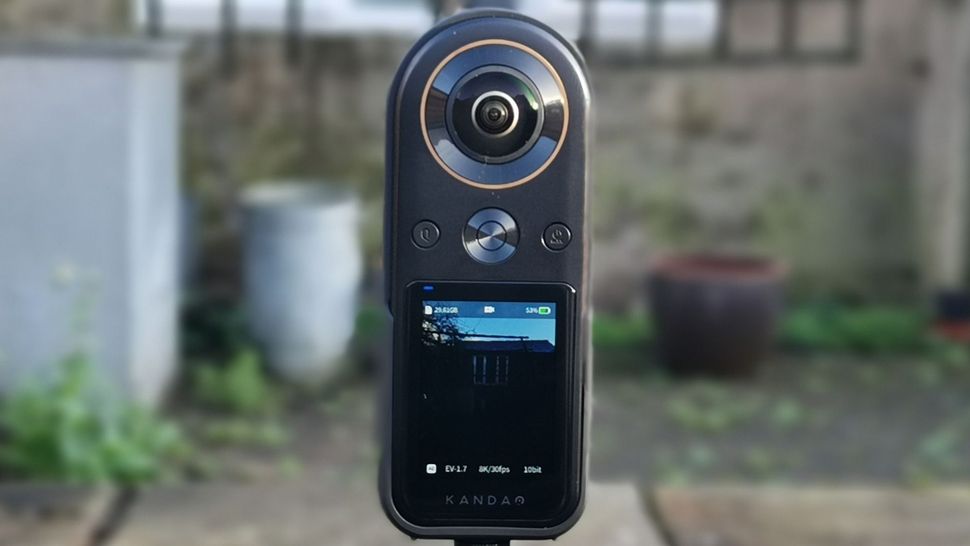 3. Kandao QooCam 8K
An 8K heavyweight with game-changing video quality
Weight: 228g | Max. video resolution: 8K at 30fps | Stills resolution: 29.4MP | Battery life: 70 minutes
8K video at 30fps
SuperSteady image stabilisation
Relatively large and heavy
Not waterproof
Numbers never tell the whole story, but 8K is a seriously impressive figure in a consumer 360 camera's spec sheet. Qoocam's 360 heavyweight outguns all of the competition on resolution, with a pair of 20MP CMOS sensors that work together to capture 8K footage at 30fps and 4K video at up to 200fps. 
Not only can it create VR-grade video out of the box, but it's also the first non-pro model from which 360 footage can be cropped down to widescreen format without a big drop in resolution. It packs impressive SuperSteady image stabilization, too, as well as a class-leading 2.4-inch OLED touchscreen for easy control and framing. For both stills and video, dynamic range is excellent, as is color and contrast. 
Downsides? There are limited video modes and the partner app is pretty basic, though there's a handy express mode which downscales footage for mobile editing. There's also no escaping the relative heft of the Qoocam 8K, or its lack of waterproofing. All the same, provided you can stomach its price tag, its video quality is unrivaled in the 360 market. Once you try 8K, there's no going back.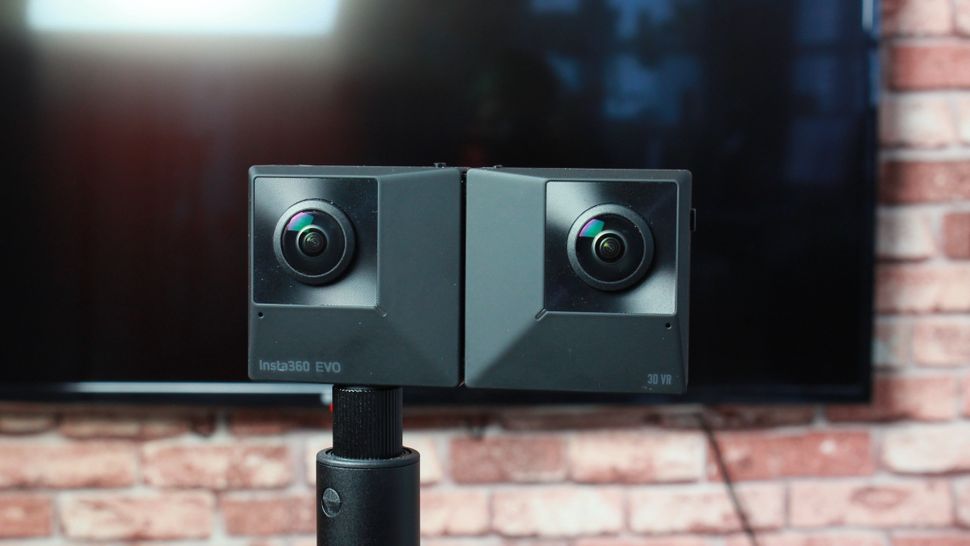 4. Insta360 Evo
The best way to record 3D VR and 360 videos with one device
Weight: 113g | Max. video resolution: 5760 x 2880 at 30fps | Stills resolution: 18MP | Battery life: 65 minutes
Good daylight image quality
Records both 360 and 3D content
Only excels in brightly-lit scenes
Average build quality
It might not have the elegant, pocket-friendly design of Insta360's One X, but the Evo is a more flexible form of 360-degree camera. One minute it can function as a standard 360-degree camera with back-to-back fisheye lenses capturing everything around it in decent 5.7K resolution. The next moment, thanks to its hinged design, both lenses will be sitting side by side facing the same direction, allowing them to capture 3D VR content with a 180-degree field-of-view. You'll really need an Oculus or similar VR headset to appreciate the latter, however – and for most people the One X probably makes more sense.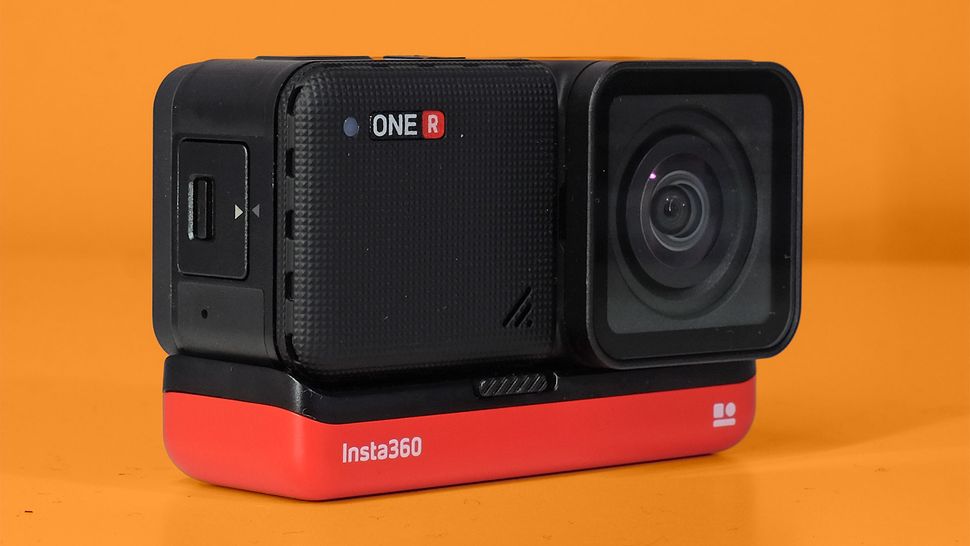 5. Insta360 One R
A flawed but effective modular cam with solid 360 chops
Weight: 130.5g | Max. video resolution: 5760 x 2880 at 30fps | Stills resolution: 18.5MP | Battery life: 70 minutes
Largely effective modular design
Solid 360-degree image quality
Very small screen
Sub-GoPro Image processing
The headline feature of the Insta360 One R is its modular design. Comprised of three blocks – battery, controls and camera – the lens section can be switched to suit your situation. Besides a 1-inch sensor module, the dual-lens element is seriously exciting: capable of capturing 360-degree footage in 5.7K at 30fps, it transforms the Insta360 One R from action cam to capable 360 cam. Stabilization is excellent, as is the stitching, with only a slight flutter if your crop covers the border between sources. Like the GoPro Max, sharpness drops at the edge of each lens, but results in bright conditions are good, with decent detail and limited noise. The same can't be said in low light, where software processing issues arise, with lots of juddering and blurred frames. Editing 360-degree video means selecting and dragging one of five fields of view in the app, which is slightly limiting but ultimately quick, while optional subject-tracking delivers a professional look with minimal effort. It's not quite as slick as the GoPro Max, but it's cheaper, offers a unique modular approach and delivers solid 360-degree footage. With a few software fixes, the Insta360 One R could be a real 360 success.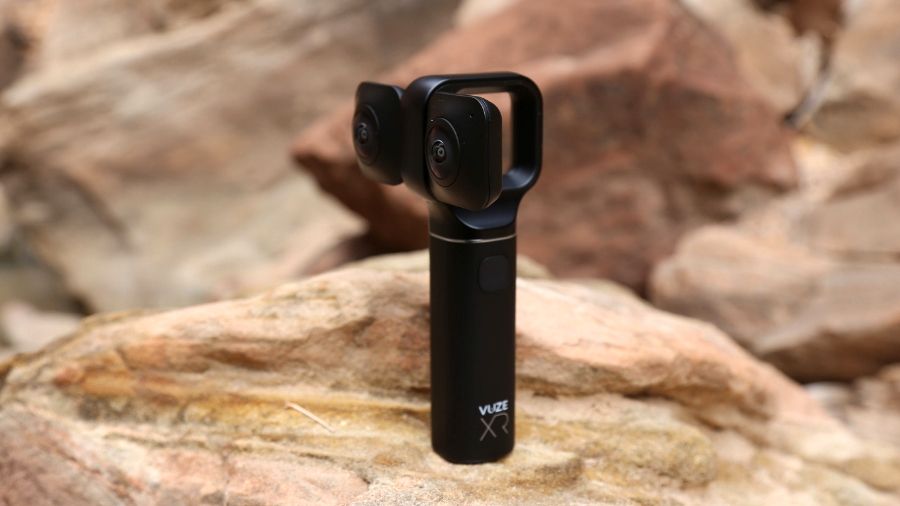 6. HumanEyes Vuze XR
A clever, well-built VR and 360 camera hamstrung by middling software
Weight: 212g | Max. video resolution: 5760 x 2880 at 30fps | Stills resolution: 18MP | Battery life: 60 minutes
Impressive 2D and 3D footage
Excellent build quality
Limited phone app
Flawed desktop software
Thanks to its pop-out lenses, the Vuze XR is able to record both 360-degree and 3D VR videos. It's a clever design and physically well implemented here thanks to the solidity of the hinge mechanism and springs. With the option to shoot video at 5.7K resolution, the camera's image quality isn't bad either. Unfortunately, the limited mobile app's lack of editing features and the slightly janky nature of the desktop app make doing anything with your footage and photos more of a chore than it should be – and while the Vuze XR may have been the first camera to offer this two-pronged approach, it's outperformed by the slightly slicker Insta360 Evo that followed closely in its wake.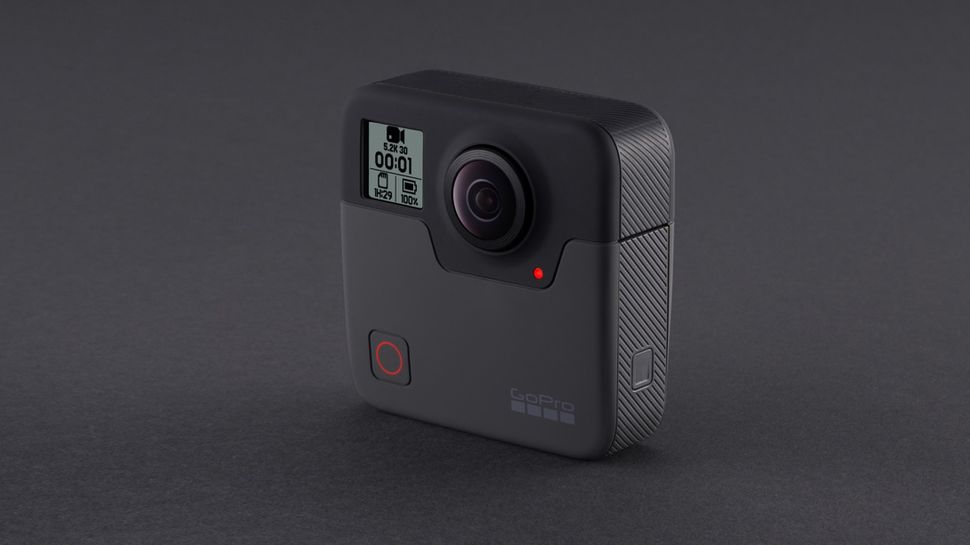 7. GoPro Fusion
This waterproof GoPro Max predecessor is worth investigating at its lower price
Weight: 226g | Max. video resolution: 5228 x 2624 at 30fps | Stills resolution: 18MP | Battery life: 70 minutes
5.2K resolution
Over-capture for standard video
High-end and expensive
Overkill for most users
GoPro's highly innovative camera has enjoyed a significant price drop since its launch, making it worth considering if you can't stretch to the newer GoPro Max. The Fusion can capture 360-degree video in 5.2K resolution at 30fps (or 3K at 60fps) which is great, but its real trick was the introduction of the OverCapture mode. Like the GoPro Max and Insta360 One X, this lets you film in 360 degrees then create a standard 16:9 video from the footage. Add GPS, a compass, accelerometer, gyroscope, Wi-Fi, Bluetooth, 3D audio, and compatibility with existing GoPro mounts, and the waterproof (to a depth of 5m) Fusion is a powerful camera for the price. The newer GoPro Max brings a front-facing screen, a more compact design, six microphones (rather than four) and better image stabilization. The Fusion's last software update was also over a year ago, if these issues don't bother you then it's definitely worth considering if you need a waterproof 360-degree camera.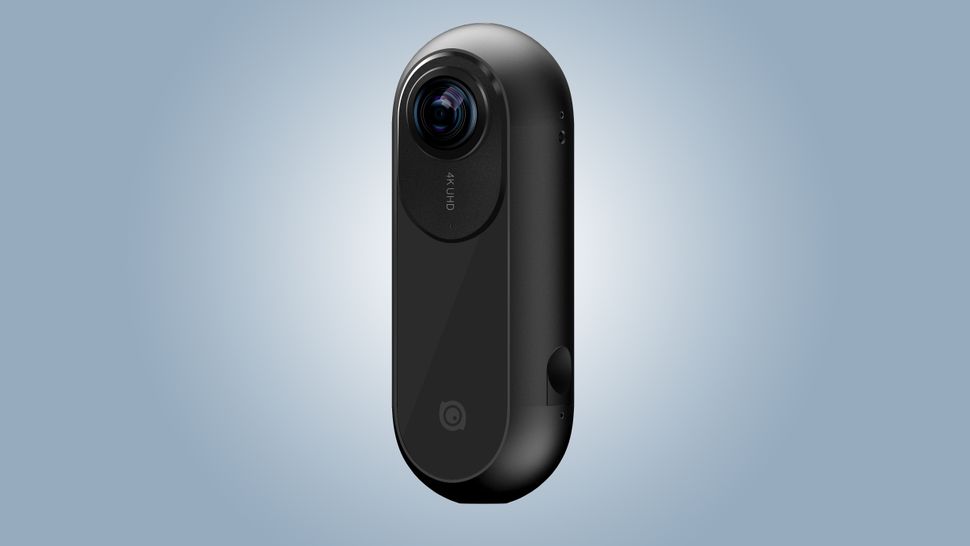 8. Insta360 One
Unique video modes help this 4K clip-on to stand out
Weight: 83g | Max. video resolution: 3840 x 1920 at 30fps | Stills resolution: 24MP (including raw) | Battery life: 70 minutes
Clip-on design also works remotely
FreeCapture and Bullet Time
iOS only
Will only appeal to videographers
No one in their right mind thinks 360° video is going to take over from regular video. Why else would the Insta360 One include FreeCapture, a mode that allows users to film in 360° before transforming the results into a traditional 16:9 aspect ratio? It's a little like the feature on the similarly 4K-capable GoPro Fusion, although that's where the comparison pretty much ends. A reliable 4K 360° camera for video and stills, the Insta360 One proffers another advanced tool in the shape of Bullet Time, a fast frame-rate slow-mo mode that, rather bizarrely, requires users to wave the camera rapidly around them on… a piece of string. It's odd, but effective – the slow-mo effect you can add this footage looks like something out of The Matrix. It comes with a tripod thread for remote shooting, too.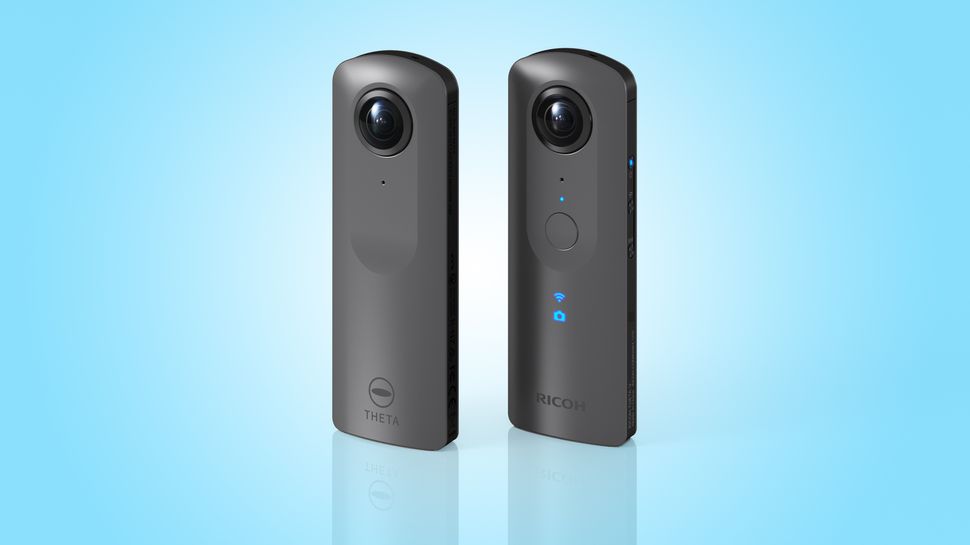 9. Ricoh Theta V
Now capturing in 4K, and with an unbeatable form factor
Weight: 121g | Max. video resolution: 3840 × 1920 at 30fps | Stills resolution: 14MP | Battery life: 80 minutes
4K video and live streaming
Form factor and tripod thread
Very expensive
Mini HDMI removed
It was Ricoh that put 360° video creation into the mainstream with its Theta S a few years ago, but for all the brilliance of its form factor, it produced barely 25 minutes of rather soft video on one charge. The souped-up follow-up looks the same, but is capable of 4K video recording, 4K live streaming, and even records 360° spatial audio thanks to its four microphones – and for 80 minutes. Android-based and Qualcomm Snapdragon 625-powered, the Theta V vastly increases the ISO and has both Wi-Fi and Bluetooth, so can be operated remotely via an app. Thankfully, it retains the standard tripod thread its forbear had.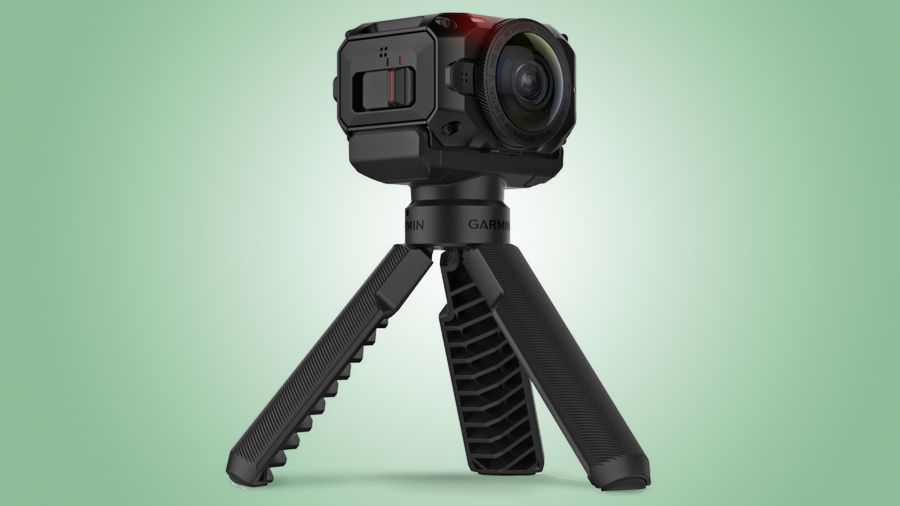 10. Garmin VIRB 360
A former trailblazer with some neat features for outdoorsy types
Weight: 160g | Max. video resolution: 2880 × 2880 (x2) at 30fps | Stills resolution: 15MP | Battery life: 65 minutes
5.7K resolution
Rugged, waterproof design
Heaviest camera here
Relatively pricey option
It might be known mostly for its sat navs and sports watches, but Garmin has produced a whopping-good 360 camera. The feature that catches the eye on the VIRB 360 is its ability to capture in maximum 5.7K resolution, and there's a very simple reason for that awkward figure: 4K doesn't cover a 360 landscape well. Better yet, you can now stitch 5.7K footage using Garmin's free VIRB Edit software. Its four microphones produce wraparound sound, too, while waterproofing, GPS, a gyroscope and an accelerometer give it a notable Garmin feel (it collects data about your adventures as you go, which you can overlay onto your 360 videos).