ViewSonic's 'Designed for Xbox' 4K projector is coming soon, but don't get too excited
Is this really the ultimate 4K projector for Xbox?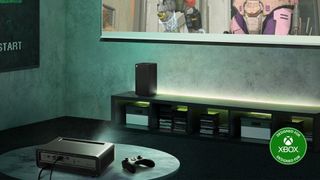 (Image credit: ViewSonic)
ViewSonic has finally confirmed that its new gamer-targeted 4K projector, which bears the official Microsoft certification of 'Designed For Xbox', is set to be released in July and will retail in the US for $1,599.
The electronics company claims that the X2-4K is the "world's first 'Designed for Xbox' projector" and says that it "collaborated with Microsoft to optimize compatibility, allowing users to control the projector's power and volume through Xbox consoles using the HDMI Consumer Electronics Control (CEC) standard".
But a quick glance at the specs might make you wonder which Xbox it was designed for, as the ViewSonic X2-4K is hardly cutting edge despite being similarly priced to some of the best 4K projectors around.
Curiously, the two built-in HDMI ports use 2.0 rather than the 2.1 standard and you're also limited to 60Hz gaming at 4K – rather than 120Hz, which a lot of the best TVs support. In fact, 60Hz is half the rate the Xbox Series X is capable of. And while the projector supports HDR/HLG, it doesn't handle Dolby Vision – one of the current Xbox's key selling points.
The lack of next-generation gaming features is a bit disappointing because the rest of the projector's spec is fine. There's a decent 2,900 lumens of brightness from an LED light with 30,000 hours lifespan, integrated Harman Kardon speakers and it's easy to set up. It's a short-throw device capable of displaying a 100-inch screen from just 1.5m away, and it has both Wi-Fi screen mirroring and Bluetooth connectivity too. But the Xbox branding is just that: branding.
Hit and miss: gaming branded product partnerships
All the 'Designed for Xbox' branding really does is tell you that the projector will work with your Xbox. It's another badge on a box and nothing more, in much the same way that the Made For iPhone logo means "we gave Apple some money". But the tech industry, and gaming in particular, has a long tradition of letting people slap big brand logos on pretty much anything.
There have been some genuinely horrible examples of big brands giving the go-ahead to mediocre products, aka doing a Ferrari. And while other gaming brands have been responsible for really odd stuff – Resident Evil perfume or a Call of Duty Jeep Wrangler, anyone? – there's something about Xbox that seems to bring out some of the worst tie-in ideas imaginable.
Older gamers may remember the Halo 4 stuffed crust pizza from Pizza Hut, which came in a special Halo 4 box and had absolutely no other link to the game at all (they didn't even make a joke about a 'Master Chef'). And the 2019 launch of Xbox-themed Lynx deodorant and body wash was a particular low.
It's not always bad, though. Sometimes it's fun, like the Xbox mini fridge. Faced with criticism that the Xbox Series X looked like a fridge, Microsoft went ahead and made one. What began as a joke turned into an unexpected viral success: it's not any better than a non-Xbox fridge, but at least it'll make you smile whenever you see it.
If you're looking for a dedicated display screen for your next-generation gaming console, then it's worth checking out our guides for the best gaming TV and best 120Hz 4K TVs.
Get daily insight, inspiration and deals in your inbox
Get the hottest deals available in your inbox plus news, reviews, opinion, analysis and more from the TechRadar team.
Contributor
Writer, broadcaster, musician and kitchen gadget obsessive Carrie Marshall (Twitter) has been writing about tech since 1998, contributing sage advice and odd opinions to all kinds of magazines and websites as well as writing more than a dozen books. Her memoir, Carrie Kills A Man, is on sale now. She is the singer in Glaswegian rock band HAVR.