Netflix's cancelation spree is happening so fast it's even news to some show creators
You'd think Netflix would be good at canceling things by now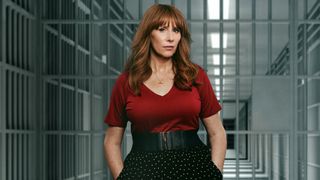 (Image credit: Netflix)
Netflix isn't alone in canceling TV shows, but it appears the world's best streaming service sometimes forgets to tell the creators that their series is about to be dropped.
According to Digital Spy, actor, comedian and writer Catherine Tate wasn't even warned that her mockumentary Hard Cell had been canceled. Turns out, Tate had to find out it was axed by someone else's agent, who told her about it.
Netflix has something of a reputation when it comes to canceling shows. For instance, 2023 had barely begun and it went on a cancelation spree as two fan favorite shows were axed. If you want to find out what has left the platform, here's everything the streamer has axed recently and 9 canceled shows that are still worth your time.
After all that, you'd think it would have the cancelation process off pat by now, right? Tell the showrunners, prepare the PR pitch and batten down the hatches for the fan revolt. It seems that with Hard Cell, though, Netflix forgot to do the first bit.
What's happened to Hard Cell?
Tate's prison-set mockumentary proved to be, well, a hard sell. Reviews tended to be two-star affairs. And while the Rotten Tomatoes audience rating is a healthy 89%, the critic rating is a much less fun 20%, which means it's probably safe to say that Tate wasn't sitting by the phone waiting for Netflix to renew it.
But while canceling shows is part of the business, it does seem that Netflix handled this one in a really crappy way. Speaking to BBC Radio 2, Tate said that "do you know Netflix never actually told me? So, I've never actually had the call to say... nothing". She added: "Isn't it just rude? I heard from someone else's agent. That was nice." Netflix has declined to comment beyond confirming that it had canceled the show.
The streaming service's cancelations have become something of a comedic trope online, but not everybody's laughing. As many industry watchers have pointed out, it's hard to get people invested in a new show if it's likely to end on a cliffhanger and then never come back. And that can create a self-fulfilling loop where people don't watch a show because they think it'll probably just be canceled, and then Netflix cancels the show because there weren't enough people watching it.
That could have a wider effect on what shows get taken to Netflix in the first place. Let's say you've got a killer idea for a new show. Do you take it to Netflix, who will promise ever-increasing bounties for each season but who may well cancel the whole thing after season one? Or do you sit down with another streamer who might not promise quite such a big potential payday, but who's much more likely to be interested in seasons two, three and four?
If creators start losing confidence in Netflix, that could prove to be a serious problem in the long term. So, should you cancel Netflix? It's completely down to you, but given the recent price hikes and global password sharing crackdown, it might be worth considering. If you decide to, read our guide to find out how to cancel your Netflix account.
Get daily insight, inspiration and deals in your inbox
Get the hottest deals available in your inbox plus news, reviews, opinion, analysis and more from the TechRadar team.
Contributor
Writer, broadcaster, musician and kitchen gadget obsessive Carrie Marshall (Twitter) has been writing about tech since 1998, contributing sage advice and odd opinions to all kinds of magazines and websites as well as writing more than a dozen books. Her memoir, Carrie Kills A Man, is on sale now. She is the singer in Glaswegian rock band HAVR.