Looking for the best waterproof camera you can buy in 2022? Whether you're an underwater photographer or a watersport enthusiast, the best waterproof cameras can capture excellent images above and below the waves.
From reinforced compact models to all-out action cameras, we've tested the best waterproof cameras to help you find your ideal option. The buying guide below features a range of recommendations to suit every skill level and budget, so whatever you're shooting, you're sure to make a splash.
Flagship smartphones today might offer some degree of waterproofing, but every camera featured in this list is fully water-sealed and good for a dunking. In fact, the best waterproof cameras in 2022 can function several meters below the surface. So whether you're snorkeling, sailing or swimming, our pick of the best waterproof cameras will help you shoot high-quality stills and video wherever there's water.
When choosing your perfect waterproof camera, there are a few key factors to keep in mind. Just how waterproof you need a camera to be will depend on your chosen activity: if you're a keen free-diver, for example, something like the Nikon Coolpix W300 will fit the bill, as it's waterproof to 30 meters. Equally, if your activities require gloves, you might want a camera that's simple to operate, with accessible physical controls, like the Fujifilm XP140.
Other considerations include image stabilization for smoothing out waves, low-light performance if you're heading into the depths and smart connectivity, if you're keen to share your waterborne images swiftly. Some cameras, such as the Insta360 Go 2, even include special underwater shooting modes which adapt the color balance for subaquatic scenarios.
Our overall pick for the best waterproof camera you can buy in 2022 is the Olympus Tough TG-6. Properly tough yet impressively versatile, it's an accessible premium compact that can capture fantastic stills and video almost anywhere. That said, there might be a better camera for your specific requirements in the list below. The GoPro Hero9 Black, for example, offers an impressive blend of 5K video and outstanding HyperSmooth image stabilization, in a rugged, compact package.
Whatever you're planning to capture, our comprehensive buying guide features the very best waterproof cameras for every need and budget. And whichever one you pick, they're all made for the waves.

Best waterproof cameras in 2022: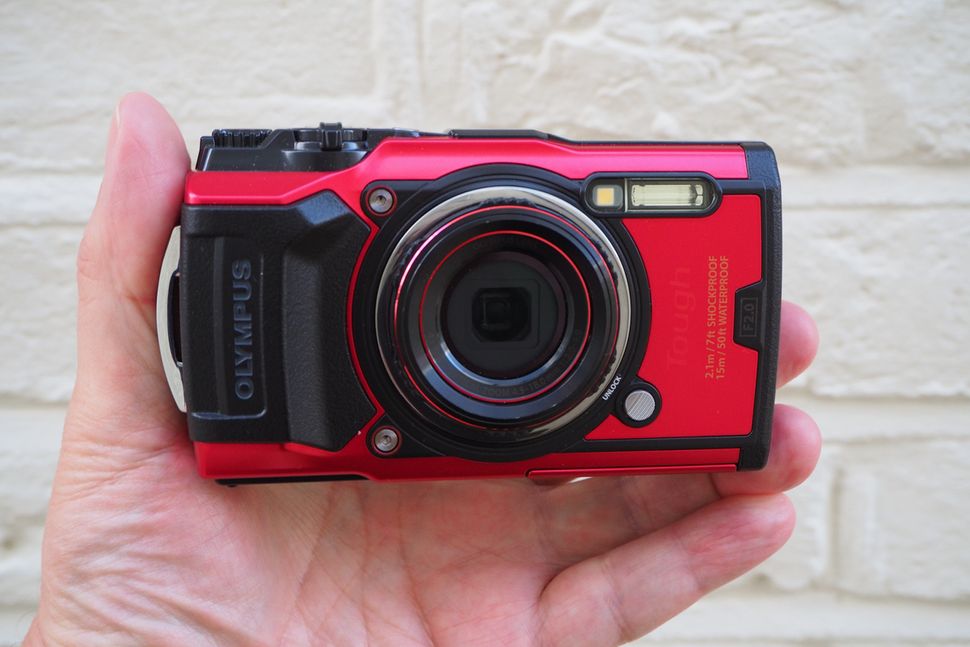 Olympus's Tough line of waterproof cameras has arguably the strongest reputation here, and the company has kitted its most recent TG-6 model with features decidedly towards the premium end of the scale. Raw shooting? Check. 4K video? Yep, that too. GPS? Hell yes. Even the same processing engine as the OM-D E-M1 X mirrorless model features here.
Together with a lens that has a maximum aperture of f/2 at the wide end and a raft of close-focusing goodies on top of that, the camera is certainly ready for all manner of land-based and underwater captures. We do wish Olympus had moved things along a little further from what we saw in the previous TG-5, however, which was our previous top pick and not that dissimilar to what we have here. We're just finishing our full review and while we can see it being a stronger model, the TG-5 would still be a fine choice if you're on a tighter budget.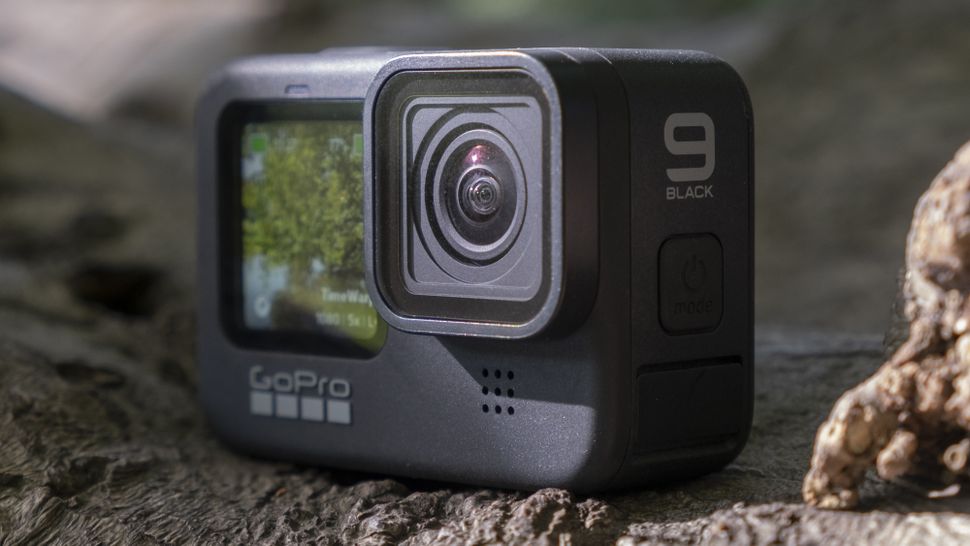 Given that it's the most powerful and versatile action camera GoPro has ever made, it's little wonder that the Hero 9 Black is one of the best waterproof cameras you can buy. Its predecessor might offer better value for most, but with a new 23.6MP sensor that delivers 5K video, the Hero 9 Black is a top option for underwater recording. While it's waterproof down to 10 meters without a housing, the Hero 9 Black's slightly laggy touchscreen isn't really usable underwater.
Instead, you're reliant on the straightforward pair of rugged buttons for quick inputs – a solution which actually makes it very easy to operate. A new front-facing screen also makes for easier framing in the waves, while HyperSmooth Boost – GoPro's strongest stabilization software to date – guarantees shake-free footage at sea. Battery life is boosted but still fairly average, while 4K isn't noticeably improved over the GoPro Hero 8 Black. Nevertheless, if you want the smartest, smoothest and most accessible waterproof action cam, the GoPro Hero 9 Black is hard to beat.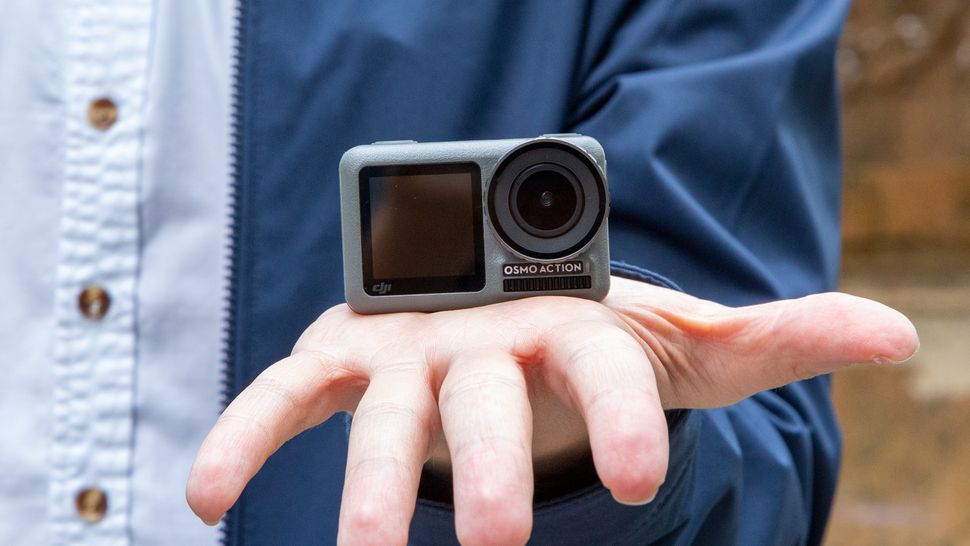 With specs to rival the GoPro Hero 8 Black, the slightly older DJI Osmo Action represents a more affordable yet still very capable underwater action cam. Waterproof down to 11 meters without a housing – or an impressive 60m in a sold-separately case – and wrapped in a solid metal shell, there's no questioning its durability. Like the GoPro Hero 9 Black, it offers both front and rear screens for easy framing, while shooting underwater is intuitive with the shortcut buttons.
Video itself is crisp, slick and detailed, with a maximum resolution of 4K at 60fps – though 240fps slow-mo is only available at 1080p. RockSteady image stabilization isn't quite as slick as GoPro's HyperSmooth 2.0, but it does more than enough smooth out swells and waves. Low-light performance is less impressive, but that's nothing new for an action camera – and battery life is likewise par for the course. A solid, versatile waterproof action camera with a mountable body and plenty of accessories, the DJI Osmo Action offers plenty of bang for buck.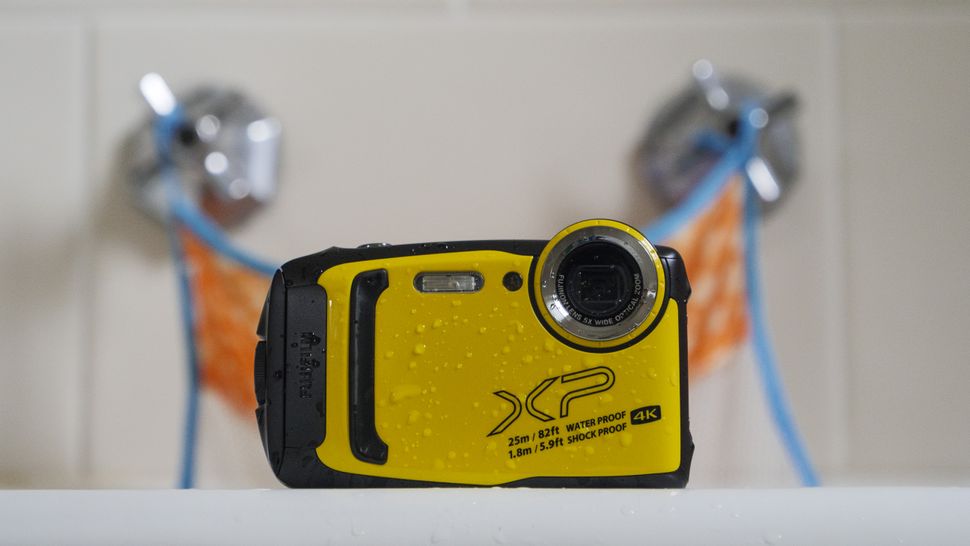 Almost identical to the Fujifilm XP130 before it, Fujifilm's latest tough camera retains many of its specs: there's the same 16.4MP sensor, the same 5x optical zoom and the same 3-inch touchscreen.
Though you wouldn't know it from looking, the XP140 is marginally more rugged than its predecessor, making it close to indestructible. Dustproof, shockproof to 1.8m and freeze proof to -10ºC, it's also waterproof down to 25m, so it should survive even the deepest of snorkeling expeditions.
The biggest changes are found inside the camera. It can now capture 100fps slow-mo in 720p, as well as true 4K footage – though a disappointing 4K frame rate of 15fps means it's much more capable as a Full HD 1080p shooter. Maximum ISO has also been doubled to 12,800 for enhanced low-light performance, while new subject and scene detection skills are backed up by a wider range of in-camera filters.
Because the sensor is stabilized and back-illuminated, the XP140 can deliver great results underwater, while the sizable display makes framing easy even with goggles on. When you're back on dry land, Wi-Fi and Bluetooth connectivity make it a cinch to offload images via the Fujifilm app – or an Instax Share printer for instant prints.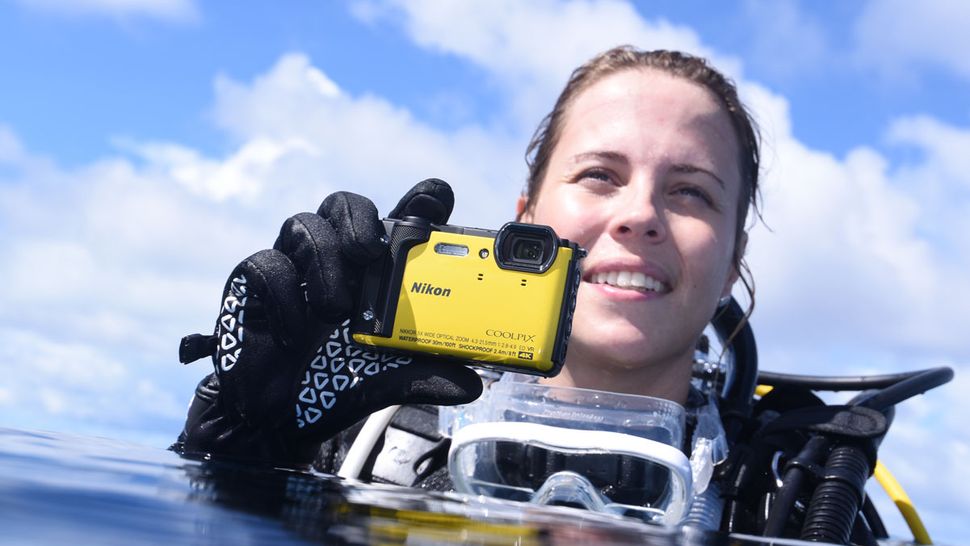 The Coolpix W300 comes fully-loaded with a host of features – there's 4K video for starters, a terrific GPS system, interactive world map and Wi-Fi connectivity, plus an altimeter and underwater depth gauge to boot.
The W300 also offers a high resolution, 921k dot OLED monitor, but perhaps most impressive of all is that the W300 can function down to a depth of 30 meters – as far as an Advanced Open Water diving certificate will get you.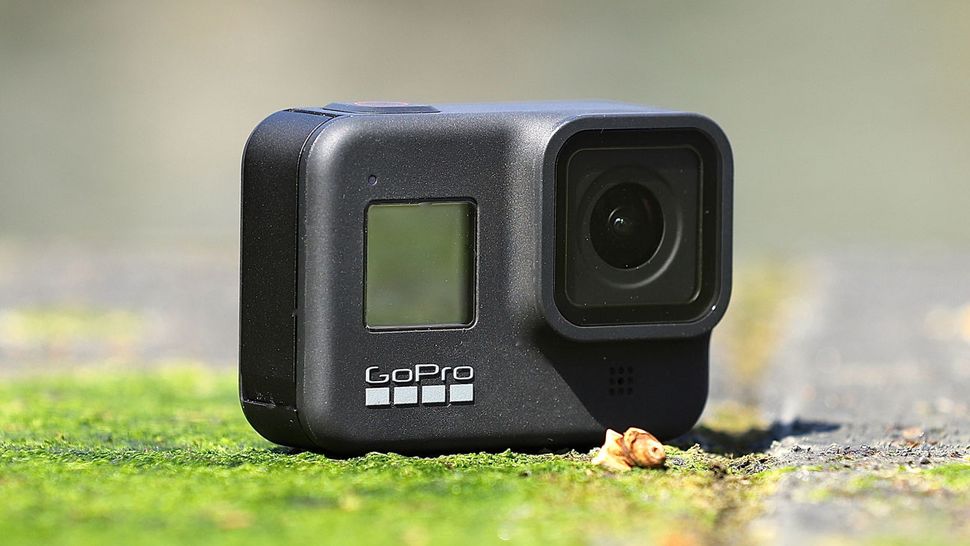 The GoPro Hero 8 Black has technically been superseded by the new Hero 9 Black. Yet while it might lack the front-facing screen and higher resolution sensor of its successor, the Hero 8 Black captures seamless 4K/60p footage that's just as impressive – and its HyperSmooth stabilization smarts keep things pretty much as steady beneath the waves.
With prices lower than ever, the Hero 8 Black arguably hits the action cam sweet spot. It's certainly worth considering as an underwater camera: waterproof to 10m without a housing, it also serves up decent HDR for scenes with broad contrast ranges. And though low-light performance could be better, the optional Light Mod means you can easily illuminate the murky depths.
Its combination of two buttons and a touchscreen make the Hero 8 Black a cinch to control, while Custom Presets and four digital lenses put versatility at your fingertips. Add smartphone connectivity into the mix for easy uploading and there's every reason to keep the Hero 8 Black on your underwater wish list.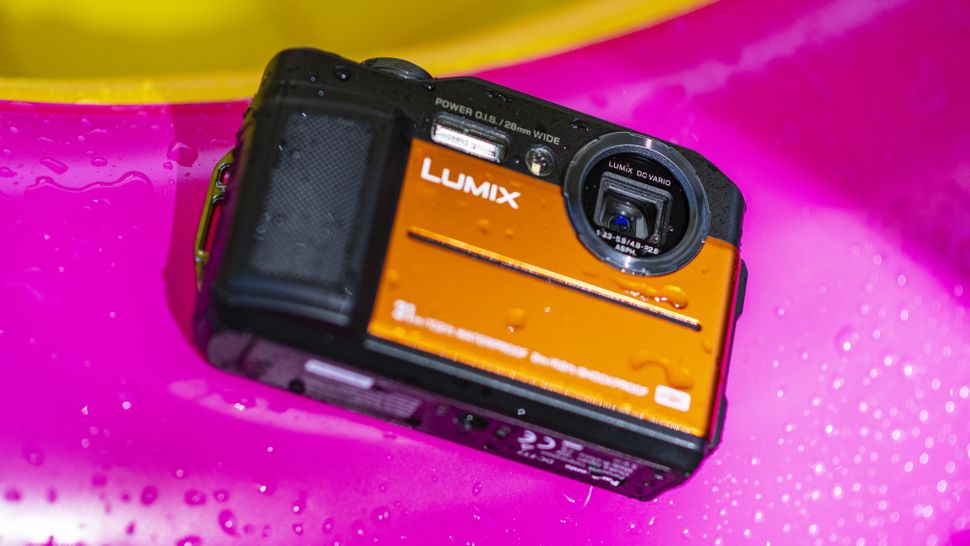 Panasonic's new Lumix TS7 (called the Lumix FT7 outside the US) is the latest waterproof camera here. As opposed to Olympus, which reduced the resolution of its TG-5, Panasonic has gone the other direction, increasing the pixel count from 16.1MP in the TS5 / FT5 to 20.4MP in the Lumix TS7 / FT7. Lens coverage remains the same as its predecessor, with a 4.6x zoom range that covers 28-128mm, but interestingly, the lens loses its Leica branding.
The Lumix TS7 / FT7 does have something unique for a waterproof camera: a built-in electronic viewfinder (EVF). The 1,170k-dot, 0.2-inch display might not be the largest out there, but it does offer a useful alternative to shooting with the rear display, especially in bright light, which can make composition tricky. There's lots to like about the Lumix TS7 / FT7, including its excellent tough credentials, but is let down by a sensor that crams too many pixels onto a relatively small area.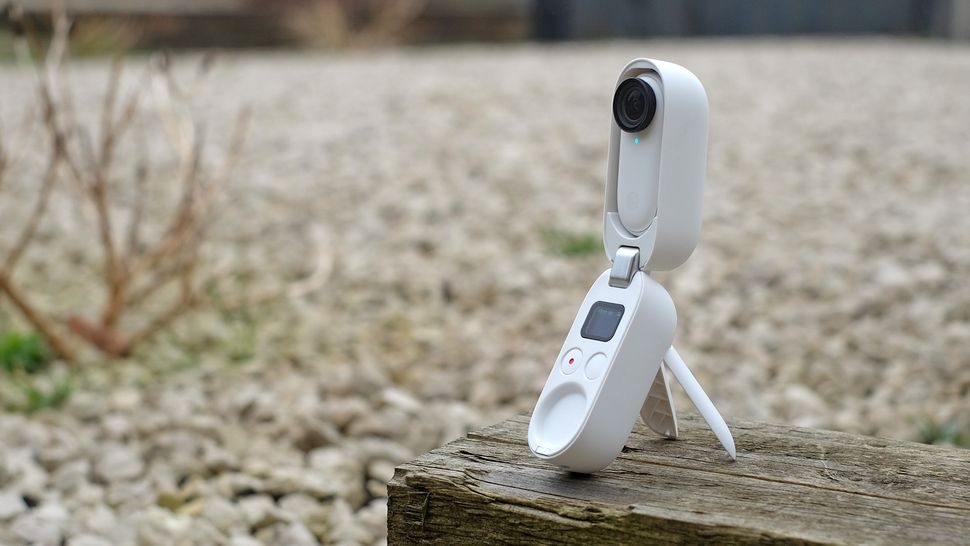 Tiny enough to fit in any beach bag, the Insta360 Go 2 is a dinky camera that's designed to quickly capture action wherever you go. At just 26.5g, the Go 2 is as light as a pebble, but don't let its diminutive form fool you: the pared-back camera can capture excellent 1440p video at 50fps, with decent dynamic range and good detail, even in reduced lighting. Image stabilization is also impressive, if not as good as a GoPro.
And while it's only waterproof to 4 meters, the Insta360 Go 2 is nevertheless a worthy option for recording underwater action. Enable the AquaVision algorithm in the app and the Go 2 will filter footage to reduce haze for more vivid results. And while the absence of a display on the Go 2 will be a dealbreaker for some, its simple controls mean you can set it and forget it when you dive into the water. When you're back on dry land, the protective charging case doubles up as a remote control and tripod, making the Go 2 a versatile waterproof option.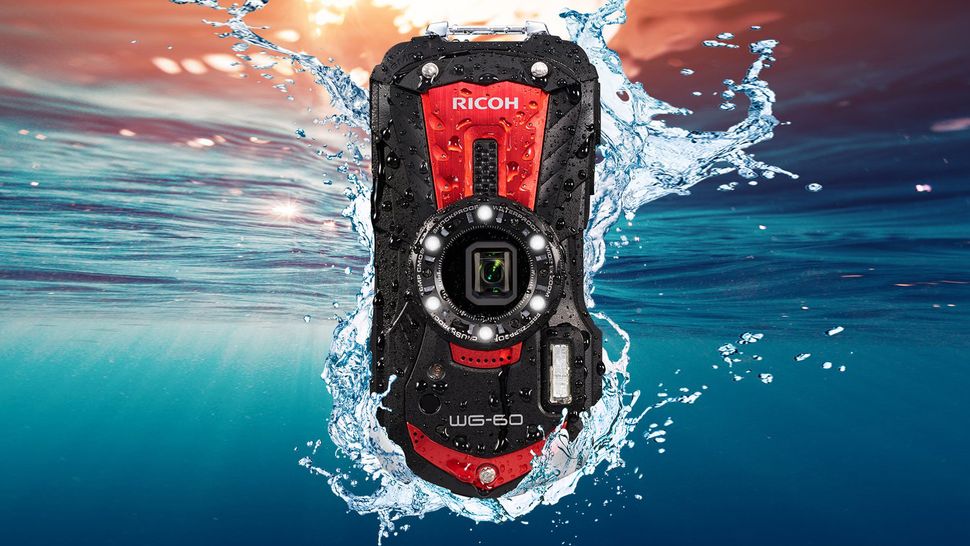 The WG-60 from Ricoh has some pretty strong tough credentials – it's waterproof to a depth of 14m/45.9ft and shockproof from a fall of up to 1.6m/5.2ft, while it should withstand a force of up to 100kg/220lbs. It's also dust-proof, and can operate in temperatures down to -10°C/14°F.
The 5x optical zoom has a pretty broad focal zoom range, from 28-140mm, while there are six LED macro lights dotted round the front of the lens barrel to deliver bright and uniformed lighting round your subject – ideal when shooting underwater subjects. The macro lights also provide other useful functions, such as the LED Lighting mode, that uses the lights for adding light to portraits in poor light – it should deliver a more flattering look than the WG-60's dedicated flash.

Looking for a holiday camera with a longer zoom range? Take a look at our pick of the best travel zoom compacts. Alternatively, video might be your main priority, which in that case, take a look at our guide to the best action cameras and best GoPro cameras.