I didn't want to buy a new MacBook Pro... until I saw these surprisingly good MacBook Black Friday deals
My MacBook Black Friday hack? Forget the M3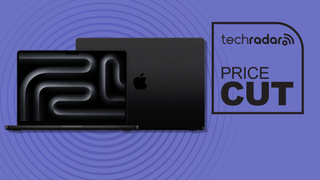 (Image credit: Apple)
Apple's latest generation of M3 MacBook Pros are now out, and they are very good (check out our reviews on the MacBook Pro 14-inch (M3 Max) and MacBook Pro 16-inch (M3 Max) to see just how good they are), but this close to the Black Friday deals, you might want to consider not buying them.
That's right. Although the new MacBook Pros are undeniably excellent bits of kit, they are also extremely expensive. However, there are also plenty of impressive Black Friday MacBook Pro deals popping up across the internet, making older models much better value.
This is especially true of the M2 Pro and M2 Max versions of the MacBook Pro, which only launched in January 2023, but are now discontinued by Apple. With some retailers still carrying stock, there's a few tasty deals in both the US and UK for MacBook Pros that are less than a year old. There's even bigger savings on the older M1 Pro and M1 Max models, and even though they were launched in 2021, those are still very powerful laptops as well. Below, you'll find the best MacBook Pro deals I've found, and could save you a decent amount of cash if you don't mind slightly older (but still very good) hardware. I've even found a rare deal off the brand new MacBook Pro 14-inch with M3 Pro, which knocks $200 off the just-released laptop!
We've also put together the best MacBook Black Friday deals and best MacBook Air Black Friday deals if you're after price cuts for Apple's less powerful MacBooks.
Not in the US or UK? Scroll down for the best MacBook Pro deals in your location.
Today's best MacBook Pro Black Friday deals in the US
Today's best MacBook Pro Black Friday deals in the UK
To be honest, I wasn't expecting any big price drops for the newest MacBook Pros, but surprisingly, there are actually a few about. They aren't massive discounts, but it's great to see them going for lower prices ahead of Black Friday.
However, the models that have been reduced already aren't the most powerful options. So it may still be worth looking at the slightly older M2 generation, or even M1 generation, as some of those deals come with more memory and SSD space, and while missing out on the advancements of the M3 chip, they are still excellent performers, and they are seeing much bigger drops in price.
Not in the US or UK? Here's the best MacBook Pro deals where you are...
More of today's best Black Friday deals