Design and display
Samsung upgraded this year's Android tablet with a 10.5-inch Super AMOLED display, erasing a noticeable amount of needless bezel to mimic the iPad Pro 10.5 screen.
Apple did a new size, so Samsung did too. Just like Apple set the price and Samsung followed, down to the penny.
This is actually a bigger change for Tab users because the jump from a 9.7-inch to a 10.5-inch screen means Samsung eliminated the physical home and capacitive buttons on front, as one does these days in an increasingly edge-to-edge screen world.
The on-screen buttons work great, just like they do on the Galaxy S9 and S9 Plus, and the HDR display is punchy and bright.
The iris scanner that replaces the fingerprint sensor works fine if you're in front of the tablet at a good angle.
We had trouble unlocking it to read on the couch and in bed, but you're not opening up the tablet multiple times a day at all sorts of angles like you would on a phone. There's a lot more forgiveness for Face Unlock here.
It remains easy to hold this glass-and-metal Galaxy Tab S4, even with slightly bigger dimensions than the Tab S3. And because the glass back is fragile and prone to smudges, you'll want to buy a grippable Tab S4 keyboard case.
Just make sure it's compatible with the great-sounding AKG-tuned quad speakers and headphone jack (it still exists) found along the metal frame.
Samsung's new Daily Board software means that while the Tab S4 is an Android 2-in-1 tablet by day, it can turn into a photo gallery - and information-filled nightlight - by night.
It displays the weather, time, and calendar at launch, along with a slideshow of your photos. Sadly, we found photos are currently limited to on-device pictures and it doesn't connect into something useful like Google Photos.
This means we had 50 images of the Android 9 Pie logo at various sizes rotating in our sleep. We woke up hungry for Pie.
Battery life, specs and verdict
You'll experience problems using the Tab S4 software and keyboard, but you'll have plenty of time to work through them because the battery life is stellar.
Its 7,300mAh battery capacity is a step up over the 6,000mAh battery we got in the Tab S3, and in this way it's better than an iPad.
Simply look at our on-screen battery test. We were able to run a 90-minute looped HD video and only experience a 12% drop in battery life (from 100% to 88%).
That's a minor improvement over the Tab S3 (87%), the bigger capacity means there's more love to give from this big battery.
The Tab S4 supports Fast Charging, and our tests shows that it recovers 18% of its battery life (from 0%) in just 30 minutes. That's a lower percentage than the S3, but again, keep in mind that this is a much bigger battery.
So fast charging is confirmed and you'll have a full all-day battery in 3 hours and 16 minutes from a fully depleted Tab S4. No surprise, that's faster than iPad charge times, and Samsung includes the fast charging equipment in the box.
Like we said at the top of this Tab S4 review, the specs are a lie. We actually don't care that it has the Qualcomm Snapdragon 835 chipset, first introduced by the Galaxy S8 and Galaxy S8 Plus.
The same goes for the 4GB of RAM. Samsung has always held back on the specs for its tablet, while Apple adds extra performance over the iPhone. The performance here is okay.
The same applies for the front and back cameras. It doesn't matter, mostly because your tablet camera usage is or should be limited. Society will shun you for taking photos with a tablet - and rightly so.
There's a 13MP camera on the back and an 8MP on the front. The rear camera records video in 4K and the front is at 1080p.
That's fine for video conferencing, as long as the software allows for screen rotation. Google Hangouts Meet didn't give us what we wanted with sideways video calls, but Skype (included along with other Microsoft software) worked fine.
You're never going to convince you entire organization to switch from Hangouts to Skype, though.
Need an alternative?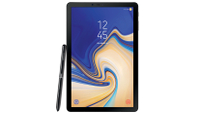 10 best tablets you can buy in 2019
If you have your heart set on a brilliant new tablet, take a look at our round-up of all the best options including iPads and the Android tablets.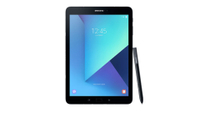 10 best Android tablets 2019
If you know you want an Android tablet but not sure which one you should go for, allow us to walk you through all of the best options so you can make an informed decision!