The Nectar Graphite pillow is a good option to consider if you're a back sleeper who doesn't necessarily sleep hot but still wants a little bit of cooling action. But, its limited moldability also limits the support it should be offering side sleepers. Plus, you can get the more supportive Copper pillow by just paying a little more.
Pros
+

Medium loft

+

Above average cooling

+

Good for back sleepers
Cons
-

Could be a bit more moldable

-

Not the most supportive

-

There are better choices at this price point
Why you can trust TechRadar We spend hours testing every product or service we review, so you can be sure you're buying the best. Find out more about how we test.
For our Nectar Graphite pillow review, we tested out this pillow for two weeks to see if it delivers on the brand's promises, and how it compares to the rest of the best pillows on the market. The Graphite is Nectar's mid-range option – it sits above the original Nectar Pillow in terms of price, and below the Nectar Premier Copper.
That latter pillow is going to crop up in this article. As you'll learn in our dedicated Nectar Premier Copper pillow review, we were big fans of that offering. It's hard not to compare the two, especially since not only are they both very similar in looks and promise the same marquee feature – cooling – but they are also sitting at around same price bracket (NB: at time of writing, these two were exactly the same price, but the Copper is now slightly pricier). Compared to the Copper, the Nectar Graphite feels a little anticlimactic. Heck, even its landing page on the Nectar site looks underwhelming.
It is strange that Nectar has rolled out two very similar pillows with the same price tag, then take the other one and make it a little more special. But, we kind of see what they're trying to do: while the Nectar Copper is one of the best pillows for hot sleepers, those who aren't might find it a little too chilly for their liking. So, it kind of tempers that cooling feature and puts it on a different pillow to give those users an alternative – one that still cools but not to the same level.
But then, it went further, making the Nectar Graphite ever so slightly firmer and a little less moldable – so instead of it contouring around your head and neck for support, the shredded foam inside tends to get pushed back, away from where you need them. Or, at least, that's been our experience.
It's hard to absolutely love the Nectar Graphite pillow, and that also shows in the mixed reviews it received on the Nectar website. It's even hard to recommend when there's an even better option from the same brand sitting at the same price range.
But, the choice is still yours, and our full Nectar Graphite pillow review below should help you with that choice. And, since you're already upgrading your sleep setup, consider getting one of our best mattress picks as well. Sleeping on the best pillow for you is just one part of the equation; having the ideal mattress also matters.
Nectar Graphite Pillow review in brief
The Nectar Graphite pillow will set you back $125 for a standard and, strangely enough, the same for a king size, which also puts it in the higher mid-range category, just like the Nectar Copper pillow. Many consumers might find that a little pricey, but it's worth keeping in mind that there are even pricier options as well, with some costing $250 to $500. Also, Nectar sales and deals run throughout the year, slashing up to 50% off that price tag, especially around the holiday season.
Nectar Graphite Pillow specs
At a glance: Nectar Graphite Pillow
Type: Shredded foam pillow
Best suited to: Back sleepers
Dimensions: 26 x 17.3 x 5 inches (Standard); 33.5 x 17.3 x 5 inches (King)
Trial period: 50 days
Warranty: 5-year limited warrant
The Nectar Graphite pillow comes with a cover made of graphite-infused polyethylene yarns to deliver pleasant cooling, and is stuffed with shredded contouring memory foam that's supposed to mould around your head and neck and provide support. While the pillow cover does its job well, the stuffing isn't very good at the contouring part, resulting in a pillow that lacks the edge support side sleepers need to cradle their neck.
It has received mixed reviews on the Nectar website, getting a 3.8 out of 5 rating, with some users giving it a 5 out of 5 and some giving it a 1 or 2 out of 5. Luckily, if you want to try it out and judge it for yourself, it comes with a 50-night trial period, which is more than enough for you to see if it's the right pillow for you.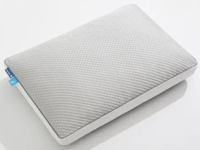 View the Nectar Graphite Pillow from $99 at Nectar
Starting at $125 (and often discounted down to $84, the Nectar Graphite pillow boasts good cooling properties that make it ideal for those who aren't necessarily hot sleepers but want to stay cool, especially during the hot summer months. It has shredded memory foam stuffing that gives it a high-medium loft around the center, but its below-average contouring takes away the edge support that side sleepers need.
Nectar Graphite Pillow review: materials and care
Cover is made of cooling polyethylene yarn fabric
Graphite-infused for heat- and moisture-wicking
Filling is shredded memory foam
While the Nectar Copper pillow uses copper fiber-infused fabric to really deliver cooling action to satisfy the hottest of sleepers, the Nectar Graphite pillow offers just enough cooling for the rest of the slumbering population.
It does so with the help of the carbon fibers in the graphite that's been infused in the polyethylene yarn fabric used to make the quilted pillow cover. The graphite acts as a conductor, absorbing moisture and heat, and then dissipating both to ensure that you're staying cool and sweat-free while sleeping. It also has anti-microbial properties.
Inside is the actual pillow itself, which has a microfiber polyester shell that helps with breathability and shredded memory foam stuffing.
Neither machine wash nor machine dry is recommended here, as that will certainly affect the pillow's form. Instead, Nectar specifically suggests to spot clean with mild soap and water, then squeeze the water out before air drying.
Nectar Graphite Pillow: Price and deals
One of two of Nectar's premium pillows
$12 for a Standard and for a King
Discounts offered throughout the year
One of two of Nectar's premium pillows – the other being the Nectar Copper pillow – the Nectar Graphite pillow costs $99 for the standard size and $119 for the king size during our testing. However, that seems to have changed, with Nectar now offering, bizarrely enough, both sizes at $125.
Compared to the competition, it sits in the upper mid-range, with plenty of cheaper alternatives available and a handful of pricier ones on hand as well. The Layla Kapok Pillow is one of those pricier options, retailing for $109 in a queen size and $129 for a king. Meanwhile, the Beckham Hotel Collection Gel Pillow is one of the cheaper alternatives, setting you back $49 for a queen and $65 for a king. If the Nectar Graphite pillow doesn't seem right for you, but you're willing to spend as much, it's also worth considering the superior Nectar Copper pillow, which costs the same.
And, if you do want it but don't have the budget for it, just wait until a sale event as Nectar rolls out up to 50% deals on its pillows. In fact, at the time of writing, this pillow has dropped to an affordable $84 for both the standard and the king. Don't forget that Nectar coupon codes are also a great way to save.
Nectar currently only ships the Nectar Graphite pillow to the contiguous United States, as well as Alaska and Hawaii. Those in the UK have a different set of pillow options, including the Memory Foam pillow and the Whole Night's Sleep pillow. If you did purchase the Nectar Graphite pillow and found that it isn't for you, you do have a 50-day trial to test it out and return it with a money-back guarantee.
Nectar Graphite Pillow: Design and features
Quilted cover that's soft and cool to the touch
Gray with white edges and dark grey trimming
Pillow non-adjustable
Although the Nectar Graphite pillow's cooling isn't as intense as the Copper's, that pillow cover is still cool to the touch – as well as soft enough that you really do not need a pillow case if you want to maximize its cooling properties. It is quilted, but it does not leave marks on your face when you're on your side.
The pillow cover is gray on both sides with white edges and dark gray trimming, which is a fairly attractive design, especially if you're into neutral colors. The pillow inside, however, is just plain, solid white. The cover does have a zipper that runs through one of its edges so you can access the pillow inside, but the pillow itself doesn't have one and therefore, isn't adjustable.
You could potentially switch to a different pillow, keeping the cover, but as far as removing some or adding to this pillow's stuffing, clipping the seams and re-sewing later is the only way to do so. Not that you'd need to add any more stuffing inside, as there's plenty of chopped memory foam inside to give it a medium loft.
Again, the pillow comes in two sizes – standard and king. We tested the king size for this review and found it to be plenty spacious.
Nectar Graphite Pillow: Performance
No off-gassing required, fully expanded out of the box
Great cooling for non-hot-sleepers
No edge support due to lack of contouring
We slept on one king-sized Nectar Graphite pillow for about three weeks, testing it in key areas of performance, including support, comfort, and temperature regulation, as well as comparing it to the Nectar Copper Pillow. We had another individual with a different build test and compare both as well, and we found our own conclusions to be consistent with theirs.
Set-up
5 out of 5 stars
The Nectar Graphite pillow comes "pre-expanded" in a box so there's no setup required here. You don't have to wait a couple of hours to use it, in fact, as it's ready to use out of the box. That means there's also no off-gassing to be done as well. It didn't come with any weird or noxious smells. We even slept on it the first night without a pillow case and didn't notice any headache-inducing odors.
The box the pillow comes in is recyclable except for the plastic display window. Depending on your area's recycling program, this big piece of plastic might pose a recycling problem. Different cities have their own recycling rules, but just to be on the safe side, remove that plastic window before you recycle the box.
Temperature regulation
4 out of 5 stars
As we mentioned earlier, the Nectar Graphite pillow is a more tempered version of the Copper pillow in terms of cooling. That means that while it doesn't cool you down as effectively as the Copper pillow – the difference is noticeable as well if you're comparing the two side-by-side – it still delivers its own brand of cooling feature, one that is better-suited for sleepers who don't really generate as much heat (or sweat) when they're in slumber.
The Nectar Graphite pillow, therefore, is a better choice if you don't sleep hot but still want some level of temperature regulation, cooling, and moisture-wicking (though not too much of it.) It's a good choice for summer slumbers. But, that's really mostly due to its graphite-infused pillow cover.
Nectar makes no mention of having microfiber polyester foam in the stuffing on their website, only memory foam, which as most of us know, isn't really that great at minimizing heat. However, the tag on the pillow does say that the stuffing is made of both microfiber polyester and memory foam. The pillow shell is made of microfiber polyester, which means that there is still some breathability there.
Since we aren't particularly hot sleepers ourselves, we have found the Copper pillow to be too cold to sleep on now that temperatures are dropping at night. Meanwhile, the Nectar Graphite pillow seems to deliver that sweet spot, especially in the in-between season when it's still too warm to turn the heater on but already a little too chilly to be sleeping on a cooling pillow.
Firmness and support
3 out of 5 stars
The Nectar Graphite pillow boasts a medium loft, especially around the center. And, it also seems to have the same level of medium firmness as the Copper pillow. So really, in theory, it should make it perfect for back sleepers and great for side sleepers, especially those who are smaller and do not have wide shoulders.
Unfortunately, while the Copper delivers a good balance between moldability and support, offering enough sinkage for a dreamy, hugging-your-head comfort as well as firmer contouring to keep your neck supported in a neutral position, the Graphite bizarrely doesn't feel like it wants to accommodate your head and neck. We actually had another individual test and compare the two, and they had come to the same conclusion, complaining about the lack of edge support on the Graphite.
What seems to be happening here is the cut-up memory foam inside, instead of opening up to cradle your head and neck, prefer simply move out of the way and towards the center of the pillow. That leaves the area where your head rests with very minimal stuffing. It's a strange thing – not because we haven't seen it before, but because this doesn't seem to be an issue with the Copper.
As a result, we often woke up with a strained neck and achy shoulders. On test, we also constantly found ourselves adjusting the pillow in the middle of the night, as we tried to get some of the stuffing back towards the edge. This isn't so much an issue when we were sleeping on our backs, however; only when we're on our sides.
Nectar Graphite Pillow: User reviews
The Nectar Graphite pillow currently has mixed reviews on the Nectar website, and it has a 3.8 out of 5 rating, which is definitely lower than the Copper. Some people have praised it for its cooling, while others have said that the cooling isn't effective – though that's likely because they're hot sleepers and should have gone with the Copper instead.
One reviewer gave it a 2 out of 5, stating that it's rock-hard. We're not quite sure that's accurate, but if they were referring to its limited moldability, then we are inclined to agree. Another gave it a 4 out of 5 but said that while it does the job, it's also nothing extraordinary, which we also agree with.
Should I buy the Nectar Graphite Pillow?
If we are being perfectly honest, there's nothing exceptional about the Nectar Graphite pillow. It's one of those pillows that, as that one reviewer said, "does the job." But, it doesn't do enough to set itself apart from the rest. Especially next to the similarly-priced Nectar Copper pillow whose level of support and comfort is just as impressive as its cooling prowess.
The thing about the Nectar Graphite pillow is that it's great for non-hot-sleepers who either want to enjoy a little cooling, especially in the summertime, or don't want too much of it during the cooler months. But, its abysmal moldability and contouring also deprive side sleepers of the head and neck support that's vital to a good night's sleep.
We can, therefore, only truly recommend it to back sleepers who want to enjoy more tempered cooling. For everyone else, the Nectar Copper pillow might be a better proposition.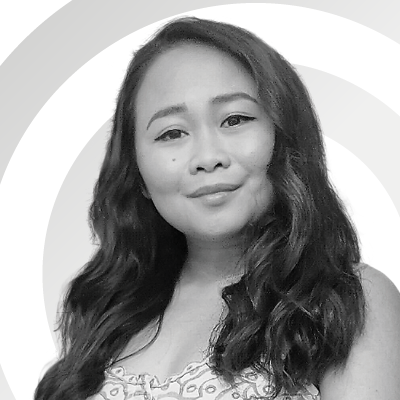 Computing Reviews and Buying Guides Editor
Michelle Rae Uy is the Computing Reviews and Buying Guides Editor here at TechRadar. She's a Los Angeles-based tech, travel and lifestyle writer covering a wide range of topics, from computing to the latest in green commutes to the best hiking trails. She's an ambivert who enjoys communing with nature and traveling for months at a time just as much as watching movies and playing sim games at home. That also means that she has a lot more avenues to explore in terms of understanding how tech can improve the different aspects of our lives.