Why you can trust TechRadar We spend hours testing every product or service we review, so you can be sure you're buying the best. Find out more about how we test.
Software and features
Swipe and touchpad interface
Optional NFC for contactless payments
Versatile notification support, but poor handling of them
Honor's fitness tracker interface is fairly easy to understand. The Honor Band 4 has several home screens you flick through with up and downward swipes that take you through the tracker's main features.
There's dedicated activity tracking, recent messages received from your phone, heart rate, your daily step count, how much you slept last night, the settings menu and AliPay.
Your initial assumption may be that AliPay is just here as a leftover from the Chinese roots of the Band 4. However, this service, which has more than a jaw-dropping 700 million users worldwide thanks to its prevalence in China, can actually be used in the UK.
Like Google Pay or Apple Pay, it uses NFC to let you make wireless payments with the band. Before you get too excited, there are NFC and non-NFC versions of the Honor Band 4 and it looks like most UK retailers stock the non-NFC version. This, presumably, will lack this AliPay part.
Live in the US? The NFC version is readily available.
Notification support is the other key extra. The Honor Band 4 doesn't just relay basic call and SMS alerts like some cheaper fitness bands. You choose the apps you want to hear from, and the band does the rest. As there's a vibrate function built in you are given a proper heads-up too.
All the ingredients for an almost smartwatch-like experience are here, but Honor has messed up the job.
The Honor Band 4 is a bad way to keep track of WhatsApp, or other messenger conversations, because of the way it handles the data. You can't flick between concurrent messages but have to head back to a big anonymous-looking list of notifications, and doing so is slow and clunky.
There's also no way to reply to messages on the band. If it simply had a half-decent way to check out your missed messages while on-the-go, we'd be happy, though. It doesn't.
Fitness tracking and app
Manual activity tracking
No GPS or connected GPS
Good performance for an accelerometer plus HR combo
The Honor Band 4 is a mid-tier casual fitness tracker in terms of features. It has modes for actual fitness tracking rather than just day-long step counting, including indoors and outdoors running, and free-form gym work. There's a heart rate sensor on the back, which can either just sit back and wait for a tracked exercise to start or measure your rate 24/7.
However, there's no stair-counting altimeter, no onboard GPS and no connected GPS, where the tracker borrows your phone's location-tracking skills to imitate a full-blown runner's watch.
An altimeter would add another fun metric for the casual crowd, and no true outdoor run tracking rules out the Honor Band 4 for serious marathon (or even 5K) training.
That said, the Honor Band 4's low-key run tracking is actually surprisingly good for those who just want to see how far they've run mid-exercise, and how fast they are going. We tested the tracker on a 5K route we run a few times each week, and the points at which it pegged each kilometer seemed bang-on.
By default, it gives you a buzz at each kilometer you reach, which is handy for motivation. This can be customized, which you may want to do if your regular run is 10 miles, not 3-5K. As you run, you'll see your distance, speed, calories burned and your heart rate, arranged over a few different info screens.
It's either largely accurate because we have a typical stride length for our height, or because the 6-axis accelerometer the Honor Band 4 uses for this tracking is high-quality. Either way, it does a good job for a totally GPS-free solution.
The heart rate monitor is also fairly good. There are none of the frankly bizarre post-workout readings seen in mixed-intensity exercise, or during cool downs, that were common just a couple of years ago in wrist trackers.
All the data ends up in the Huawei Health app, and there's no manual sync required. The data is migrated automatically when the Band 4 is connected, which is handy.
Huawei's app is not as fun or friendly as Fitbit's. And doesn't have the tracking rigor of Garmin's. However, it is solid. Huawei didn't just make this for the Huawei and Honor fitness bands. You'll find Huawei Health in most Honor and Huawei phones, and you can tell a decent amount of development has gone into making it useful.
Hate the design? You can sync your data to Google Fit, although some report issues with this feature.
Fitness tracking makes the most of the Honor Band 4's limited sensors. However, sleep tracking is a bit patchy. This is a focus of the tracker too.
It separates your sleep into light, deep, REM sleep and wakeful periods. That's great, and you get a pretty graph showing how you dropped into and out of each through the night. It's hard to have too much faith in the results, though, when the Band 4 seems to miss times when you woke up the night before, and remember doing so.
We saw the same issues in the Honor Band 3.
Battery life
5-6 days use with all features switched on
Wired dock charging
100mAh battery
Honor says the Band 4 lasts up to seventeen days, but this is when you've turned off some of its most advanced features: proper sleep tracking and 24/7 heart rate. We turned these back on, because it's how you should use the band if you want to see what it can do.
Stamina is still good, and roughly in-line with Honor's own claim of six days of use with all the extras turned back on. This effectively means it works 24/7, rather than largely taking a break when you sleep. Expect five days of use and you shouldn't be disappointed. It's roughly what we get.
This is perhaps slightly less than the Fitbit Charge 3. But the Honor Band 4 is half the price.
You plug the band into a little plastic charger dock, which clips into the strap, when you need to recharge. This in turn has a micro USB slot. Just plug the included cable into your phone charger and the battery starts charging.
Need an alternative?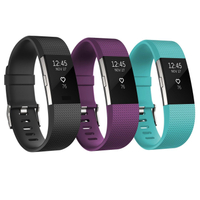 10 best fitness trackers 2019
If you want or need a new fitness tracker but feel the Honor Band 4 is not the right choice for you, check out our handy guide to the best fitness trackers and you'll find one that's a better fit.
Andrew is a freelance journalist and has been writing and editing for some of the UK's top tech and lifestyle publications including TrustedReviews, Stuff, T3, TechRadar, Lifehacker and others.