Corsair HS55 Wireless: One-minute review
Corsair took one of its 2022 gaming headsets and raised it the Corsair HS55 Wireless, which is almost every bit superior to its predecessor. I guess Corsair saw the potential of the good-but-otherwise-flawed Corsair HS55 Wireless Core and went back to the drawing board.
Not that the HS55 Wireless Core was terrible, mind you. On the contrary, it was a beauty and a thing of comfort. Unfortunately, its sound quality just wasn't up to par, which is essentially a kiss of death these days when so many gaming headsets – especially wireless gaming headsets – are competing for the best-sounding, most versatile crown.
In fact, the Corsair HS55 Wireless' arrival may just have saved the line (the Corsair HS55 Stereo is on hand if you're looking for a wired version), bringing improved sound quality, Dolby Audio 7.1 surround sound, and a 10-band EQ via the iCue software. That's all without changing the price of entry, giving you a better value.
The only problem is, it also holds back on bass. Bizarrely enough, it has less low end than its predecessor. Knowing that a lot of gamers are such bassheads, this might turn off some folks. Overall though, it's an attractive proposition, especially for those who are, understandably, economizing right now.
Corsair HS55 Wireless: Price and availability
How much does it cost? $119.99 / £119.99 / $229
When is it available? Available now
Where can you get it? Available in the US, the UK, and Australia
Corsair HS55 Wireless: SPECS
Interface: 2.4Ghz wireless, Bluetooth
Platforms: PlayStation 5, PC/Mac
Mic: Omnidirectional boom mic
Surround sound: Dolby Audio 7.1
Weight: 266g
One of the best things about the original Corsair HS65 is its affordability. However, Corsair has upped that price on the Corsair HS65 Wireless due to the wireless tax, which most wireless gaming headsets have. The good news though is that Corsair keeps that price affordable, asking $119.99 / £119.99 / $229 from US, UK, and Australian customers respectively.
That might put the Corsair HS65 Wireless out of the budget range, but considering the competition, it's not actually that bad. Granted they are more versatile and can moonlight as regular headphones, but both the Astro A30 and the SteelSeries Arctis Nova 7 are pricier. Even the Asus ROG Delta S Wireless, which does come with the benefit of having a USB-C transmitter as opposed to a USB one, has a steeper asking price.
Factor in the HS65 Wireless' Dolby Audio 7.1 digital surround sound and lightweight design (it's the lightest of the four) to start, and you're really getting more bounce to your ounce.
Corsair HS55 Wireless: Design and features
Largely the same design as the original
Slightly plushier ear pads
Now has iCue support with 10-band EQ
The Corsair HS55 Wireless inherits its predecessor's looks and design, so much so that it's probably a safe bet that Corsair used the original cans and built them up with better innards.
You're getting the same controls and placements, as well as the same flip-to-mute mic, which means you're getting that similar easy-to-use and intuitive user experience. It's also just as lightweight and sports the same connectivity, wireless range, and platform compatibility.
Really, the biggest design change I've noticed here is the ever-so-slightly (as in a couple of millimeters) thicker ear pads, which does make the HS55 Wireless a little plushier than the already-comfortable HS55 Wireless Core. You'll also notice that there's now a voice prompt that announces when your mic is on (when you lower the boom) or off (when you flip it out of the way).
The Corsair HS55 Wireless also has a bit more to offer in terms of features. It now has app support, for example, which lets it utilize the iCue software for things like EQ presents, mic settings, and a 10-band EQ that's super handy and something you'd be hard-pressed to find one budget wireless gaming headsets such as this.
Corsair HS55 Wireless: Performance
Good sound quality on the brighter side
Lacking in the bass
Finally comes with surround sound
The biggest upgrade on the Corsair HS55 Wireless is in its sonic performance. While it does share a lot of similarities with the HS55 Wireless Core – they both tend to compress a little once the volume is over 50, it also corrects some of its predecessor's flaws.
To start, the high end is more detailed and present, giving you brighter and crisper audio. In the game, Kena: Bridge of Spirits, chimes and powers tend to have a lot of brilliant-sounding elements. And, when that high end is dulled at all, you miss out on the immersion. Since the older model isn't quite as bright, it's missing some of that brilliance. Thankfully, the newer version brings it back.
The mid-range is the same on both models as it's slightly recessed for a clean if somewhat thin sound. However, it's not so recessed that it sounds hollowed out or like something is missing.
Unfortunately, the newer HS55 Wireless isn't quite as solid when it comes to the low end. In games like Control and Cyberpunk 2077, I've noticed that explosions and other sounds that require that rumble for maximum effect just don't have it – unlike the older HS55 Wireless Core, which delivers enough of it to give you just a bit of that body-shaking immersion.
While the low end on the newer HS55 Wireless is a bit disappointing, the inclusion of Dolby Audio 7.1 virtual surround sound more than makes up for it. When engaged, the soundstage is wider and more three-dimensional, making you feel like you're right in the action. Turning on surround sound does soften the headset's brightness a little bit, but that wider soundstage is worth it. And, even with it on, the sound imaging is still precise.
As for the omnidirectional mic, your voice will come out loud and clear, albeit compressed and a tiny bit distorted. It's more than adequate for most gamers' needs, but it won't blow you away, which is fine since this is a cheap wireless gaming headset. In fairness, it does a good job of rejecting background noise – like typing on a mechanical keyboard - when you're talking.
Should I buy the Corsair HS55 Wireless?
Buy it if...
You need a 7.1 surround sound experience for less
This overhaul of the HS55 Wireless now comes with Dolby Audio 7.1, elevating your gaming and listening experience to a more immersive plane.
You want a budget wireless gaming headset
Wireless gaming headsets tend to be very expensive, but not the HS55 Wireless. It's inexpensive enough to mistake it for a wired model, in fact.
You liked the HS55 Wireless Core but not its sound
This new version delivers a more detailed audio and more immersion thanks to its digital surround sound. It's what the original should have been.
Don't buy it if...
You have a bit more money to spare...
... then it's a better idea to get a higher-end model with a more balanced sound and a bit more versatility.
You're a basshead
Sorry, but the HS55 Wireless holds back on bass for some reason. There's not a lot of sub bass here - although the 10-band EQ might help you out a little.
Also consider
Swipe to scroll horizontally
| | Corsair HS55 Wireless | Corsair HS55 Wireless Core | HyperX Cloud Alpha |
| --- | --- | --- | --- |
| Price: | $99.99 / £99.99 / $199 | $119.99 / £119.99 / $229 | $99 / £89.99 / AU$159 |
| Interface: | 2.4Ghz wireless, Bluetooth | 2.4GHz transmitter, Bluetooth, 3.5 mm aux cable | 3.5mm |
| Platforms: | Playstation, PC/Mac, Xbox Series X|S | PS5, PC/Mac, Xbox Series X|S | PC, PS4, Xbox, Nintendo Switch, and other platforms with a 3.5mm port |
| Mic: | Omnidirectional boom mic | Removable boom mic, Built-in mic | Detachable noise-cancelling microphone |
| Surround sound: | Dolby Audio 7.1 | 3D audio | None |
| Weight: | 266g | 266g | 295g |
If our Corsair HS55 Wireless review has you considering other options, here are two more to consider...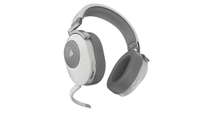 (opens in new tab)
Corsair HS65 Wireless Core
The Corsair HS65 Wireless boasts an incredibly immersive soundstage, long-range connectivity, and a 10-band EQ to fix its colored sound quality. Plus, it's not too shabby for the price.
Read our full Corsair HS65 Wireless Core review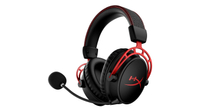 (opens in new tab)
HyperX Cloud Alpha
The HyperX Cloud Alpha has the style and comfort to match its impressive feature set while offering impressive audio and mic quality.
Read our full HyperX Cloud Alpha review
Corsair HS55 Wireless: Report card
Swipe to scroll horizontally
| | | |
| --- | --- | --- |
| Value | Corsair gives it better sound performance and more features for the same affordable price, which makes it a better value than before. | 4.5 / 5 |
| Design | It does inherit its 2022 predecessor's overall design and look, which I think is elegant and modern but still gaming-inspired. | 4.5 / 5 |
| Performance | The Corsair HS55 Wireless delivers a much improved audio performance over its predecessor and has a wider soundstage, thanks to the inclusion of digital surround sound. | 4.3 / 5 |
| Total | For the price, the Corsair HS55 Wireless certainly hits that sweet spot between performance, features, and price. This model is finally winning. | 4.5 / 5 |
First reviewed February 2023
How I tested the Corsair HS55 Wireless
We pride ourselves on our independence and our rigorous review-testing process, offering up long-term attention to the products we review and making sure our reviews are updated and maintained - regardless of when a device was released, if you can still buy it, it's on our radar.