The best wired gaming headsets are perfect for gamers who spend more time sitting closer to their consoles or PCs while remaining slightly cheaper and occasionally delivering a better sound quality over some wireless options.
If you're looking for the best headsets for a specific console, we've also got you covered. Across our best PS5 headsets and best Xbox Series X headsets, both of these also contain a wired option. Otherwise, if you're not that worried about the advantages a wired headset brings, you can take a look at our recommendations for the best wireless gaming headsets, too.
Many of these aren't console-specific, meaning you can swap them between your Nintendo Switch, PS5, Xbox Series X|S, and more. There's a pleasing simplicity to owning wired gaming headphones, but which pair should you choose? While you can't really go wrong with any of our selections, we've made your purchasing decision easier by placing them into categories by system.
Best wired gaming headsets in 2023
Why you can trust TechRadar Our expert reviewers spend hours testing and comparing products and services so you can choose the best for you. Find out more about how we test.
The Epos H3 is one of our favorite wired gaming headsets as it's incredibly comfortable, has a crisp and clear audio profile, and comes with an exceptional microphone.
It also hits the sweet spot of being under $100 / £100, though the proprietary 3.5mm cable could be a sticking point if you lose or damage it. Still, few wired headphones can compete with the Epos H3 regarding price and performance, and we're pleasantly surprised by how comfortable they are every time we put them on.
Because it's on a 3.5mm jack, that means you can use it on a wide variety of systems as well. It doesn't break the bank at its current MSRP, sure, but we've also seen this particular model selling a lot cheaper recently, too. If you're after a quality, plugged-in headset then the Epos H3 has your back.
You don't have to blow your entire budget on a gaming headset to get top-quality sound, as the Corsair HS50 so amply proves. For under $50 / £50, the Corsair HS50 delivers terrific audio, multi-platform compatibility, and an excellent microphone to boot.
We were particularly impressed by the headset's build quality, which can usually be iffy at this price point. The microphone can also be detached if you want to use the Corsair HS50 outside the home, and thanks to its understated design, you won't look like a typical gamer on the go.
There's really little we can fault this model on really for its price point. It may not be the most exciting, but for what you're paying, they are punching significantly above their weight. Ideal if you're a console or PC gamer.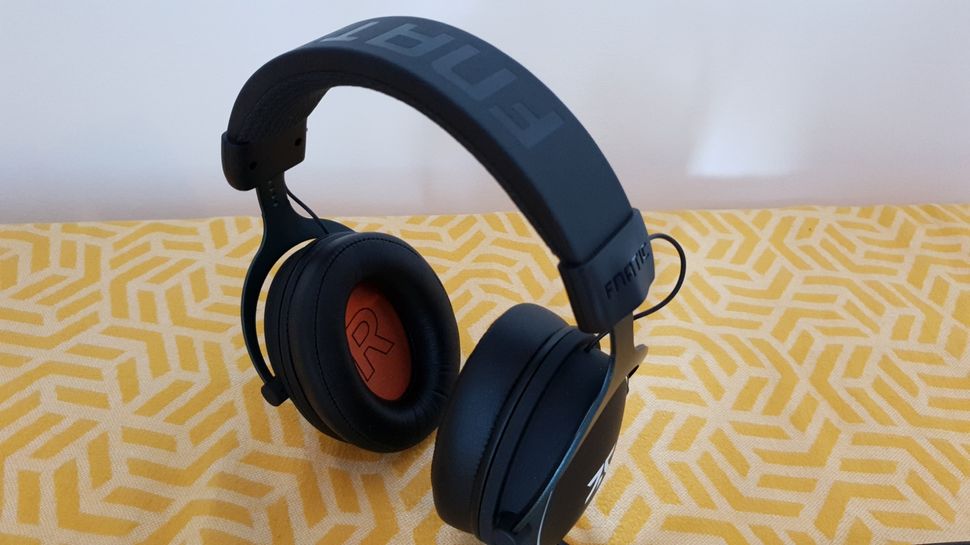 Lighting fast reaction times is one thing, but if you can't hear where your opponents are coming from, good luck getting the kill. The Fnatic React Plus will thankfully ensure that you're never caught unawares, however, as they provide pinpoint sharp sound that lets you determine where every enemy is hiding.
While the oval earcups won't be for everyone, and we had a few build concerns, the Fnatic React Plus is worth it due to its incredibly clear and detailed sound, choice of leather and fabric earcup pads, and excellent microphone.
There's no other wired brand on the market that has this level of sound detail, especially not one that retails around the $74.99 / £84.99 / AU$140 mark. They won't break the bank either. When you break it down, they look and sound as good as some headsets pushing above the $100 / £100 range, and we think that's a win.
If you're a player who isn't interested in chatting online and wants the best sound quality possible, the Beyerdynamic Tygr 300 R might be what you're looking for. The headset features an open-back design, which provides a wider sound stage and great stereo imaging.
That basically means that your games will sound more atmospheric and immersive than ever before. The Beyerdynamic Tygr 300 R is also a great choice for music lovers, something which most gaming headsets generally don't manage too well.
Keep in mind that you're paying a pretty penny for the privilege, though. This headset retails for around the $199 /£150 /AU$280 mark making them right up there with the cost of actual monitoring headphones for audio. You may be better served by an alternative if you're purely into music, but doing both here is more-than-respectable.
The Razer Kraken Kitty isn't exactly cheap as far as wired gaming headsets go. That's because it'll set you back around $199.99 / £199.99 / AU$289 which certainly puts it up on the premium side of the spectrum. You're paying a premium for that gorgeous design really, and if you're into pink gaming headsets with bunny, bear, and kitty ears, as well as the stunning RGB lighting, this could be the one for you.
Now, the looks wouldn't mean much if the Razer Kraken Kitty V2 Pro didn't sound as good as it looks. Fortunately, in our testing, we found that this model was a particularly strong performer whether we were playing games on PC or PS5, and was equally impressed with the many different genres of music we threw its way, too.
The cable length is also more than enough for most streamers sitting at one of the best gaming desks. That's because there's a 6.74ft lead attached to the USB connection, and 50mm TriForce Titanium drivers pumping sound into your ears. There's definitely a lot of substance behind the style, and if you want to stand out on stream then this could be the wired gaming headset for you.
Best wired headsets - Frequently asked questions
Are wired headsets better than wireless?
Sound quality is going to depend on factors such as audio drivers but sometimes you can get a better sounding wired headset for the same money as a more average wireless one. That's because the likes of Bluetooth means impacted quality in the cheaper-end of the spectrum.
Are wired headsets good for gaming at desk?
If you're someone who games close to your TV or gaming monitor then a wired headset could be the way to go, meaning you don't have to rely on charging your headset up every time you want to use it. Some people may be bothered by the feeling of cables, and if that's you, definitely go wireless.