I probably wouldn't pick up the Asus ROG Delta S Wireless from just looking at it, as it isn't the most attractive headset. However, its comfortable, lightweight design, along with its solid sound, might change your mind. I'm just not sure you're getting enough for the price.
Pros
+

Very comfortable and fairly lightweight

+

Decently balanced sound

+

Spacious audio for a wider soundstage

+

USB-C wireless transmitter with a garage
Cons
-

Mids a little recessed

-

No volume wheel

-

Mic just ok
Why you can trust TechRadar We spend hours testing every product or service we review, so you can be sure you're buying the best. Find out more about how we test.
Asus ROG Delta S Wireless: One-minute review
On one hand, the Asus ROG Delta S Wireless may not appeal to a lot of people, looks-wise. It's sadly a bit plain-looking. And, despite Asus going for that gamer aesthetic, it also looks a little dated, especially compared to its peers, many of which now sport sleeker, more modern designs.
On the other hand, you might just start to like it once you put it on and listen to what it can do, audio-wise. This is a very comfortable gaming headset that delivers a decently balanced and spacious sound. It comes with its share of snazzy touches — such as its USB-C (not USB Type A) transmitter and a garage to put that transmitter away so you don't lose it. And, if you're a fan of wireless gaming headsets like us, you probably know the pain of losing a USB wireless transmitter all too well!
But then, one look at that price tag of $199.99 / £159.99 / AU$329 might put you off again, as it is a little steep for what the headset offers. It's nice-sounding and very comfortable, but unfortunately, in that price range, there are superior options.
Do I like the Asus ROG Delta S Wireless enough to recommend it to most gamers? It's a bit of a head-scratcher if I'm being honest.
Asus ROG Delta S Wireless: Price and availability
How much does it cost? $199.99 / £159.99 / AU$329
When is it available? Available now
Where can you get it? Available in the US, the UK, and Australia
Asus ROG Delta S Wireless: SPECS
Interface: 2.4GHz transmitter, Bluetooth
Platforms: PCs, Macs, PlayStation 5, Nintendo Switch, mobile devices
Mic: AI Beamforming microphones with AI noise cancelation
Surround sound: Virtual surround sound (available only on compatible devices or via Armoury Crate software)
Weight: 310g
The Asus ROG Delta S Wireless isn't exactly a cheap gaming headset. At $199.99 / £159.99 / AU$329, it sits in the same price range as the much-lauded SteelSeries Arctis Nova 7 Wireless ($179.99 / £174.99 / A$399), which delivers far superior audio and a much more appealing design.
For what it offers, I'm not sure I'd be willing to spend that much on the Asus ROG Delta S Wireless. It is incredibly comfortable and it's also versatile. But so are other wireless gaming headsets, some of which, like the Arctis Nova 7 Wireless, deliver better sound quality.
The good news is that it's available in the US, UK, and Australia, which means you can easily get it if you decide you want it.
Asus ROG Delta S Wireless: Design
Unappealing gaming headset design
Very comfortable and fairly lightweight
USB-C wireless receiver garage on the right earcup
I'm not big into that old-school gamer aesthetic ruled by chunky ear cups and mostly black finish. What's more, the Asus ROG Delta S Wireless is pretty plain-looking, which prevents it from standing out. However, I do appreciate Asus' slightly different take on the aesthetic. It gave this gaming headset D-shaped — D for Delta — ear cups and pads.
That shape does make the gaming headset feel comfortable, although it already holds its own in comfort thanks to its soft headband foam, fairly lightweight design at 318g, and plush one-inch-thick ear pads. Even though the ear foam pads are thick, they contour to the side of your head, ensuring that the sound won't bleed out and there's enough passive noise cancellation when you need to focus.
Even though they are bigger than the average gaming headset ear cup, the ear cups on the ROG Delta S Wireless have enough swivel to fit most heads and for effortless storage. The headset comes with two sets of ear pads — a pair made of 100% protein leather and a pair made of breathable mesh-type fabric that Asus calls ROG Hybrid.
Not only is it very comfortable to wear for hours, but it's got a lot of staying power. There isn't too much clamping force, but enough to stay in place. I danced while wearing this headset, and it held well — even during the occasional head-banging.
There are three controls on hand: a volume dial that moonlights as a mic mute button when pressed, a switch that lets you toggle between Bluetooth and 2.4GHz or turn the headset off completely, and a multi-function media button. With this button, you can press once to play/pause, twice to move to the next track, thrice to go back to the previous track, or press and hold for Bluetooth pairing.
A nice touch that isn't common with current gaming headset models is the USB-C wireless receiver, which has its own garage on the right ear cup of the headset. I'm constantly losing wireless receivers, so this is definitely a welcome thoughtful extra.
Asus gives you a bit more control over the Asus ROG Delta S Wireless via its Armoury Crate software. This offers an intuitive interface and extensive controls to allow you to turn on AI Noise Cancellation, switch audio profiles, and change other settings.
Asus ROG Delta S Wireless: Performance
Decently balanced audio
Spacious audio for a wider soundstage
Good battery life
If you're looking for a gaming headset with a decently balanced sound, you'll want to check out the Asus ROG Delta S Wireless. There's not much bass extension here to provide a whole lot of rumble during game battles, but it has a decent mid-bass that does a good job of filling in the bass frequency. Meanwhile, the highs sound full with the mid-highs helping vocals sound richer. And, it delivers spacious audio, which gives it a wider soundstage.
Don't expect top-notch sound, however. The mids are recessed and somewhat polite sounding, and the audio isn't the most detailed. Also, due to the spacious audio, everything might sound far away. So, instead of being immersed in the action, it will feel like you're in the middle of a concert hall watching it.
This gaming headset isn't great for most music except acoustic. Games like Control sound better, but there's not a lot of that low-end rumble that gamers crave, and again, it sounds a bit polite, which isn't what you want when battling monsters.
The mic is a massive miss, sadly. Not only is the noise cancellation only available via the software, but your voice will sound compressed and a little distorted via the 2.4GHz receiver, and quieter and even more distorted via Bluetooth. If you were to choose the right connection for chatting with your teammates, I'd go with the wireless one because at least your voice will come across upfront and clear.
The battery life is a bit of an improvement, thankfully. A full charge should give you 25 hours of use, which means you can play eight hours a day for three days without needing to juice up — though, to be honest, since there isn't any RGB lighting here, I expected it to be longer. At least, it's got fast charging capabilities, and it automatically turns off within five minutes of inactivity, which should help you conserve power.
Should I buy the Asus ROG Delta S Wireless?
Buy it if...
You want a comfortable headset with good audio
The Asus ROG Delta S Wireless might not stand out in looks, but its comfortable fit and decently balanced audio might appeal to some gamers.
You still love that old-school gamer aesthetic
It looks kind of behind the times, but if you love the classic look with a touch of uniqueness, you might like this one.
You need a USB-C wireless transmitter
There aren't a lot of wireless gaming headsets out there that use a USB-C transmitter. As a plus, this one also has its own garage so you won't have to worry about losing the transmitter.
Don't buy it if...
You want more for your money
The Asus ROG Delta S Wireless isn't the cheapest, which means it won't offer the best value for your money when you factor in its sound and mic performance.
You prefer something svelte
This is a massive gaming headset. Those ear cups are chunky and the ear pads are thick. Consider other options if you're looking for something more travel-friendly.
Also consider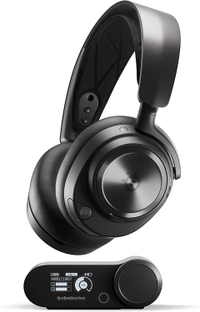 SteelSeries Arctis Nova Pro Wireless
This full-featured premium gaming headset comes with practically everything. You can even use it as a pair of headphones when commuting or traveling.
Read our full SteelSeries Arctis Nova Pro Wireless review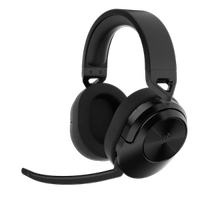 Corsair HS55 Wireless Core
The affordable Corsair HS55 Wireless Core comes with on-the-fly EQ preset control, lightweight design, wireless connectivity with a 50ft signal range, and decent 24-hour battery life.
Read our full Corsair HS55 Wireless Core review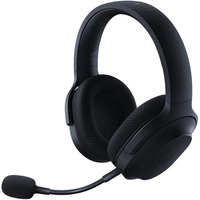 Razer Barracuda X
This multi-platform gaming headset comes with the same features as the HS55 Wireless, as well as the same price tag.
Read our full Razer Barracuda X review
Asus ROG Delta S Wireless: Report card
Swipe to scroll horizontally
| | | |
| --- | --- | --- |
| Value | The Asus ROG Delta S Wireless is steeply-priced, especially for what it offers. | 3 / 5 |
| Design | If you like that classic gamer aesthetic, you might like it. It also comes with a USB-C transmitter and a transmitter garage. | 4 / 5 |
| Performance | The audio is decently balanced, and the battery life is good. However, the mic isn't the best. | 3.5 / 5 |
| Total | The Asus ROG Delta S Wireless could be a better proposition if it was $50/£50 cheaper. | 3.5 / 5 |
First reviewed January 2023
How we test
We pride ourselves on our independence and our rigorous review-testing process, offering up long-term attention to the products we review and making sure our reviews are updated and maintained - regardless of when a device was released, if you can still buy it, it's on our radar.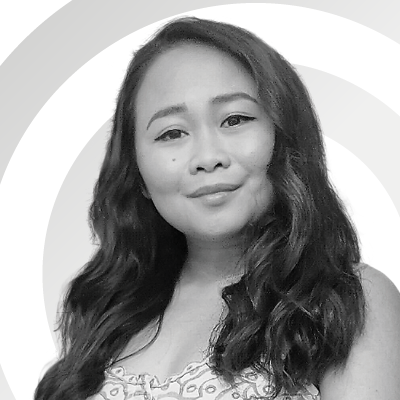 Computing Reviews and Buying Guides Editor
Michelle Rae Uy is the Computing Reviews and Buying Guides Editor here at TechRadar. She's a Los Angeles-based tech, travel and lifestyle writer covering a wide range of topics, from computing to the latest in green commutes to the best hiking trails. She's an ambivert who enjoys communing with nature and traveling for months at a time just as much as watching movies and playing sim games at home. That also means that she has a lot more avenues to explore in terms of understanding how tech can improve the different aspects of our lives.