Corsair HS65 Wireless: One-minute review
Very few people were probably more excited about the Corsair HS65 Wireless than me. I've been a fan of the Corsair HS65 but have always wanted it in wireless form, so this new gaming headset release is me getting my wish.
The question is, does this wireless gaming headset live up to the original? Having tested both side by side, I found that that isn't quite the case. While the wired version delivers a more balanced sound — one of the many things I love about it, this wireless model's low end is overwhelming, and its high end is duller.
Why exactly is there such a noticeable difference in sound quality — apart from the obvious fact that one is wired and may, therefore, be better equipped to deliver higher-quality audio? At this point, I can really only speculate.
Still, just because its audio quality isn't as good or as balanced, that doesn't take away from the fact that the Corsair HS65 Wireless is a pretty good gaming headset in its own right, particularly due to its immersive soundstage and the 10-band EQ on iCue, and is worth taking a look at. And, that's despite the wireless tax.
Corsair HS65 Wireless: Price and availability
How much does it cost? $119.99 / £119.99 / $229
When is it available? Available now
Where can you get it? Available in the US, the UK, and Australia
Corsair HS65 Wireless: SPECS
Interface: 2.4Ghz wireless, Bluetooth
Platforms: PlayStation, PC/Mac
Mic: Omnidirectional boom mic
Surround sound: Dolby Audio 7.1
Weight: 275g
One of the best things about the original Corsair HS65 is its affordability. However, Corsair has upped that price on the Corsair HS65 Wireless due to the wireless tax, which most wireless gaming headsets have. The good news though is that Corsair keeps that price affordable, asking $119.99 / £119.99 / $229 from US, UK, and Australian customers respectively.
That might put the Corsair HS65 Wireless out of the budget range, but considering the competition, it's not actually that bad. Granted they are more versatile and can moonlight as regular headphones, but both the Astro A30 and the SteelSeries Arctis Nova 7 are pricier. Even the Asus ROG Delta S Wireless, which does come with the benefit of having a USB-C transmitter as opposed to a USB one, has a steeper asking price.
Factor in the HS65 Wireless' Dolby Audio 7.1 digital surround sound and lightweight design (it's the lightest of the four) to start, and you're really getting more bounce to your ounce.
Corsair HS65 Wireless: Design and features
Elegant, lightweight design
Easy controls
10-band EQ on iCue
The Corsair HS65 Wireless has inherited the same aesthetic and build as the original, down to the flip-to-mute mic. But, while it's a look that I'm very glad Corsair went with, I won't be getting into the specifics of that. If you're already familiar with the brand's new look, you won't need me to. If you're not, then know that it's a comfortable, elegant and modern yet still gaming-forward design paired with a good though not quite premium build.
What is different here are the buttons. While the wired version only has a volume wheel, the HS65 Wireless comes with a mic mute button, a Bluetooth button, and a power button. That's on top of the volume control wheel that moonlights as an EQ select button. These controls are also intuitive to use.
Another thing that's different is the weight. The HS65 Wireless isn't just more lightweight than the other wireless gaming headsets I've tested recently, but it's also lighter than the wired version. Because the boom mic isn't actually removable, I likely won't be using it as a pair of headphones with my mobile devices. However, the fact that it is lightweight means that you can take it with you on the go to use with your laptop for consuming media and/or jumping on video calls with colleagues.
It does have support for Corsair's iCue software, which affords its users a lot of customizations and control. The app essentially allows you to finetune the sound, toggle the surround sound, and set up Corsair's SoundID as well as select from the five sound presets. The most useful bit here is the 10-band EQ, which while not parametric is still pretty powerful – so powerful, in fact, that it'll actually help you fix the headset's annoying audio quirks, which I'll talk about in performance.
When testing gaming headsets, I usually do so with as little processing or EQ adjustments as possible, but I did try Corsair's SoundID feature, which allows iCue to help you personalize your headset's sound profile based on your audio proclivities. It's not a new one and something I've tested before, but it is one of the HS65 Wireless' marquee features so I gave it another try.
Sadly, as with my previous experience with it, I was not a fan of the sound profile that the software "custom-made" for me, which it designed based on a series of sound tests I had to answer. That isn't to say you shouldn't try it yourself. The feature itself, I think, works well and created a very unique EQ for me. I just did not like the sound itself as it was very unbalanced, and I personally tend to lean more towards balanced audio.
Corsair HS65 Wireless: Performance
Very bass heavy, dull highs, strange mids
Great soundstage, precise sound imaging
So-so battery life
Sadly, the Corsair HS65 Wireless' sound quality isn't as balanced as its wired counterpart's. Its audio is very colored.
It's very bass-heavy, for one, which tends to overwhelm the rest of the frequency range, especially the mids. The highs are present and do not sound veiled, but also a little dull – in Kena: Bridge of Spirits, the sparkly sounds from chimes don't have their usual brilliance. And, finally, the mids are strange. They don't seem to be recessed, and when not overwhelmed by the low end, they don't sound thin, just a little quieter. However, whenever there's a lot of bass, the mids seem to pull back.
There is still a lot to like here, however. The HS65 Wireless does give you plenty of rumble in games and makes explosions and power sounds have a bit more body to them. In Kena, the background music's low drums are massive on it, while in Control, the background low-end sound is also very present.
There's also a lot of volume on tap, more than I've experienced on most wireless gaming headsets, in fact.
Finally, there's also the impressive soundstage and sound imaging, both of which it inherited from the wired HS65. The soundstage is already good on its own, but activate the Dolby Audio 7.1 surround sound, and it's even wider. Meanwhile, its sound imaging is incredibly precise. In Control, even something as mundane as a movie projector is accurately represented, so much so that even when I swing my point of view around, I could hear the projector sound swirling around me.
Its battery life performance, unfortunately, isn't quite so. Corsair's battery life rating seems decent at 24 hours at full charge. However, during testing, it seems to only last about four days, with about two to four hours of use per day, which certainly doesn't tally up to Corsair's rating. This rarely happens with wireless gaming headsets, however, so I'm chalking this up to my test unit possibly being slightly faulty.
Don't be alarmed if that battery indicator light starts blinking orange. I've asked our Corsair contact about this, and he says that the light goes from green to orange to let you know that the battery is about 80% or lower. Apparently, it's green if it's got 100% to 80% of juice, orange if it's 80% to 20%, and red if it's below 20% – which I do admit is a somewhat useful indicator.
Finally, the boom mic is great. Your voice will come through loud and clear, and is really good at minimizing sibilance and plosives – though you might sound a little compressed. It's also good at minimizing background noise. Although people might still hear you typing on your keyboard, for example, it's not going to be too loud to be distracting. And, when you're talking, background noise sounds quieter.
Should I buy the Corsair HS65 Wireless?
Buy it if...
You want an affordable wireless gaming headset
As far as wireless gaming headsets go, the Corsair HS65 Wireless is actually fairly affordable and has some nice features to go with it.
You need a 7.1 surround sound experience
It also boasts an expansive and immersive Dolby Audio 7.1 surround sound that gives you a wide soundstage and precise sound imaging.
You like to finetune and personalize your sound
Thanks to the iCue software support, there's a 10-band EQ available to you so you can personalize the sound profile as well as the SoundID feature if you'd rather it be done for you.
Don't buy it if...
You want more balanced audio out of the box
At default, it's not the most balanced-sounding headset. It's too bass-heavy, the mids are weird, and the high end is on the dull side.
You hate charging your devices
Corsair gives it a 24-hour battery life rating, but my test unit has given me less than that.
Also consider
Swipe to scroll horizontally
| | Corsair HS65 Wireless | Astro A30 | SteelSeries Arctis Nova 7 |
| --- | --- | --- | --- |
| Price: | $119.99 / £119.99 / $229 | $229.99 / £229.99 / $429.95 | $179 / £174 (about AU$310) |
| Interface: | 2.4Ghz wireless, Bluetooth | 2.4GHz transmitter, Bluetooth, 3.5 mm aux cable | 2.4GHz wireless, Bluetooth, 3.5mm |
| Platforms: | Playstation, PC/Mac, Xbox Series X|S | PS5, PC/Mac, Xbox Series X|S | Windows, Mac, PS4/5, Meta Quest 2, mobile devices |
| Mic: | Omnidirectional boom mic | Removable boom mic, Built-in mic | Bidirectional noise-cancelling |
| Surround sound: | Dolby Audio 7.1 | 3D audio | Microsoft Spatial Sound / Tempest 3D audio for PS5 |
| Weight: | 275g | 326g | 325g |
If our Corsair HS65 Wireless review has you considering other options, here are two more to consider...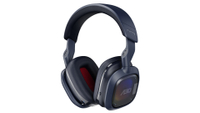 (opens in new tab)
Astro A30
The Astro A30 is yet another proof that a new breed of gaming headsets is taking over – one that sounds great, looks great, and is versatile enough to be used at and away from your desk.
Read our full Astro A30 review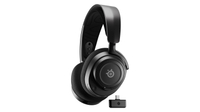 (opens in new tab)
SteelSeries Arctis Nova 7
The SteelSeries Arctis Nova 7 Wireless sounds very good, has the kind of battery life that should last you through many gaming sessions, and comes with a number of great gaming-centric features.
Read our full SteelSeries Arctis Nova 7 review
Corsair HS65 Wireless: Report card
Swipe to scroll horizontally
| | | |
| --- | --- | --- |
| Value | The Corsair HS65 Wireless is very affordable for a wireless gaming headset, and it comes with nice extra features to make it an even better value. | 4.5 / 5 |
| Design | I love the design overhaul Corsair has given its gaming headsets, and this boasts that same new look. Plus, its controls are easy and intuitive to use. | 4.5 / 5 |
| Performance | The sound quality isn't the most balanced out of the box, sadly. Luckily, you have a 10-band EQ at your disposal. The soundstage and sound imaging are pretty impressive, however. | 3.5 / 5 |
| Total | You'll have to do a little sound tweaking to make the Corsair HS65 Wireless sound great, but it's a pretty good proposition, especially for the price. | 4 / 5 |
First reviewed February 2023
How I tested the Corsair HS65 Wireless
We pride ourselves on our independence and our rigorous review-testing process, offering up long-term attention to the products we review and making sure our reviews are updated and maintained - regardless of when a device was released, if you can still buy it, it's on our radar.