BENCHMARKS:
Here's how the HP Spectre x360 15T (2019) fared in our suite of benchmark tests:
3DMark: Sky Diver: 26,640; Fire Strike: 15,109; Time Spy: 6,859
Cinebench CPU: 1,081 points; Graphics: 105 fps
GeekBench: 5,031 (single-core); 22,134 (multi-core)
PCMark 8 (Home Test): 3,637 points
PCMark 8 Battery Life: 3 hours and 50 minutes
Battery Life (techradar movie test): 4 hours and 8 minutes
Total War: Warhammer 2 (1080p, Ultra): 49 fps; (1080p, Low): 113 fps
Shadow of the Tomb Raider (1080p, Ultra): 81 fps; (1080p, Low): 103 fps
There's no hiding it, the Alienware is packing plenty of power with the Intel Core i7-8750H (CPU) and Nvidia GeForce RTX 2070 Max-Q (GPU). Together, they score solid benchmark scores, competing handedly with the best gaming laptops out there.
The Cryo-Tech 2.0 cooling system definitely seems to be doing its job, keeping thermal issues out of the way of serious performance. The six-core processor in this laptop, despite being the same as that found in our top-rated Asus ROG Zephyrus S GX701, actually managed notably stronger results in GeekBench. It also beat the same CPU in the Razer Blade 2019 in multi-core performance for the same benchmark.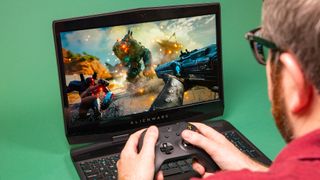 The Alienware m15 as we have it configured is ready for serious gaming, and we say that with no reservations. It's benchmarks in Shadow of the Tomb Raider even came within a few frames of the Razer Blade 2019's scores despite the latter having an RTX 2080 GPU.
Outside of the benchmarks, we put it through some stress playing Sekiro: Shadows Die Twice running at the display's native 4K UltraHD resolution. While it didn't hold a steady 60 fps (frames-per-second), it did manage to stick mostly between 45 and 55 fps. We also ran Borderlands: The Pre-Sequel at 4K and stayed mostly steady over 100fps.
Running most games at 1080p will easily result in a consistent 60fps to match the display's maximum refresh rate.
In our testing, we never notice thermal throttling. We put plenty of time into Sekiro, and don't see the performance degrade. Even more impressive is the fact that for much of our time gaming, we leave the laptop flat on a table with no extra efforts made to improve airflow, and it still keeps itself going strong. Meanwhile, the palm area only gets a bit warm, never scorching our palms.
The fans can get a little loud while they work to keep the computer cool, but the speakers pump out enough sound to drown them out. And, the audio comes through clearly.
The RAM and storage pairing help make the Alienware m15 extra zippy. Booting is near instantaneous, as is launching programs. And, with 16GB of RAM, we can keep an unmanageable number of browser tabs open without the laptops breaking a sweat.
We have run into one pain point, though, and it came up in our benchmarking. As the native resolution is UltraHD, there's some upscaling going on to display 1080p games at the native resolution. We noticed this having a significant impact on performance. Setting the display resolution in Windows to 1080p and in games to 1080p negated this impact. But, without the matching resolutions, we saw our Shadow of the Tomb Raider benchmarks lowered by as much as 24fps at lowest settings and 14fps at highest settings.
While the issue is simple to fix, we would find it tedious to change settings every time we decide to play a game.
Battery life
The Alienware m15 packs a big, 90Wh battery, and it shows in its battery performance. Despite its size and status as a gaming laptop, it lasts long enough for some decent productivity. We've taken it out to get work down, and can easily net a few hours on battery alone. That ability to get a few hours in on battery is great news for portability, too, because the power brick is bordering on absurd in size, and that comes with considerable extra weight, too.
Serious battery budgeters could possibly find ways to stretch the Alienware m15's battery even further. Customizing as much of the user interface to appear black as possible could save a decent amount of power, as black pixels on an OLED display don't use the same energy as black pixels on an LCD with a constantly running backlight. Using a power-saving mode and reducing the display resolution to Full HD could also take it even further.
Software and features
The laptop comes with the Alienware Command Center for controlling the RGB lighting, setting up some gaming modes, and manually controlling the fans. The software is a bit overdone, with a fanciful UI that doesn't help with ease-of-us. When we first booted up, the software also had the fans running at max until we discovered the software and set them to balanced, which will control the fan speeds to meet cooling needs. It also didn't help that the software needed us to have an internet connection to run.
There's a 1080p webcam above the display, which offers sufficiently crisp video for web conferencing, but there's noticeably noise in the image even in well lit environments.
The rear inputs are a feature to consider. The options of Thunderbolt 3, Mini DisplayPort, and HDMI 2.0 mean you can connect to bigger monitors with high resolution or high refresh rates when the laptop's internal display isn't enough.
Then there's the port for the Alienware Graphics Amplifier. This allows the Alienware m15 to connect to an external GPU for enhanced performance. Right now, the RTX 2070 inside is wanting for an upgrade, but a few years down the line, having the option to keep the laptop but boost its performance with a newer GPU could have decent value.
Final verdict
The Alienware m15 OLED offers undeniable performance in a package that avoids the pitfalls of many gaming laptops: egregious size. It's slim and light enough to go into an average backpack, but it's potent enough to work hard and play hard. Throw in a decent battery and a stunning display, and it's an excellent machine.
The price of this model does hold it back some, though. While it's cheaper than Razer's upcoming Razer Blade with OLED display, that model with have some higher-end internals contributing to the price and DisplayHDR certification. Meanwhile, plenty of other gaming laptops can offer similar performance to the Alienware m15 at significantly lower prices with the only major trade-off being that they'll have an LCD display with a high-refresh rate and 1080p resolution.
Images credit: TechRadar