Qi2 has finally landed – and it's about to make wireless chargers a lot better
And it supports MagSafe-based tech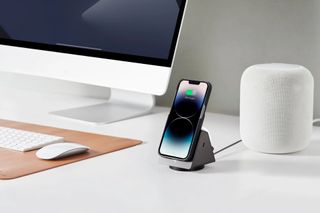 (Image credit: Pitaka)
The Wireless Power Consortium has taken the covers off the new Qi2 wireless charging standard, which promises to bring in faster charging for devices, particularly smartphones.
The new Qi 2.0 standard ups wireless charging with compatible devices and chargers from 7.5 watts to 15 watts. Now that might not seem like a lot when the likes of OnePlus have 50W chargers, but those are based on proprietary tech that can't be used properly with other phones. In contrast, Qi2 is designed for all manner of device makers to adopt in order to have something akin to a standardized certification for wireless charging.
Upping wireless charging to 15 watts means devices that use Qi1 will charge at the same power as Apple's MagSafe charging. Speaking of which, Qi2 chargers will support the Magnetic Power Profile, which is based on MagSafe tech. Furthermore, Qi2 brings improved Extended Power Profile wireless charging, which may not work with magnet-based chargers but complies with the new standard.
In short, a charger that is Qi2-certified will deliver 15W charging regardless of the manufacturer and the device it's being used with.
The iPhone 15 range launched with Qi2 compatibility – sadly, other new phones such as the Google Pixel 8 Pro aren't Qi2-ready. But in the run-up to the holiday season, a suite of Qi2 products is expected from the likes of Belkin, Mophie, Anker and Aircharge. And the Wireless Power Consortium said there are more than 100 devices currently in the testing and certification phase.
Standard-bearer
While wireless charging can be pretty varied given the use of different proprietary tech, this new Qi2 standard is promising for near-future tech.
Wireless charging pales in comparison to the speeds delivered by wired chargers. But a move to 15 watts paves the way for faster charging.
And the Wireless Power Consortium wants to see 15W charging standardized by mid-2024, so we should hopefully see faster wireless charging become commonplace in all manner of smartphones, not just flagship models.
But if you want a wireless charger right now, then check out our roundup of the best wireless chargers, and do also take a look at our refreshed page on the best power banks for all your portable charging needs.
Follow TechRadar on TikTok for news, reviews, unboxings, and hot Black Friday deals!
You might also like
Get daily insight, inspiration and deals in your inbox
Get the hottest deals available in your inbox plus news, reviews, opinion, analysis and more from the TechRadar team.
Managing Editor, Mobile Computing
Roland Moore-Colyer a Managing Editor at TechRadar with a focus on phones and tablets, but a general interest in all things tech, especially things with a good story behind them. He can also be found writing about games, computers, and cars when the occasion arrives. And he also supports with the day-to-day running of TechRadar. When not at his desk Roland can be found wandering around London, often with a look of curiosity on his face and a nose for food markets.