Switching to an iPhone 15 from an older iPhone? Do this first and thank us later
Apple issues a launch day iOS 17 update to fix iPhone woes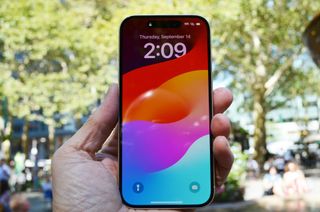 (Image credit: Future / Lance Ulanoff)
If you bought an iPhone 15 series device today and you've been having trouble getting your phone set up, you're not alone, but there's good news. Apple has issued its first software update for iOS 17, and it fixes problems with the iPhone 15 transferring data from older devices.
If you have an older iPhone, go to the Settings app and select the General settings options. Then choose the Software Update. If you are part of the Beta Updates program, you may need to turn beta updates off in order to receive this update.
If your phone is running iOS 17, you should update immediately to either iOS 17.0.1 or iOS 17.0.2 if you plan on buying a new iPhone 15, or if you are transferring data between two iPhones. If your phone isn't running iOS 17, and it's less than five years old, it really should be, because the new system is very good. You can read our iOS 17 review.
Problems on launch day are nothing new to Apple or its fans, not if you have a long enough iPhone history to remember. These problems tend to pop up on day one because, I'm guessing, more people activate a brand-new phone today than almost any other day of the year.
We've seen issues come and go, but never anything worth returning an iPhone over. If you have a new phone and you're having trouble transferring data from your old iPhone, try updating the phone first to see if Apple has given you a fix.
Yes, it even happened to me, but Apple fixed it
I got my iPhone 15 Pro Max today and was having trouble setting it up with my iPhone 14 Pro right when this update hit. I was expecting my iPhone 15 Pro Max to simply find my older iPhone. Bluetooth was turned on, as Apple suggests. Still, nothing was happening.
My colleagues pinged the group Slack with news about the update, and I immediately updated my older phone. Though some folks have seen iOS 17.0.2 available, my phone only needed to update to iOS 17.0.1 to get things working properly.
As soon as my iPhone 14 Pro had restarted, my new iPhone 15 Pro Max found it immediately. I took a photo of the onscreen pattern, part of the transfer process, and the Pro Max asked for a software update, right away. It was not a short update period, it took more than fifteen minutes to complete.
Once this was done, the entire process restarted. I needed to find my iPhone 14 Pro again, but this time, the new Pro Max had no trouble. It found my phone and copied all of my settings, and the two phones are currently in the process of sharing all of my data, wirelessly. My new Pro Max says this should take 55 minutes for my two 256GB phones.
Your different options for transferring iPhone data
If you are transferring data between iPhones today, Apple gives you a few options and the fastest will depend on what you want to do next.
If you want to start using your iPhone right away, you can download a backup copy of your older iPhone from iCloud. This download happens in the background so you can start using many of your iPhone's features right away. Unfortunately, you can't use everything, including your App Store apps, until they have downloaded.
If you want to get your iPhone completely set up with all of its apps as quickly as possible, you can transfer directly from one iPhone to the other. Neither iPhone will be usable at all while this transfer happens, and it can take up to an hour or longer, depending on how much you have stored on your phone. If you take a lot of videos or play huge games, be prepared to wait a long time.
The final option is to back up your iPhone to your Mac computer, then simply plug in your new iPhone to your Mac. Your computer should recognize the new phone and help you restore your backup to the new device. This is a great option for the new USB-C iPhone 15 Pro, especially.
Unfortunately, Apple doesn't suggest this third option on the iPhone 15 welcome screen, and I totally forgot that I could use that faster backup option before I started my two iPhones talking to each other. Now I need to wait ... another thirty minutes, at least.
You might also like
Get daily insight, inspiration and deals in your inbox
Get the hottest deals available in your inbox plus news, reviews, opinion, analysis and more from the TechRadar team.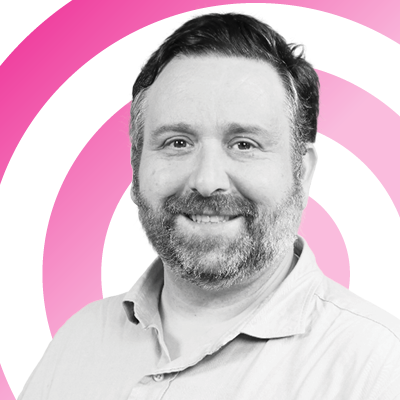 Phil Berne is a preeminent voice in consumer electronics reviews, having reviewed his first device (the Sony D-EJ01 Discman) more than 20 years ago for eTown.com. He has been writing about phones and mobile technology, since before the iPhone, for a variety of sites including PCMag, infoSync, PhoneScoop, and Slashgear. He holds an M.A. in Cultural Theory from Carnegie Mellon University.
Phil was the internal reviewer for Samsung Mobile, writing opinions and review predictions about top secret new devices months before launch. He left in 2017. He worked at an Apple Store near Boston, MA, at the height of iPod popularity. He has been a High School English teacher at Title I schools, and is a certified Lifeguard. His passion is smartphones and wearables, and he is sure that the next big thing will be phones we wear on our faces.