Best Buy's 12 Days of Deals are focused on games today, with a hefty discount on the PS4 Pro with the latest Call of Duty game, Modern Warfare. The retailer has labeled the deal its 'lowest price of the season' and it matches the discount we saw across the Black Friday period for the same bundle (technically it's a dollar cheaper), so if you're looking for a PS4 deal in the run-up to the holidays, this is well worth considering.
This tends to be the price range we've seen on recent PS4 Pro deals – anything you can get for under $300 with a newer game is generally good, but here you're getting a very recent blockbuster with the console, which is a big bonus.
Today's best PS4 Pro deal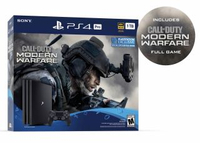 (opens in new tab)
PS4 Pro 1TB with Call of Duty: Modern Warfare: $399.99 $298.99 at Best Buy (opens in new tab)
Save $100 on the 4K-capable, HDR-enabled PS4 which comes with one of the biggest games of the year on a Blu-ray disc. The 1TB hard drive offers plenty of space for storage of blockbuster games.
Why might you want a PS4 Pro now, with the PS5 coming next year? Well, it's got an extensive library of great exclusives (check out our list of the best PS4 games). The next generation of consoles will take at least a couple of years to build up a really compelling software library, and the PS4 Pro still offers an upgrade over the basic PS4 model. You could pick it up today and have thousands of hours of amazing games to burn through.
Some games offer higher resolution options on the PS4 Pro, while others like God of War or Star Wars: Jedi Fallen Order have the option of higher frame rates instead. Check out our PS4 Pro review for a detailed rundown of what the console offers.
Want a PS4 Pro, but don't live in the US? Check out prices on the console where you are: