Looking for a new superfast broadband deal? Well, you're in luck. We've found this special offer from Virgin Media, which provides the company's M500 broadband for £38.50 per month. This broadband only deal comes with an 18-month contract and provides average download speeds of 516Mbps.
As an added bonus, this deal also comes without setup fees and you'll receive £75 in bill credit when you sign up. Plus, if you're an O2 customer, you'll also receive a free speed boost and double your mobile data. However, if you're interested in this deal then you'll have to be quick, because it expires at midnight on 29th March.
We think this deal will be suited to families that live in large households; particularly those where multiple family members stream in UHD and game online simultaneously. Thankfully, the 500Mbps+ download speeds you'll receive will easily cope with with high download requirements and ensure there's no buffering or lag.
That said, we understand this deal won't be right for everyone. If you're not looking to spend this much on a new deal or don't quite need speeds that are this fast, then head over to our best broadband deals page. Here you'll find a summary of the best offers in your area.
Our Virgin Media broadband deal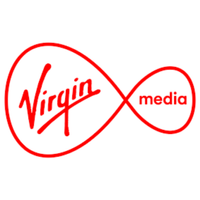 Virgin Media M500 Fibre Broadband | £38.50/month | No setup costs | Avg. speed 516Mbps | 18-month contract
This Virgin Media broadband deal provides you with average download speeds of 516Mbps for £38.50 a month. As a result, it's one of the cheapest Full Fibre packages on the market today. As an added bonus, if you choose this deal, there are no upfront fees to pay and you'll also receive £75 in bill credit. However, you will need to sign an 18-month contract. We think this deal is well-suited to large families and households where multiple people stream in UHD and game online simultaneously. If you're interested though, you'll need to be quick. This deal expires at midnight on 29th March.
Why choose Virgin Media?
Virgin Media is one of the UK's most popular broadband providers. As a result, you'll find that Virgin Media offers a great selection of fast broadband speeds, which are provided by its own UK-wide cable network.
Virgin Media prides itself on offering the fastest possible speeds. Due to this, it does not offer an ADSL option. Instead, the company's slowest speed is provided by their M50 (54Mbps) package. After this, a number of full fibre packages are available - and the company even offers an ultrafast Gig1 (1130Mbps) deal.
Plus, customers also love the company's tech options, which include Virgin's class-leading WiFi hubs. The exact hub you'll receive will depend on the deal you choose, but each comes with 'intelligent WiFi'. This automatically optimises the connections of any devices attached to it.
Added to this, we also like the fact that Virgin offers a number of TV and internet bundles that compete with similar packages from BT and Sky.
However, we understand that Virgin's deals won't be right for everyone. This is particularly the case because the company's deals are only available to around 60% of the country. If you don't think Virgin is right for you or you want to see how the company's deals compare to options from other providers, enter your postcode into the widget below.
Loading...