The Google Pixel Watch 2 is on the cusp of its official reveal, with more rumors appearing to confirm its name ahead of Google IO 2023.
The reliable leaker Evan Blass has simply tweeted the name 'Pixel Watch 2', suggesting that the smartwatch is pretty much confirmed for an unveiling at Google's big developer conference, which kicks off tomorrow (May 10).
Unfortunately, that doesn't necessarily mean that the Pixel Watch 2 will be available to buy anytime soon. Google's original Pixel Watch was teased at Google IO 2022, before being fully launched in October that year alongside the Pixel 7 and Pixel 7 Pro.
And according to previous leaks about the Pixel Watch 2, that's likely to be the case again, with well-known leaker Jon Prosser predicting that "Google is planning two watches for later this fall", including the new Pixel Watch and also a version for kids that may have Fitbit branding.
Surprisingly, we don't yet have many leaks to tell us what to expect from the Pixel Watch 2. But with our original Google Pixel Watch review stating that "we love it despite some notable quirks", there are some obvious areas for improvement – so here are the top five features we're hoping to see at the Pixel Watch 2 reveal.
Google Pixel Watch 2: 5 things we want to see
1. Smaller bezels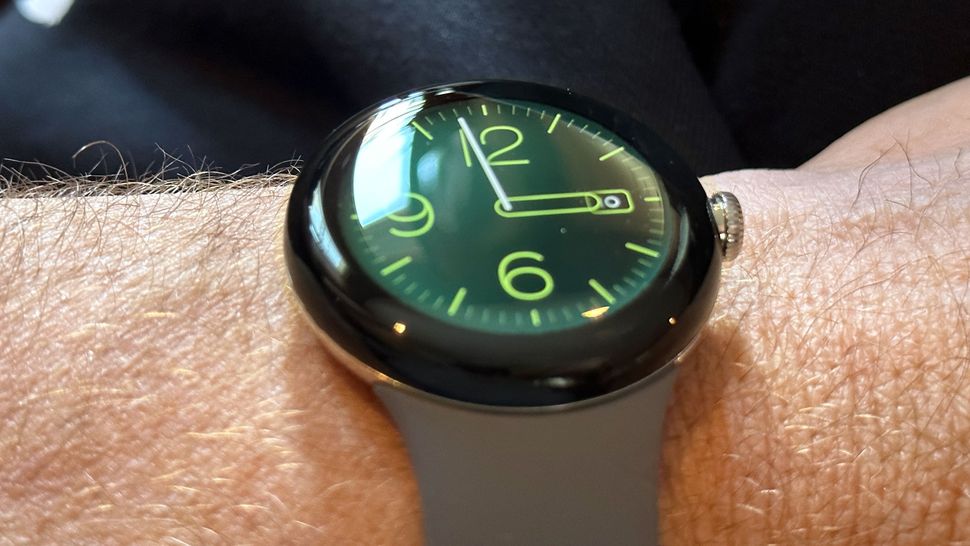 The Pixel Watch looks fantastic, until you use an app that reveals the huge black bezel where the circular display ends and its metal chassis begins. Reducing this bezel would be an obvious win, and a pretty much essential improvement, for the Pixel Watch 2.
Google has made some smart UI decisions to make sure that bezel isn't noticeable most of the time, and some new Wear OS guidelines have mandated that all apps and Tiles must have a black background. But even so, we'd like the Pixel 2 to look less like a smartwatch from a few years ago, which doesn't seem a big ask considering its likely price tag.
2. A better battery life
The current Google Pixel Watch isn't renowned for its impressive battery life – Google claims it can last for 24 hours per charge, and in our tests we got around 26 hours when using battery-saving features such as avoiding the always-on display.
It's a shame to lose out on that always-on display, though, as it really does improve the Pixel Watch's glanceability. Unfortunately, the price is often having to charge it twice a day. So we'd like to see a larger battery than the current 294mAh capacity – and there's one obvious way that Google could achieve that...
3. Different case sizes
The current Pixel Watch is only available in one 41mm size – which is fine if that works for you, but many people find it way too small. With the Apple Watch available in case sizes that range from 40mm to 49mm, we'd like to see some extra variety on the Pixel Watch 2.
The advantage of a larger version, like a 44mm option, would be that Google could potentially pack in a larger battery. And if it was tweaking the design anyway, it'd be nice if Google could also make it a bit easier to swap bands on the Pixel Watch, as that's currently a pretty fiddly process.
4. A more modern processor
This feels like a no-brainer, but it's the feature that could have the biggest impact on the Pixel Watch 2 and potentially make it one of the best smartwatches you can buy.
The current Pixel Watch runs on the dated Exynos 9110 chipset, which we saw way back on the Samsung Galaxy Watch 3. Given we're now looking forward to the Samsung Galaxy Watch 6, the next Pixel Watch needs a serious update in that department – and that could help it with everything from battery life efficiency to screen responsiveness.
5. Full-blown Fitbit integration
One of our main bugbears with the current Pixel Watch is its slightly awkward Fitbit integration and the general fragmentation of its fitness features. This is something we'd like to see improved on the Pixel Watch 2, and there's a good chance this will happen.
Google recently announced that Fitbit owners will soon be able to log in and access their Fitbit data using their Google accounts. And we hope the Pixel Watch 2 (and perhaps Wear OS 4) will offer a more centralized health and fitness app that further bakes Fitbit into the heart of the experience.
Will Google give us what we want? We'll find out one way or the other tomorrow. We'll have a team on the ground at the event to bring you all the latest news as it happens, and you if you want to see it all in real-time, we can also show you how to watch Google IO 2023.