Verizon hit by losses as iPhone leads subscriber charge
Will there be toasts in Cupertino tomorrow?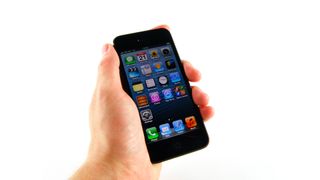 It's earning call season and Verizon is just one of a slew of firms throwing up its revenue, sales and loss figures for the media and investors to dissect and digest.
Though the carrier notched a number of plusses for Q4 2012, including record subscribers, it was hit by restructuring, a non-cash pension cost and impact from Hurricane Sandy for losses of $1.48 per share, up from 73 cents a year ago. Looking at the big picture, Big Red lost around $4.23 billion.
CFO Fran Shammo laid out the figures during the morning's investor call, revealing that the company added 2.1 million postpaid connections last quarter (were you one of them?), bringing its total subscriber base to 98.2 million customers. Revenue grew 5.7 percent to around $30 billion.
4G LTE is now available to more than 273 million people in 476 million U.S. markets. Or, according to Verizon's math, almost 89 percent of the population.
iPhone high
As for smartphones, Big Red's market penetration amounted to 58 percent - up from 53 percent the quarter before and 44 percent year-over-year.
Of the 9.8 million smartphones sold during the quarter, about 65 percent were 4G LTE capable.
Breaking it down even further, Shammo said that 6.2 million of those phones were Apple iPhones, with almost half having 4G LTE capability. Put another way, nearly half of those 6.2 million handsets were iPhone 5s.
Android took up the majority of the remaining phone figures, with more than 95 percent grabbing 4G LTE capacity.
Beyond Big Red
Google is waiting in the batter's box for earnings reports, set to reveal how it did in Q4 2012 at 1:30 p.m. PST Tuesday via YouTube webcast.
Apple meanwhile is hanging out in the on-deck circle and will let the world know how it and its iDevices faired during Q1 2013 Wednesday.
Recently released research from Kantar Worldpanel ComTech suggests that Apple will have happy news to report as iOS nabbed 51.2 percent of U.S. market sales for smartphones during the 12-week period ending Dec. 23, 2012.
The market research firm's figures show Android held onto 44 percent while Windows winnowed out 2.6 percent.
AT&T remained the top carrier with 33.3 percent of smartphones sold during the period Kantar surveyed, though its share dropped.
Verizon managed to take 32 percent of smartphone sales, narrowing the gap between it and Ma Bell.
Sprint, though a strong Apple offerer, only topped 14.8 percent of sales in the 12-week time.
Jumping ship?
Kantar analyst Mary-Ann Parlato had this to say about iOS' dominance, which at least partially derives from Android users leaving the platform:
"Apple's continual improvement is thanks to both the iPhone 5 and older models attracting various customer groups, from repeat Apple buyers, first-time smartphone buyers and those coming from other smartphone brands.
"In particular, 36 percent of iOS sales were derived from other smartphone users over the last year.
"While this figure remains stable over time, the proportion of Android users moving towards the Apple brand increases. Nineteen percent of iOS sales over the last year were derived from Android users, compared to 9 percent in 2011."
TechRadar will tune into both Mountain View and Cupertino's calls, so click back for figures straight from the companies' mouths.
With what we've seen from Verizon and Kantar so far, we have a feeling some Happy Hour toasts will be raised at Apple's HQ following tomorrow's 2 p.m. PST report.
Sign up to receive daily breaking news, reviews, opinion, analysis, deals and more from the world of tech.
Michelle was previously a news editor at TechRadar, leading consumer tech news and reviews. Michelle is now a Content Strategist at Facebook. A versatile, highly effective content writer and skilled editor with a keen eye for detail, Michelle is a collaborative problem solver and covered everything from smartwatches and microprocessors to VR and self-driving cars.