Today may be Amazon Prime Day, a big day for Prime members, but other retailers aren't sitting idly by, watching Amazon reap all the rewards of offering loads of tech at a discount.
eBay is getting in on the action, slashing the price of the Nest 3rd Generation Wi-Fi Smart Learning Thermostat by 30%.
The Nest smart thermostat is now $209.95 at eBay, down from its regular list price of $299.99 on the site. We've ranked it one of the best smart thermostats on the market, so you can trust that it's a good product.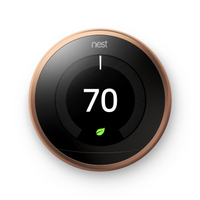 Nest Smart Thermostat: was $299.99, now $209.95 at eBay
The Nest 3rd Generation Wi-Fi Smart Learning Thermostat is available new at a 30% discount. Controlling the climate in your home has never been easier and now it's cheaper, too.
eBay's list price is actually higher than what you'll find direct from Nest, but today's deal is cheaper than the $249 price listed on the company's official site.
The deal is good while supplies last, so if you've been looking to smarten up your home, this is a great (and, for a limited time, less expensive) way to start.