iPhone 12 Pro: filtraciones importantes que probablemente sean ciertas
Mayor batería, mejor cámara y más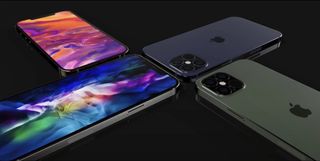 (Image credit: Everything Apple Pro)
Las filtraciones y los rumores sobre el nuevo iPhone 12 continúan. La última viene del conocido leaker Max Weinbach y ofrece varios nuevos detalles que tienen todo el sentido.
Compartidos en su canal de YouTube EverythingApplePro, Weinbach afirma que el Apple's iPhone 12 Pro tendrá la misma tecnología de pantalla 'Pro Motion' que debutó en el nuevo iPad Pro de este año — es decir, con refresco selectivo de 120Hz.
En la práctica, esto significa que el nuevo iPhone tendrá prestaciones que sólo se activarán cuando sean necesarias, como navegar por internet o videojuegos que requieran el refresco de pantalla para incrementar la fluidez del movimiento en pantalla.
Teniendo además en cuenta que estos nuevos iPhone 12 tendrán todos conectividad 5G, sabemos que la batería de los nuevos flagships de Apple va a sufrir — y mucho.
Para compensar, Weinbach dice que el iPhone 12 Pro tendrá una baterís de 4,400mAh, una ampliación enorme comparado con los 3,969mAh en la batería más grande de Apple, la del iPhone 11 Pro Max.
Mejoras de Face ID y cámaras
Junto a la actualización de pantalla y batería, Weinbach también sugiere que el nuevo teléfono de Apple tendrá un sensor FaceID mejorado que permitirá a un usuario abrir el iPhone 12 desde un ángulo más amplio.
Weinbach afirma — como ya hemos visto en otros rumores — que el iPhone 12 Pro tendrá mejoras en la cámara trasera con un sensor LiDAR (Light Detection and Ranging) como el del iPad Pro 2020 que ayudará no sólo para las experiencias de realidad virtual sino también para asistir a las cámaras ópticas en el autoenfoque.
El iPhone 12 Pro también tendrá un modo llamado Smart HDR — que ayudará a producir imágenes más claras y limpias en condiciones de baja luminosidad — y zoom óptico de tres aumentos, aumentando el límite de dos aumentos en el iPhone 11 Pro.
Tiene todo el sentido del mundo
Siempre es difícil saber qué rumores o no son ciertos, pero lo que dice Weinbach tiene todo el sentido del mundo. Las mejoras de las que habla son razonables e incrementales. La idea de que el iPhone 12 Pro y el 12 Pro Max models — de 6,1 y 6,7 pulgadas respectivamente — tengan mejoras en los módulos de Face ID, cámaras, pantalla y batería están en línea con lo de todos los años. El clásico "éste es el mejor teléfono que hemos sacado nunca" del marketing obvio y cansino de Apple.
Lo mismo se puede decir de la pantalla de 120Hz.
Además, los rumores coinciden con otras supuestas filtraciones que hemos conocido de otros reputados rumorólogos especializados en Apple. Y sirven para que el iPhone se ponga al nivel o lo suficientemente cerca de sus competidores, que ahora mismo tienen mejores prestaciones de cámara, pantalla y batería que los celulares de Apple. Es lo mínimo que esperamos de los de Cupertino.
Get daily insight, inspiration and deals in your inbox
Get the hottest deals available in your inbox plus news, reviews, opinion, analysis and more from the TechRadar team.