Google Music rolls out iTunes-like match service at no cost to users
What do you say to that, Apple?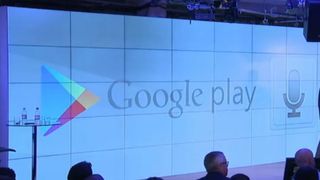 Google is giving the gift of your own music library this holiday season.
Google Play rolled out its music matching feature to the U.S. Tuesday, following the launch of the service in the U.K. last month.
The new feature lets users upload up to 20,000 songs to Google Play, which will then be streamed back via the browser-based music player or Android devices.
The service is free, but users still must input a credit card that won't be charged to start the service.
Getting going
Step one, unsurprisingly, starts with a download, namely Google's Music Manager.
Users can then select songs from their iTunes library, Windows Media Player library and other music files to upload to the cloud.
If Google has a matching song in its online music library, it will skip uploading that particular song and stream the file from its own version instead. Songs that are matched still count against users' 20,000 track limit.
Right now there's no way to expand the number of songs that can be stored online, so users will have to trim a few files if they reach the limit.
Long-time Google Play Music users won't have to re-upload any songs they previously purchased from the search giant. Those songs will automatically appear in users' libraries in the next few months.
Libraries won't be uploaded to the cloud instantly, but shouldn't take more than a few hours depending on the amount of music. The media player supports MP3, ACC, WMA, FLAC and OGG files, but doesn't support protected AAC, ALAC, WAV, AIFF or RA files.
After the songs are uploaded, users can log onto Google Play and the music will be streamed back to them at up to 320 kilobits per second.
Songs can also be downloaded from the online library to whatever computer the user is on. But choose carefully: each track can only be downloaded twice from the cloud library.
Measuring up to the competition
The new online music player probably won't make the biggest splash, but it might help Google eventually take a bite out of the immense popularity of Apple's iTunes.
Though it's restricted to 20,000 songs, Google Play lets users easily stream their favorite songs to other computers for free.
Apple offers a similar service with iCloud, named iTunes Match. But the service costs about $24.99 a year.
The new music player probably won't do much to slow the growth of Spotify and Pandora, either. However, those services are more focused on letting users explore music they don't already own.
Google Play does have a few points on Spotify, one of the leading online music services that also has a matching feature.
Spotify has restrictions on what songs it can stream to other computers, but Google Play lets users upload any songs they own to listen to wherever they like.
Google Play is also free of ads, unlike Spotify (and Pandora), which squeezes commericals in between songs.
To free or not to free
Some may wonder what's the catch in Google offering the music service sans fee.
Online music storage is most likely a way to get people more invested in Google Play Music. Once users have uploaded their music to the online library, they will be more likely to add to it through Google's online music store.
If Google can get people interested in its music offerings by giving away a little online storage, the investment will likely payout.
Whatever the motivation, storing 20,000 songs online for free isn't a bad deal. It might be just what users need to drown out the sound of family during the holidays.
Sign up for Black Friday email alerts!
Get the hottest deals available in your inbox plus news, reviews, opinion, analysis and more from the TechRadar team.