Ready for Prime Day?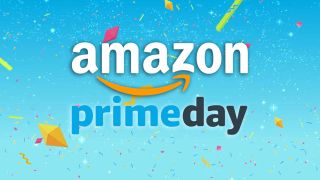 Prime Day 2018 is finally here, with deals on a huge range of items. To find out what sort of bargains to expect, along with dates and times to get the best deals be sure to check out our guide to Amazon Prime Day 2018.
Looking for the best Fujifilm Instax Mini prices? We're here to help you compare all the best deals on the most popular Instax Mini cameras, including the budget-friendly Fujifilm Instax Mini 8, the newer Instax Mini 9, or the retro-themed instant cameras like the Fujifilm Instax Mini 70 or Instax Mini 90. That's not forgetting the likes of the Fujifilm Instax Square SQ10 and Instax Share SP-3 printer.
Prices alone might not be enough though, so we've given each of these Instax Mini cameras a rundown of information to help you choose the one that's right for you. The fun cameras are always popular during the summer months for outdoor holiday snaps, so this is a great time to pick one up. Don't forget, that Amazon Prime Day should serve up some fantastic prices, so make sure you see what Fujifilm Instax deals are there to be had.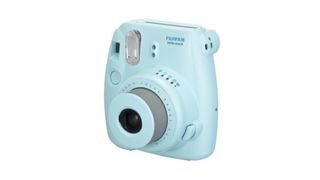 Fujifilm Instax Mini 8 prices
The Fujifilm Instax Mini 8 is one of the most popular instant cameras on the planet thanks to its super cheap price and bold, cheerful and colourful design. Simple to use and with brightness controls, built-in flash and cool 1.8-inch x 2.4-inch images printed straight from the camera, this really is a bargain. But could you be tempted by the newer Instax Mini 9?
The Fujifilm Instax Mini 8 requires two AA batteries and is available in black, grape, raspberry, pink, blue and yellow.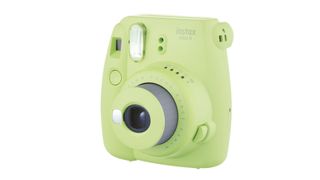 Fujifilm Instax Mini 9 prices
There's really only one difference between the Instax Mini 8 and the Instax Mini 9 and it's a tiny little mirror. The Instax Mini 9 has a small mirror next to the lens, making lining up selfies much easier and ensuring a more accurate picture. The newer Mini 9 is slightly more expensive than the Mini 8, but consider this: if you're likely to be taking a lot of selfies, the mirror could save you a small fortune on film costs as you'll have fewer wonky, poorly framed snaps. If the price is right for the colour you want, this is the one we'd go for.
The Instax Mini 9 requires two AA batteries and is available in cobalt blue, flamingo pink, ice blue, smoky white and lime green.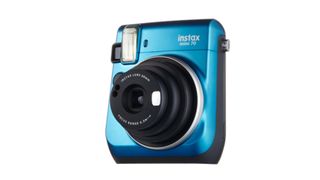 Fujifilm Instax Mini 70 prices
There's certainly an argument that the Instax Mini 8 is aimed towards a younger or more casual market with its bright pastel colours and chunky build. But there are some slicker options available for not much more - namely the Fujifilm Instax Mini 70.
The Instax Mini 70 features more control options and shooting modes than the Mini 8/9 and takes better pictures in the dark. It comes with the selfie mirror as standard too. With a smoother metallic paint job, it loses the toyish vibe of the above models for something much more professional looking while maintaining the compact instant camera vibe. If you'd feel silly holding the Instax Mini 8, but want a similar design, this is your best bet.
The Fujifilm Instax Mini 70 runs off two CR2 batteries and is available in moon white, canary yellow, island blue, passion red, stardust gold and midnight black.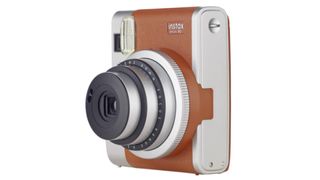 Fujifilm Instax Mini 90 prices
If you're looking for something with a more retro feel then it's hard to beat the Fujifilm Instax Mini 90 and its traditional leather-style binding. As you can see in the price comparison chart below, it's also the most expensive of the Instax Mini cameras in Fujifilm's range.
You're not just paying for the old-school vibe though. Bulb modes ensure you won't get pictures that are too blurry or dark. On the other side of the scale, this is the first Instax Mini camera that allows you to turn off the flash, meaning you won't get any images with way too much white light. A double-exposure mode allows you to put two images on one piece of film too.
The Fujifilm Instax Mini 90 instant camera is powered by a rechargeable NP-45A lithium battery making it the only rechargeable Instax Mini camera from Fujifilm. Colour options are much more modest than the other Instax Minis as the only differences are in the leather-style wrap finishes where you can choose between brown or Neo Classic (black).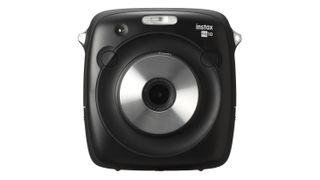 Fujifilm Instax Square SQ10 prices
Fujifilm's latest Instax Square SQ10 camera sits somewhere between its Mini and Wide range, using new-fangled square-format film and boasting digital camera functionality that the Japanese manufacturer hopes will appeal to a younger, more tech-savvy audience.
The most notable feature of the Fujifilm Instax Square SQ10 is the ability to review and edit your shots via a small LCD display on the rear of the camera.
Unfortunately, the digital camera element lets the SQ10 down a bit, as the image quality can't rival other digital cameras – or smartphones.
A fun piece of kit, and if you'd like more control over images and the ability to adjust and edit in-camera, it's a good fit.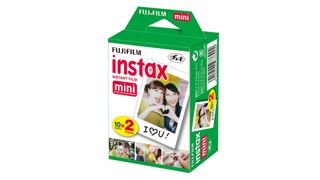 Instax Mini Film
Looking for some extra Fujifilm Instax Mini film packs? We've compared the best deals from multiple retailers in our price comparison charts below. The cheapest packs usually have 10 or 20 Instax Mini film papers to print out your latest photos. Take a look at the options further down the chart and you'll see prices for larger packs too.
These film packs are compatible with all the cameras on this page. You might not see the Mini 9 mentioned on the packaging or item description, but that's only because the Instax Mini 9 is still quite new and the film packaging hasn't caught up. The Instax Mini 9 takes the same film as the Instax Mini 8.