How to get a good DSLR deal on Black Friday in the US
This Black Friday is your chance to pick up a DSLR for less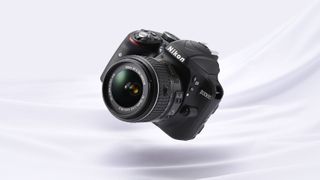 DSLR Black Friday deals in the US will be the best time to take your photography to the next level. Offering a combination of superb image quality and polished performance, the digital single-lens reflex camera is the pro-photographer's favorite for a reason.
There's a vast range of DSLR's available, with one for every budget thanks to all of the Black Friday sales in the US, and it's happening at the end of this month. Your budget is going to stretch a little further than normal of you want the best.
Of course, there will be great deals to be had out there. In this guide we're going to look at the key factors that you should be considering when it comes to the purchase of your new camera., to make sure you get the best deal possible on the best camera for you.
How easy is it to use?
If you've not owned a DSLR camera before, it's probably an idea for you to think about an entry-level model like Canon's EOS Rebel T7i or the Nikon D3400. The image quality is comparable with some of the pricer models available, and they are configured for ease of use, often coming with features like 'guide mode' that will help you get to grips with the camera's various functions.
Chips, sensors, and image quality
DSLR cameras are divided into two different types – the ones with APS-C sized sensors, and the ones with full-framed chips. The former are often used by both entry-level and mid-range DSLR cameras, and offers a decent mix of image quality, system portability and cost.
Full-frame sensors are found living in more of the DSLRs owned by professionals and high-level enthusiasts. Being larger, a full-frame sensor offers better light gathering capabilities and the room to stuff more pixels on to the sensor.
If history is anything to go by, most of the Black Friday deals are going to be for APS-C format DSLRS. But just because there's going to be more choice of APS-C's doesn't mean won't be able to get a good price on a full-frame DSLR if that's what you're looking for.
4K video is a rare feature
Shooting video in 4K is becoming an ever-increasingly popular feature on cameras, and somewhat surprisingly DSLRs have been slow on the uptake with this feature – aside from the EOS 5D Mark IV, all the most recent Canon EOS DSLRs shoot video at a resolution of 1080p, and there are only a few of the Nikon DSLRs that offer 4K capture too. As these are the most recent models the chances of being included in Black Friday discounts is unlikely. If 4K is one of the essential requirements for your purchase, you'd probably be better off looking at mirrorless cameras, where 4K video is a much more common feature.
Wireless connectivity
The ability to wirelessly connect your DSLR over Bluetooth, NFC and Wi-Fi is becoming a fairly standard feature on many models, which is a welcome addition for those wanting to transfer images to other devices (and social media accounts) without the need for a computer.
While a very useful feature,it's often not a deal-breaker and as it's far more common on recent models, you could end up picking up a slightly older DSLR than you originally planned that doesn't feature wireless connectivity and getting a much better deal, without compromising on the really important features like image quality.
Bundled lenses
If your Black Friday purchase is the start of your DSLR journey, we would recommend going for one that comes with a bundled lens. Commonly referred to as a standard zoom lens (or kit lens), it will be able to cover a pretty broad focal range, allowing you to take both landscape and portrait images. Ideal for your first foray into higher-quality photography. The fact that it's only a small increase of price on top of the body-only price makes them a very attractive proposition.
One thing to be careful of is to make sure you go for the stabilized version of the lens you end up getting. Both Canon and Nikon offer non-image stabilized versions of their lenses, and you really want the stabilised version. For Canon, this will mean that 'IS' in is the title for the lens, and for Nikon look for 'VR'. They will be fractionally more expensive than the non-stabilized versions but it's worth spending that little extra to avoid unwanted camera shake.
Because it's Black Friday, on top of the standard bundled lens, some dealers will bundle in a second lens to try and tempt you. The second lens is usually a modest telephoto lens that'll allow you to get better close-up shots, and depending on the lens can be a really great way to pick up a telephoto lens for a cheap price.
Make sure you do your research though, as sometimes the second lenses are older models, so not quite the deal that they are made out to be.
The deals we predict
We're confident that dealers will be discounting stock of DSLR cameras come Black Friday. Don't expect the hottest 2017 releases to be discounted, but those new releases often push really great cameras into the discount bracket, which means you should see cracking cameras at decent prices.
Underneath, we've laid out some models that we think you should keep an eye out for, from entry-level bargains to full-frame powerhouses.
Entry-level contenders
Many of the deals you're likely to see on Black Friday will be tailored to beginners, with a range of entry-level DSLRs having their prices dropped. We think that the Nikon D3300 stands a good chance of being included. It's recently been replaced by the D3400 (a minor upgrade including wireless connectivity), so chances are dealers are going to want to shift the older stock. It's a great introductory DSLR with beginner-friendly user interface and a fantastic 24MP sensor, backed up by great battery life and solid performance.
It's a similar situation for the Canon's EOS Rebel T6i. It's recently been replaced the EOS Rebel T7i / EOS 800D and so could be in a situation where dealers are wanting to shed the older stock, meaning you could get your hands on this great DSLR with a heavy discount. It features a brilliant 24.2MP sensor, a vari-angle touchscreen display, Wi-Fi and NFC connectivity, plus a control layout that's a joy to use.
Magnificent mid-range models
If you already have a DSLR and you're wanting to upgrade, you could do far worse than the Nikon D7200. It's another camera that has recently been replaced by a newer model (the D7500), and so stands to be discounted. It's rammed full of features, has an excellent 39-point AF system, and has a brillaint sensor, making it an ideal enthusiast camera – particularly if you've alredy got any Nikon lenses.
Canon's offering will most likely be the EOS 7D Mark II, Canon's top-of-the-range APS-C DSLR. With an orientation towards action and sports, the 20MP DSLR can shoot at 10fps, and the 65-point AF system is incredibly sophisticated. Unlike the other cameras we've included so far, it hasn't been replaced, but we're thinking there is likely to be a replacement on the horizon before too long as it's getting a little old now.
Fantastic full-frame
We're not expecting to see either the Canon EOS 6D Mark II or Nikon D850 discounted as they're both pretty new, but some older models might be.
Despite the fact that the EOS 5D Mark IV has been out for about a year, the EOS 5D Mark III is still available, so we're thinking it's probably pretty likely that it'll be included in Black Friday discounts. Even though it's old, it's still one of the most advanced full-frame DSLRs we've seen, it's jammed full of features for photographers including 8fps shooting, 61-point AF system, a 22.3MP full-frame sensor and durable build quality.
The Nikon D810 is in a similar situation, having been replaced by the D850 and so likely to see some pretty significant discounts. It's still a brilliant DSLR though, with a 36.3MP sensor that is one of the best around, a great 51-point AF system, an impressive 1200-shot battery life, and excellent handling makes the D810 a seriously impressive camera.
Final mention goes to the D610 – not only is it Nikon's most affordable full-frame DSLR, it's also the oldest, so it's bound to get discounted. The 24MP sensor may not rival the resolutions of some of its competitors, but it still provides great image quality, and the ease of use on the controls means that this is one of the most accessible full-frame cameras available right now.
Sign up to receive daily breaking news, reviews, opinion, analysis, deals and more from the world of tech.
Andrew London is a writer at Velocity Partners. Prior to Velocity Partners, he was a staff writer at Future plc.