We've found a top broadband and TV bundle deal that comes with plenty of fantastic extras, all for a great price.
Right now you can get Virgin Media's 'Bigger Bundle', which comes with its super-fast (516Mbps) M500 Fibre Broadband, as well as 195+ TV channels, including Sky Sports in HD and BT Sport in UHD. On top of this you can make unlimited weekend calls to UK landlines and you can choose to get an Xbox Series S games console or £200 in bill credit when you sign up.
This package costs just £65 a month at the moment and it's an 18-month contract. Better still, there aren't any upfront costs to pay and existing O2 customers can get access to extra perks and benefits via O2 Priority.
If we look at each part of the bundle in isolation, you'll also see that you get Virgin's class-leading WiFi Hub, as well as its 360 TV Box that allows you to pause, rewind and record what you watch. A full list of the available channels can be found here and you can access your streaming apps through the TV Box too. The mighty 516Mbps average download speeds of the M500 Fibre Broadband will also comfortably handle any UHD streaming, as well as online gaming and casual browsing on multiple devices, all at the same time.
If this deal has piqued your interest then the only thing to check is whether or not you can access Virgin Media's fibre network. This is something you can check directly with the provider, but if you already know your property isn't connected, or you don't want a TV bundle, then check out our guide to the best broadband deals to see what else is available on the market right now.
Our Virgin Media broadband deal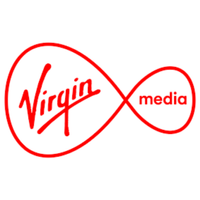 Virgin Media's 'Bigger Bundle' | M500 Fibre Broadband | 516Mbps | TV + Sky Sports & BT Sport | Weekend calls | No upfront costs | 18-month contract | £65/month
This bundle deal features Virgin Media's super-fast M500 Fibre Broadband that gives impressive speeds of 516Mbps. You also get its TV 360 Box that comes with over 195 channels, including Sky Sports and BT Sport. On top of this there's free weekend calls to UK landlines and if you sign up now you can choose to get £200 of bill credit or an Xbox Series S games console. All this - plus more perks for O2 customers - currently costs £65 per month, without any upfront fees, on an 18-month contract. Eligibility for the deal is subject to your property's access to Virgin Media's fibre network.
Even more reasons to choose Virgin Media
As our featured deal shows, Virgin Media has a lot to offer and it's no surprise why it's one of the UK's most popular broadband and TV providers.
Across its cable network it has a variety of broadband speeds to choose from, including one of the fastest on the market, namely it's 'Gig1' option that offers a mighty 1,130Mbps. What's more, its broadband is secure and reliable and is channelled through its innovative WiFi Hubs that come with 'intelligent WiFi' to optimise its customers' connections automatically and boost performance.
We've already mentioned its smart 360 TV Box, but it also offers a 'Stream Box', which as the name suggests, just offers TV streaming but often at a cheaper monthly price. A few other notable pieces of tech include its home WiFi boosters that come with most of its broadband packages for free.
Virgin Media has faced some criticism for the quality of its customer services, but it is making strides to improve this and - unlike some providers - it does offer contact support across various channels.
Another big positive is Virgin does tend to offer deals fairly regularly, so if you'd like to see what else it has available to new customers right now, enter your postcode into our widget below and we'll show you what you can get in your area. Equally, our widget can also help you to see what other options you have with your broadband.
Loading...