In the market for a new ultrafast broadband deal? Well, we may have found a good option for you. This is because, right now, you can get TalkTalk's Full Fibre 900 CityFibre package for £36 per month.
This full fibre package offers average download speeds of 944Mbps and provides some of the fastest speeds on the market. As an added bonus, if you sign up for an 18-month contract today, you'll also receive a £125 gift card from either Tesco, M&S, Amazon or Giftcloud.
As this is a full fibre package, the 944Mbps average download speeds you'll receive will be more than enough to support even the biggest and busiest of households. This is because these speeds are more than quick enough to allow several family members to stream, game online, watch Netflix or download films in UHD, simultaneously. However, you'll need to check your eligibility to receive a FTTP connection with TalkTalk before you take out this deal.
Although this deal is cheap for a full fibre package offering these speeds, it does still sit at the more expensive end of the market. As a result, if you don't quite need these ultrafast speeds, then a cheaper package may be better for you. If this is the case, then head to our broadband deals page, where you'll find a number of cheaper offers.
Our TalkTalk broadband deal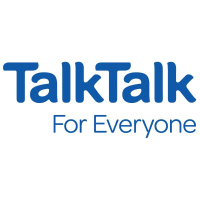 TalkTalk Full Fibre 900 CityFibre | 18 months | £36 a month | no upfront fees | Avg. speed 944Mbps | £125 gift card
This ultrafast deal from TalkTalk provides average download speeds of 944Mbps. As a result, this deal is appropriate for large or busy households that are well connected and have high download demands. Right now, it's available for £36 per month and when you sign up for an 18-month contract you'll also receive a £125 gift card from either Tesco, M&S, Amazon or Giftcloud.
Why choose TalkTalk?
One of the country's favourite broadband providers, TalkTalk has gained a reputation for providing some of the cheapest broadband packages in the UK. In fact, many of the company's 2.8 million customers are attracted to their cheap offers, which comfortably undercut comparable deals from the likes of Virgin Media, BT and Sky.
On top of this, TalkTalk offers a great selection of speeds, which range from 35Mbps to 900Mbps. This is because the company uses the same Openreach cable network that's used by leading providers such as Sky.
Plus, for those looking to bundle their TV and internet, a reasonable number of TV and home phone bundle options are available. However, these aren't as strong as the options offered by either Sky or Virgin Media.
But, although there are undoubtedly a lot of positives associated with the company's broadband offering, there are also negatives that potential customers should also be aware of. For example, its customer service offering isn't the best and customers do regularly complain about call waiting times being long and representatives being unhelpful. For this reason, the company is only rated 2.8 stars out of five on Trustpilot.
If you like the sound of TalkTalk's cheap tariffs but you don't think the deal we've highlighted here is right for you, then head to our broadband deals page. Here, we've outlined a number of cheap options from the company. Plus, you can also compare TalkTalk's deals to others on the market.
Alternatively, pop your postcode into the widget below to see all the best deals available at your address.
Loading...