Get ready for PS5 with the latest PS4 controller and game deals from Walmart
Cheap PS4 controller and game deals abound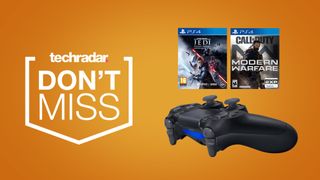 (Image credit: Future)
The PS5 is on its way, so be sure to study up with the latest cheap PS4 games and controller deals from Walmart. We're seeing some fantastic discounts on the latest PS4 games and a wide range of DualShock 4 colors right now, making it a great time to get some cheap gaming in before the rise of next-gen.
You'll find cheap PS4 controller deals starting at just $41.99 this week, and these savings stick across a range of color and camo editions. But now you need something to play. Walmart has you covered for that - it's latest PS4 game deals are cutting the standard prices of a range of titles down to the cheap positions we'd expect at this point in the console's life cycle. That means cheap PS4 games abound - an excellent opportunity to pick up anything you might have missed.
If you're concerned about the rising PS5 price, you'll want to make the most of your PS4 console before the new version lands in 2020. Whether you plan on being at the front of the PS5 pre-order queue, or if you're going to stick it out until that cost comes down slightly, there's plenty to take advantage of in the latest cheap PS4 controller and games deals.
Not in the US? You'll still find plenty of PS4 deals where you are. Scroll down to find the best PS4 game deals and cheap PS4 controllers where you are.
Cheap PS4 controller deals
Cheap PS4 games deals