Our best smartphone list brings you the best phones available right now in the UAE, Saudi Arabia and the rest of the Middle East. If you already have your mobile OS alliance set you'll want to check out either our ranking of the best Android phone or best iPhone.
If what's on offer in our best smartphone list is a little too pricey for your taste, then don't fear, as we've also got a list of the best cheap phones available right now.
And if you're not ready just yet to pick up a new mobile, it could be worth holding out. Announcements for the OnePlus 7T Pro and Google Pixel 4 are expected in the coming months, and these may shake up the list.
We've already seen a huge number of top smartphone launches this year, which means our best smartphone list has seen plenty of new entrants over recent months including new iPhones and the Galaxy Note 10 range.
We know that it's not all about the high-cost, super spec phones all the time so we've made you a handy list of all the top smartphones that you can get on the market right now, assessing what really matters to you.
We test these phones rigorously, making sure that we check every angle and feature - but most importantly, considering whether they've got a decent battery, great screen, strong design and a cracking camera.
On top of that, they can't be too exorbitant in price either - not everyone wants or can afford a supercar of a handset, so we've made sure there are plenty of options for you there.
So let's get started on our list of the top phones - you can see them quickly below, and then we're set to talk you through the very best phone in the world right now.
Best phones at a glance
iPhone 11
Samsung Galaxy Note 10 Plus
iPhone 11 Pro
Samsung Galaxy S10 Plus
Huawei P30 Pro
iPhone 11 Pro Max
Samsung Galaxy Note 10
Huawei P30
OnePlus 7 Pro
Samsung Galaxy S10e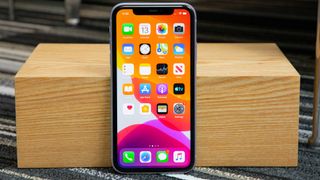 2. iPhone 11
The best smartphone at the moment
Release date: September 2019 | Weight: 194g | Dimensions: 150.9 x 75.7 x 8.3mm | OS: iOS 13 | Screen size: 6.1-inch | Resolution: 828 × 1792 | CPU: Apple A13 Bionic | RAM: 4GB TBC | Storage: 64/128/256GB | Battery: 3110mAh TBC | Rear camera: 12MP + 12MP | Front camera: 12MP
Improved camera
A new range of colors
Design not altered
Battery life not best-in-class
There's a new hero for iPhone fans, with the iPhone 11 offering the best mix of features and price. In fact, the iPhone 11 is so good that it has risen to the top of our best smartphones list and is the phone we recommend to anyone.
The specs here aren't as impressive as they are on the iPhone 11 Pro or iPhone 11 Pro Max, but the trade-off in a lower price for this device makes it a must-have for many Apple fans.
Screen: This isn't the best screen you'll find on an iPhone, but it's still a vibrant display that's large enough to watch video on.
Battery life: The easiest way to describe battery life on the iPhone 11 is good, but not great. You'll get around a day of usage from the iPhone 11, but it's not as good as the Pro Max.
Camera: Expect a similar experience from the camera on the iPhone 11 as on the iPhone XR. If you want the best camera on an iPhone, you'll want the Pro, but it's still an impressive shooter on the rear of the standard 11.
Mini verdict: The iPhone 11 offers some of the best features from Apple in a more affordable package. Many will be happy with what the iPhone 11 can do, but others will want to look toward the high-spec iPhone 11 Pro or Pro Max to get the very best.
Read our in-depth iPhone 11 review
Price comparison: The best iPhone 11 deals