Apple TV Plus vs Netflix: will Apple eclipse its biggest rival?
The newest platform takes on the most popular – but can it compete?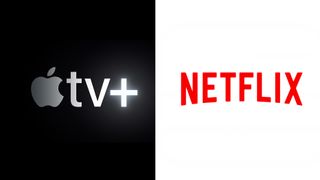 Apple TV Plus, the new video streaming service from Apple, launched in 2019 with a strong (but small) lineup of star-studded shows.
Apple certainly put the hard work in before its streaming service launched. It brought on board some of the best writers, actors and directors in Hollywood, including Steven Spielberg and Jennifer Aniston, to create new TV shows. Although some have fallen a little short on expectations and failed to rake in the viewers, like Jason Momoa's See, others have landed well, like Aniston's The Morning Show.
With this focus on new and original content, it certainly seems like Apple TV Plus could give Netflix a run for its money – a service that has a good back catalogue of movies and TV shows but really shines with its Originals.
So, how does the Apple TV Plus streaming service differ from Netflix? And could it truly pose a threat to the most popular streaming platform in the world? Read on for our take on Apple's first foray into the world of TV and movie streaming.
Apple TV Plus vs Netflix: overview
Aside from being the most popular streaming service in the world, Netflix has become something of a cultural icon, even inspiring its own lexicon – we all know what it means to 'Netflix and chill' (if you don't, ask an appropriate adult), and most people have been on an uncontrollable 'Netflix binge'.
With a wide-reaching mix of original and licensed shows and movies, Netflix's huge variety of content, as well as its ease of use, has given birth to the cult of binge-watching.
Apple, on the other hand, will have some way to go if it's to unseat Netflix from its throne with Apple TV Plus, its new ad-free subscription service.
However, with a host of exclusive programs with some very famous faces attached, Apple could potentially rival Netflix's Originals – if it can match Netflix's prodigious output that is.
Apple has promised it will release "new additions every month", but it hasn't confirmed how much new content will be coming each month. Given the rather small lineup so far, we expect we may only see handful arrive each month. But that could all change in 2020.
Apple TV Plus vs Netflix: pricing
Apple TV Plus costs $4.99 per month / £4.99 ( AU$7), vastly undercutting Netflix – and a subscription can be shared by up to six family members.
What's more, a one-year subscription to the service will come free with new iPhones, iPads, Macs, and Apple TVs.
Having recently upped its prices, the cheapest Netflix plan is currently $9 / £5.99 / AU$9.99, while its HD Standard plan (the most popular) costs $13 / £7.99 / AU$13.99. For fans of Ultra HD streaming, the 4K Premium plan is available for $16 / £9.99 / AU$17.99. So both pretty competitive, but a little more than the Disney Plus price.
Apple TV Plus vs Netflix: availability
Apple TV Plus is merged with the new and improved Apple TV app, which in turn is coming to a wide range of smart TVs in May, as well as to set-top boxes and streaming sticks from rival companies like Roku and Amazon.
The Apple TV app is also available on a number of smart TVs – in ranges by Samsung, Sony, LG, and Vizio – in addition to Apple's own set-top box and streaming player, the Apple TV.
This means Apple TV Plus isn't restricted to Apple TV devices – and moving the app onto rival devices is a risky move by Apple, as it could reduce the number of consumers buying into Apple TV hardware. We're wondering if Apple is looking to phase out this hardware in order to focus on the improved Apple TV app.
You can also access it on iOS and Mac products, too – though not their Android or Windows equivalents (for now).
Given those restrictions so far, it's difficult to see how it could prove a true rival to Netflix, which is available on a wider range of devices and operating systems.
Netflix is available to use on a huge range of devices, which will also synchronize with each other – this means you can start watching a show on your desktop browser, pause it, and pick up in the exact same place when logging back in on your big-screen TV.
Depending on which subscription package you opt for, you can watch Netflix on up to four screens at one time.
As well as your computer, gaming console, and built-in TV applications there are Android and iOS apps, as well as a whole suite of set-top streaming boxes that will give you access to Netflix's video library.
Apple TV Plus vs Netflix: features and user interface
One of the best things about Netflix is how it tailors its content to you, with its recommendation algorithm learning your preferences as you watch. As a result, it's then able to adjust how content is positioned on your home screen, recommending shows and movies you may like based on your watching habits.
Another reason for Netflix's popularity is its intuitive user interface, which makes it easy to navigate shows and films you've saved to your 'list', as well as making it easy to search by genre, director, actor and more.
The redesigned Apple TV app looks rather attractive and means Apple TV Plus works in a similar way to Netflix.
Apple TV Plus essentially functions as a subset of this app, with a rolling banner on the Watch Now tab, beneath the rows for 'Up Next' and 'What to Watch'.
It certainly takes pride of place compared to the other media showcased on the platform – of course, Apple would rather you watch its own shows than the stuff it's licensing – though we'd rather there was a dedicated tab at the top of the app for easy navigation.
At the top of the screen there are categories like 'Movies' and 'Sports', where you can choose where you get your content, from a variety of 'Apple Channels'.
You may want to watch drama shows via Hulu and get sports from your cable provider – these are part of Apple's 'Channels', which exist separately from Apple TV Plus (i.e. you'll need to buy a subscription to each provider or platform should you want to watch its content).
On the technological side of things, Netflix's dynamically-scaling streams mean you don't need to choose the quality level you want to watch at. If your bandwidth is low it will deliver just the standard definition versions, but if you've got the hardware and the capacity it will go all the way up to 4K Ultra HD resolutions if available.
Apple supports both 4K and HDR streaming, and helpfully lists that information on each show page – unlike Netflix, which waits until you're watching an episode to tell you.
Beyond higher resolutions, Netflix also allows you to download selected shows and movies for offline viewing. Downloads stay in your library for 30 days at a time, and will automatically expire at that time – even if it's on a device that isn't connected to the internet.
Apple TV Plus vs Netflix: content
Netflix has a huge range of exclusives, originals and classics to get stuck into, and is fast becoming a respected distributor of original movies and TV series, with Netflix Original Roma taking the award for Best Cinematography, Best Director, and Best Foreign Language Film at the Oscars in 2019 and The Irishman being nominated for even more in early 2020 awards season.
The best-known Netflix Originals series include Orange Is The New Black, Bojack Horseman, Stranger Things, Daredevil, Maniac, and House of Cards. But there are lots of new ones too, like Lost in Space and The Witcher.
It's these shows that Apple wants to rival with its own original programming through Apple TV Plus.
Notable titles include The Morning Show, Jason Momoa epic See, Sesame Street spin-off Helpsters, teen fantasy Ghostwriters, Hailee Steinfeld's Emily Dickinson biopic, and NASA drama For All Mankind. There's enough to flick through in a few evenings, but if only one of these shows takes your fancy, there's not much else keeping your subscribed past the seven-day free trial.
Suffice to say that it's a small launch offering, with Apple having focused in on a few titles rather than seek to get breadth of content while compromising on quality across the board.
While these shows may sound great, it doesn't look like Apple will be able to match the sheer volume of content on offer from Netflix at launch – and there's a big, gaping film-shaped hole in the new streaming service. However, if Apple does release new content every month as it says it will, and gets some original or syndicated movies onto the platform, it could soon catch up.
Of course, it's not only about original content; a huge part of Netflix's success rides on the enormous variety of syndicated content it puts out, ranging from gritty thrillers like Breaking Bad to an extensive range of kids shows and movies.
Apple TV Plus, on the other hand, won't offer any licensed content at all. For now, you'll still have to buy those shows a la carte through iTunes or via your terrestrial cable app in Apple TV Channels.
Takeaway
Right now, Apple TV Plus doesn't pose a real threat to Netflix. It lacks the syndicated content and (for now) has a sparse programming roster. Although this good change as more and more content is added to Apple Plus, it probably won't be catching up any time soon.
However, in the long-term Apple TV Plus could prove a problem for Netflix in terms of quality; Apple has a strong lineup of famous creatives behind its original programming, and a real focus on high-quality content.
Of course Netflix also puts an emphasis on quality, as its Oscar success with Roma shows, but we all know there are also some truly terrible films and shows on the platform, and we doubt Apple will want to follow suit in that respect.
The cost is a huge point of differentiation between Apple TV Plus and Netflix, with Apple undercutting Netflix by nearly $4. But that would make sense given the lack of content available on Apple TV Plus in comparison.
It may still be early days for Apple TV Plus, but right now Netflix rules supreme. The usual Apple strategy, of bringing out the best version of a product after it's had a chance to study the market and iterate in a stylish way, hasn't quite translated to its content offering here, and it's hard to recommend the service on the basis of any individual shows.
Sign up for Black Friday email alerts!
Get the hottest deals available in your inbox plus news, reviews, opinion, analysis and more from the TechRadar team.
Olivia was previously TechRadar's Senior Editor - Home Entertainment, covering everything from headphones to TVs. Based in London, she's a popular music graduate who worked in the music industry before finding her calling in journalism. She's previously been interviewed on BBC Radio 5 Live on the subject of multi-room audio, chaired panel discussions on diversity in music festival lineups, and her bylines include T3, Stereoboard, What to Watch, Top Ten Reviews, Creative Bloq, and Croco Magazine. Olivia now has a career in PR.